France TV, the nation's public broadcaster, recently expanded its premises near Montpellier in the South-East of France, with the addition of a cutting edge 600 m2 green screen space: Studio D. To satisfy the demanding requirements, France TV's technical teams equipped themselves with 46 fos/4 Panels from ETC.
A veritable showcase of France TV's technological capacity, Studio D makes it possible to shoot scenes in a virtual setting in real-time. It employs digital sets, removing many constraints linked to physical sets. The location has installed 46 fos/4 Panels, delivered by ETC distributor Texen, with support from Alterlite.
Video overview
Green screen challenges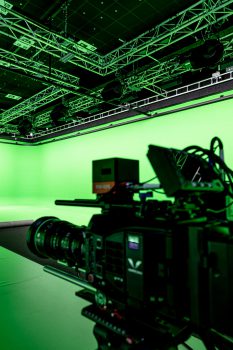 If lighting a green screen is a perilous exercise, the challenge takes on another dimension when it comes to real-time. A camera, equipped with the StarTracker Mo-Sys tracking device, films the actors on the green screen and integrates them live into the virtual sets generated by the Unreal Engine. As a result, the overlay does not go through "post-production" and therefore the green screen has no room for error. It must be flawless so that the result obtained on set can be used as if it had been shot in a physical setting.
To achieve this, the studio technical team carried out several tests with a variety of fixtures. "We knew their level of requirement and that's why we presented them with ETC fos/4 Panels," explains Nicolas Bellino, manager of the Texen agency.
"With the 8-color LED system, the fixture has an extremely rich spectrum. This is a strong argument when it comes to lighting the actors because it allows us to obtain skin tones that we cannot with other fixtures. Then, we realized this quality of light would be just as useful to meet the rendering constraints of this green screen."
fos/4 Panels get the green light
Philippe Malleck, studio lighting manager, adopted this proposal without hesitation because the result was obvious. "The projection surface is completely uniform. With the very rich spectrum of the fos/4 Panels, we benefit from a comfort of operation. This can be seen on the oscilloscope where the green curve stands out nicely from the red and blue ones, allowing the keyer tool to clearly delete what needs to be removed. For a long time, LED fixtures were not good enough quality to compete with traditional sources, but now they are."
"ETC is a master of LED technology. Our old green screens lit by RGB fixtures were already good, but now we've seen the results with the fos/4 Panel and its Lustr X8 color system in Studio D. The rendering is incomparable."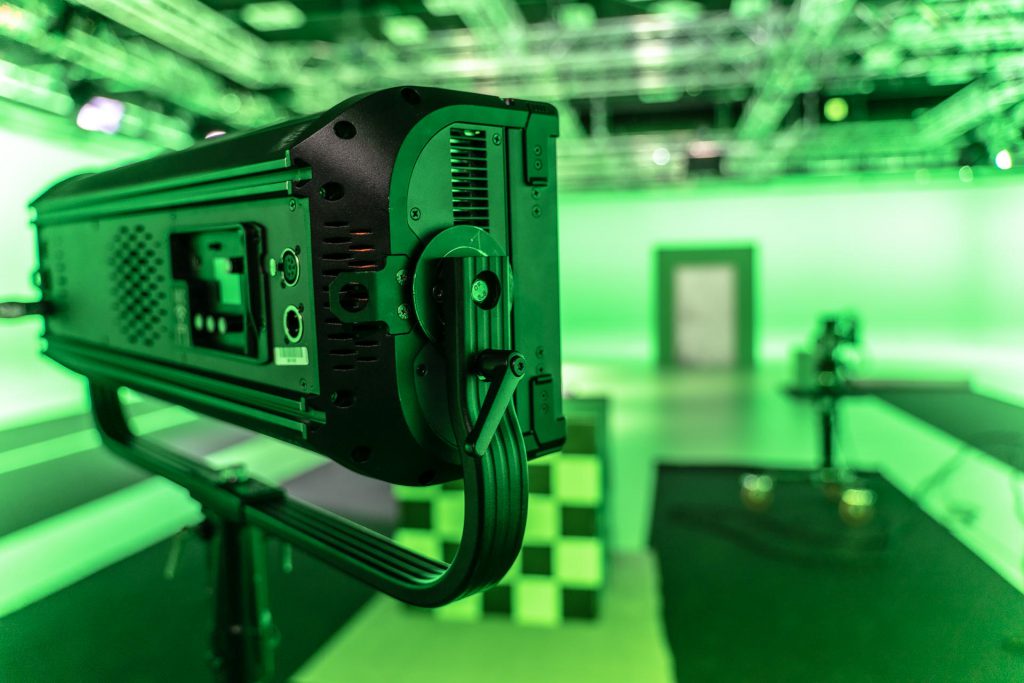 The LED matrix developed by ETC plays a fundamental role in the luminous flux captured by the camera. The fos/4 Panel Lustr X8 Array covers 94% of Rec. 2020 color space, the recommendation used in the audiovisual industry for ultra-high-definition television, where competing RGBAM panels do not exceed 87%.
The studio technical team opted for the 8-inch version of the Panel, the smallest model. The 24-inch version provides 62,000 lumens at the output which can be very useful externally, but multiplication of sources for a better homogeneity of the light was more fitting for Studio D. "The 8-inch panels are quite bright, they are often used at only a third of their nominal power," says Philippe.
The importance of quality & support
Quality of fabrication and technical support were important factors for Jean-Paul Fauré, production director of the site. "We have 260 days of shooting, with more than three teams per day – almost 1000 days of filming per year. You can't afford to have a studio at a standstill because of technical problems. Having a quality product and good support from Texen are reassuring criteria, in addition to the fos/4 Panels being covered by ETC's 24/7/365 technical support."
The fixtures also had to get the seal of approval from Les Tontons Truquers – a pioneering visual effects company that frequently uses the France TV studios. The fos/4 Panels had no problem passing these tests. "They are extremely valuable tools because of their ability to be controlled quite easily," says Pierre-Marie Boyé, Les Tontons Truqueurs production manager.
"Without these Panels, we wouldn't have such a homogenous green background. I brought in several colleagues from other VFX companies, and they were also impressed. Rarely have they seen such a sharp and rich green background."
Role reversal: real versus virtual
Although Les Tontons Truqueurs had previously used VFX on set at France TV's studios, it was typically only to create backgrounds behind the windows. In Studio D, the relationship between real and virtual is reversed. All the décor is virtual, and the team simply integrates a few decorative elements to create areas of interaction with the actors, such as a door or a window that they will open. Work is then required to match the light sources of the set to the light sources present in the virtual décor created using Unreal. To set up these virtual sets, the VFX team works closely with the sets team to match the physical elements to the virtual sets.
To learn more about ETC products for broadcast, TV and film, take a look at this blog post, or visit studio.etcconnect.com.
Video, photography and original text courtesy of Jonathan Grimaux.