ETC has spent decades refining the technology that goes into our lighting and rigging systems. While our roots are in theatre, our extensive product suite has grown to find a home in concert stadiums, convention centers, film studios, cruise ships, theme parks, office buildings, houses of worship, schools, and much more around the world.
Four odd years ago, ETC Founder Fred Foster had a seedling of an idea for where ETC's technology would go next. Eventually, that idea became reality with RAYN Growing Systems, an ETC company providing LED lighting and control solutions for horticultural research applications.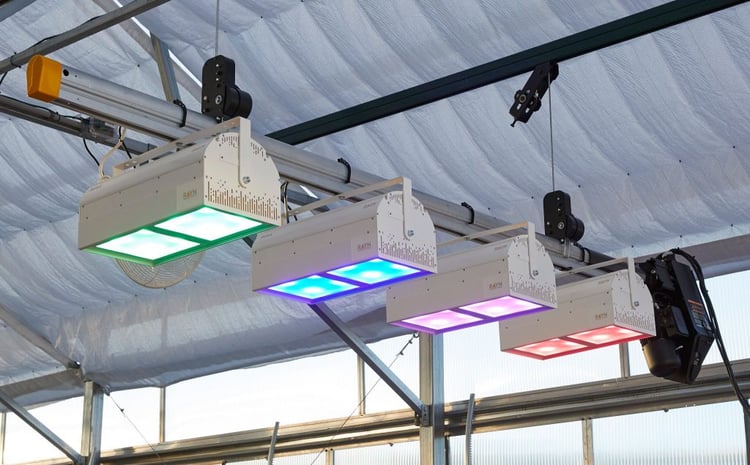 The beginnings of RAYN
In 2018, Fred began reading more and more about LED technology being used for indoor plant growing, specifically recent studies on how LED wavelengths impact plant growth. We now know it's possible to control and change the rooting, leafing, flowering, fruiting, and even nutritional content of many plants by altering the wavelengths of light under which they are grown.
Fred and a few others at ETC started to explore how our advanced lighting and control technology could help propel horticultural research and agricultural innovation.
During the summer of 2018, Fred attended the Cultivate horticultural event, along with Susan Foster and Tom Heintjes, who have both played integral roles in making RAYN Growing Systems a reality. This early investigation phase led the team to partner up with the GLASE (Greenhouse Lighting and Systems Engineering) Consortium.
Through GLASE, ETC made connections with stakeholders in the horticultural lighting world, learning more about what color and control capabilities were available and desirable to plant physiologists.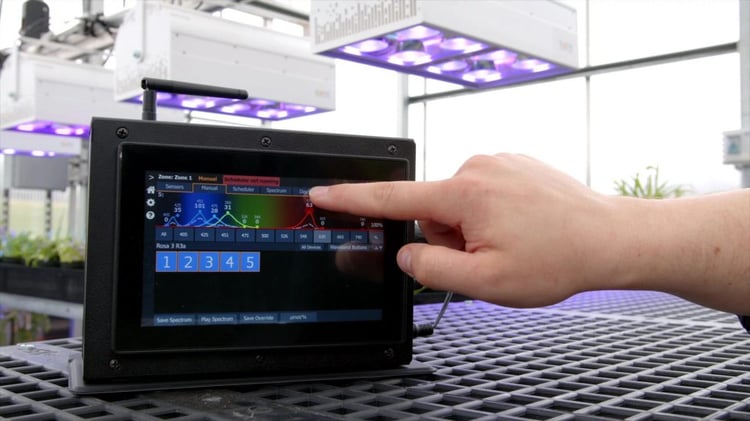 From control to color
There were many lessons to learn along the way. For example, the excess humidity in plant-growing facilities means our lighting equipment needs to be even more durable to withstand the harsher conditions.
Because plant research and growing require precise environmental conditions, accurate control is critical. Fortunately, ETC had already spent decades perfecting the art of complex lighting control, especially when it comes to spectral content.
Now, the RAYN Touch controller provides the granular control plant scientists require all from an easy-to-navigate user interface. With the spectra recording, scheduling, and reporting features in RAYN Touch, researchers can easily manipulate lighting conditions to the exact second for each growing zone.
As for the lighting instruments themselves, RAYN relied heavily on ETC's advanced color technology to produce Rosa luminaires. When development began, red, blue, and "blurple" were common spectra used in horticultural applications. Rosa luminaires give scientists more flexibility in their spectral content with 13 possible wavebands, including green and near UV.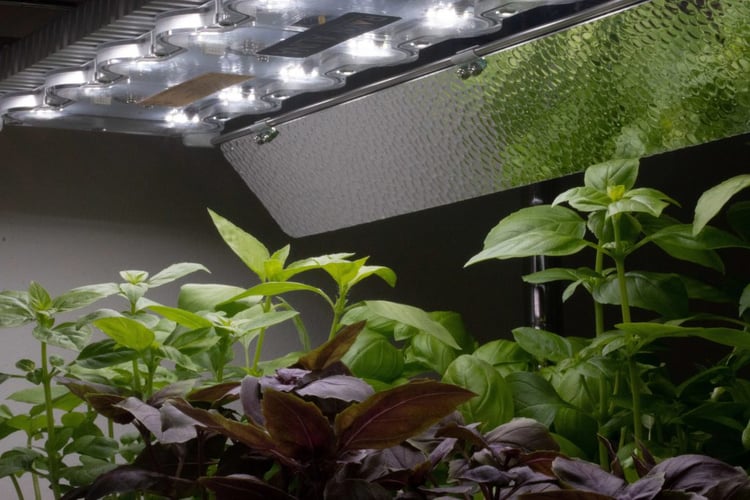 Since the introduction of Rosa, RAYN has expanded its horticultural lighting offerings with new Alina luminaires, accompanied by the Alina Power System. Alina features a compact and modular design ideal for shelving systems or suspended wire applications. Researchers can gang Alina luminaires together in arrays of any size and control the lighting instruments individually or as blocks of luminaires. Alina includes six standard wavebands with the option to add two custom bands.
In addition to the wide range of available wavebands, Rosa and Alina feature stepless dimming from 0 to 100 percent. Each channel has high-resolution digital dimming with better than 1 percent accuracy and repeatability, ensuring that scientists obtain an even output of spectral energy across growing areas.
More to come
RAYN is equipped to build complete spectral research systems, featuring lighting, sensing, and control solutions. And work is already underway to continue evolving RAYN's product offerings. For the most up-to-date information on RAYN Growing Systems, visit https://rayngrowingsystems.com.