The following is a conversation between Sherrice Mojgani, lighting designer, and Venus Gulbranson, assistant lighting designer. Read as the two discuss their own thoughts on the professional process, expectations, and assumed duties of both lighting designers and their assistants.
Sherrice, why is this an important conversation?
The five years after grad school my main source of income was through my work as an assistant designer. I lived in San Diego, CA, and was able to put together just enough work between the two LORT theatres and smaller design jobs to pay my bills. I feel like this time as an assistant served me well, I am happy to brag about my postdoc in Outdoor Shakespeare and Musical tryouts. But this work also involved navigating a very changeable position, because if you ask a production manager what the task of an assistant lighting designer is, they will probably tell you, it's whatever the lighting designer needs to be done. I've moved on from my days of assisting but as an educator and anti-racist activist I know that improving the treatment of assistant designers is pivotal to my work and the future of our industry.
Venus, why is this an important conversation?
I took a shot in the dark after undergrad and applied for a lighting design fellowship I felt extremely underqualified for—desperately wanting a reason to move to the east coast for more opportunities while simultaneously being debilitated by the sole idea of moving to the east coast for said opportunities. I did not attend a prestigious school with extensive connections nor did my family have the finances to help me move outside of Idaho, but I was fortunate to have professors, guest designers, and supervisors who saw great potential in me despite having an introductory level of understanding of lighting design. All I knew was that I had the passion, discipline, and tenacity to work for what I wanted for myself.
After landing the fellowship, I was able to assist eight professional lighting designers who mentored and nurtured me in my journey as a young lighting designer, and even formed lasting relationships post the program. Like many internships pre-covid lockdown, this one, despite being a great opportunity objectively, had evolved into an unhealthy space for young artists. Being an immigrant, social acclimation was not foreign to me, and I was quick to adapt, however, in that same breath, I was not able to quickly detect systematic failures in the theatre projected directly at me and my peers. If it weren't for the designers like Sherrice Mojgani, Masha Tsimring, and Josh Epstein who not only served as ideal mentors, but also strong advocates for internship reformation, I wouldn't have had the courage to speak out for a safer space for assistants and interns and continue to emulate leaders like them throughout my career.

Questions for Venus
What boundaries, guardrails, and expectations would you like to see producers put in place around the work of assistant lighting designers?
I think there is an inherent connotation that an assistant is someone who is inferior to the designer, instead of someone who is necessary for completing the process efficiently. The ambiguity of the assistant lighting design position has been the most difficult thing to navigate in a new space with a new team. I've found that Associates, Assistants, and Assistant-To-The- positions often have overlap in responsibilities. I do agree that it should be up to the designer as to what capacity they want the assistant to be involved in and that the theatre should reflect and acknowledge that choice in the room/program/etc.
I have only experienced a couple of unreasonable berating from creative team members, but in those moments, I do remember wishing there was a process to hold someone accountable for mistreatment without fear of losing your job/network. I'm sure there technically was, but as an assistant, it is not as innate to stand up for yourself on the spot, probably because of the idea that we are, again, relatively inferior.
Since the relationship between designer and assistant can vary depending on who brought you on to the team—the designer or the theatre, it should be encouraged and normalized for everyone to have a space and process to address interpersonal conflicts properly to assure that everyone is protected regardless of onboarding.
What does a "good room" look like to you?
I have found I am most comfortable and motivated when directors and designers acknowledge assistants as part of the creative process. More often than not, I have noticed that most creatives hesitate to speak with the assistant without the designer around, which can be discouraging considering we are part of the creative team. The tech process can feel like a vulnerable space when there is a disconnect between creatives, and it feels even more removed and intimidating for an assistant, who may not have a grasp on everyone's relationships/boundaries, to exist freely in the room.
What does a healthy designer/assistant relationship look like to you?
In my experience, a healthy relationship is mutually beneficial and collaborative. As an assistant I always ask the designer "What do you need from me for this process?" and as a designer, I ask my assistant "What do you want to get out of this experience?" so we can establish expectations early on.
As an assistant, I admire designers who can trust their assistants with more than just paperwork. To be someone they can lean on when they're burnt out from designing and constantly engage with for opinions, trusting that we are all professionals and also just human beings with boundaries.
Just like any other relationship—it takes work, patience, communication, and an unhealthy habit of eating out every night.
I've been fortunate to have connected with strong female lighting designers early in my career, like Sherrice, who have become my mentors and have not only helped me propel my career with opportunities and recommendations but also help navigate my way as a POC female lighting designer in an industry dominated by white men.
Questions for Sherrice
What do you look for in an assistant initially and what makes you decide to continue working with them?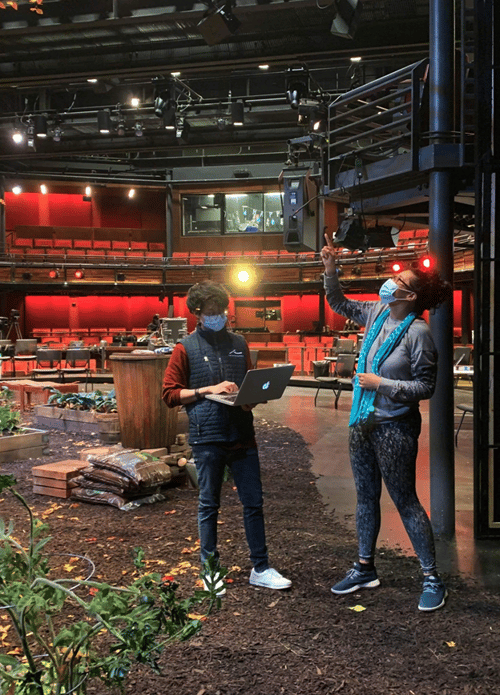 I think of the job of assistant lighting designer as very much an entry-level position, I'm going to expect whoever has applied to have been studying lighting design, and thinks they want to make a career of it. I'm on the lookout for someone with an interesting and intriguing design sense. I'm looking for myself 10 years ago. The designers I hire a second time are the ones who are able to share their ideas and notes with me.
I like an assistant who will ask questions and also takes the initiative depending on the situation. Like If I ask them to do something and then the next day they say "I wasn't sure about how you wanted this formatted but I tried it this way", or "We roughed in the focus of that special you mentioned last night would you like to look at it." I love that, I love the initiative, the effort, and the attempt to understand the note.
Or if I ask them to do something they don't understand, they have the courage to say they don't know, and ask how it could be done or if there is a sample. I try to cultivate trust with my assistants and let them know it's okay to ask me questions; it's okay for both of us to be wrong sometimes. We don't always get there, but it's great when we do.
How do you think your assistant benefits from working with you specifically/what do they get out of it?
I hope they observe the way I interact with the director, stage manager, and sound designer. I think this is the hardest thing to learn in school, I haven't figured out how to teach it. That first 120 minutes of tech is so stressful everyone is trying to figure out how to communicate with each other, along with everything else. OMG How do we even start this play? How do the actors get on stage? When does the pre-show speech go in the light cue sequence?
I think I have developed a calm, relaxed communication style, so even if I feel stressed there is no reason to communicate that stress. I hope that is something assistants observe and can take away.
I try to give my assistants responsibility whenever I can. I give them a chance to take pride in the work and know that they contributed.
It's always very clear to me when an assistant has moved beyond entry-level and who would handle the situation just fine if I walked out the door, went down to the beach, and never came back. I'm also always on the lookout to recommend a former assistant for a design position. I try to help them gain connections with directors and build those relationships. I will always say to a director, oh this was Venus's note and it's a good one.
How could the assistant position be standardized for the better?
Theatres/Producers could budget and establish weekly rates for assistant lighting designers' work and communicate that to designers. Like really think about it show by show. Think about how complicated each tech process is and how much tech time there is. Take into account if there are follow spot operators and anything else that would add labor to the lighting design team that would benefit from adding an assistant.
If the rate is weekly, it could also make it clear how many hours designers should expect assistants to be at the theatre. I have experienced this a few times and it is so helpful. It also signals that the producer is willing to oversee and protect the assistant, if they will protect them from the LD overworking them, I feel like I can trust them if there is a problem with another member of staff.
Again, I think of an assistant position as an entry-level position, someone who has education but not experience in a professional setting or perhaps not this professional setting. An assistant is going to interact with many other members of staff besides the lighting designer, with very little onboarding.
Assistants are going to make mistakes, they are not going to do things the same way the last assistant did, and I can understand that might be frustrating, but I think theatres and their staffs need to give assistants a bit more grace and consider the power dynamics at play when they find themselves in conflict with an assistant designer.
Maybe we need assistant onboarding that covers all the reporting structures and how accountability works at the institution. All the things that should get covered at the first rehearsal should be gone over again on the first day of tech.
Sherrice Mojgani
Sherrice Mojgani (she/her) is a Washington D.C. based theatrical lighting designer. She has designed for Arena Stage, Pittsburgh Public Theater, Seattle Repertory Theatre, The Old Globe, and San Diego Repertory Theatre. In 2019 Mrs. Mojgani's design for Into the Woods at Barrington Stage won a Berkshire Theatre Critics Circle Award. Mrs. Mojgani is a member of United Scenic Artist 829 and serves as a Trustee for the Eastern Region on the Local Union Executive Board. Mrs. Mojgani is an assistant professor in the School of Theatre at George Mason University. Originally from Orange County California, Mrs. Mojgani holds a BA in Theatre Arts from UC Santa Cruz, and an MFA in Lighting Design from UC San Diego.
Read more about Sherrice Mojgani on her website HERE.
"My design style focuses on immaculately lit actors and bold background color choices. I have developed a deep devotion to new work and find creating a visual language for storytelling fascinating." – Sherrice Mojgani
Venus Gulbranson
Venus Gulbranson is a proud Filipino lighting designer for theatre, dance, and events. She was born in Davao City, Philippines and is currently based in Washington, DC. Venus speaks English, Tagalog, and Bisaya. Venus has worked at Signature Theatre, Ford's Theatre, New Studio on Broadway, Santa Fe Opera, La Jolla Playhouse, and more. As well as Arena Stage where she served as the Allen Lee Hughes lighting design fellow in 2018-2019. Venus also serves as an artistic advisor for Monumental Theatre and is an alum of the USITT Gateway program for underrepresented artists in the industry.
Read more about Venus Gulbranson on her website HERE.
"I truly appreciate the simplicity, beauty, and emotional impact that lights can bring to the stage; and as a lighting designer, it's my personal goal to not only enhance, but bring each story justice." – Venus Gulbranson