Today we'd like to introduce you to the latest office space of ETC France! The team officially moved into a brand new building in Saint Denis, a northern suburb of Paris, early last year. When you walk into the office you can instantly see just how spacious it is: at 1400 m2, the modern space is almost three times the size of the previous building! The larger workspace is much more suited to the increasing business activities for ETC France and its team of 20 who work in various departments – sales, customer service, marketing, administrative and technical services.
Office areas
The building itself is divided into five main areas:
Technical
Stock
Demo/Show Room
Offices
Multi-purpose – e.g. filming studio, training space
At the entrance of the building, you will see a welcome area and a screen displaying different content each day depending on the news, future events, latest product launches etc.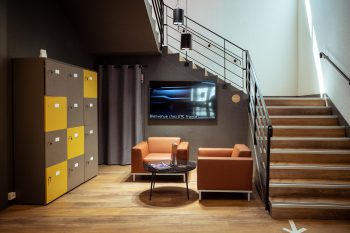 When you walk up the stairs you also have access to an open rooftop space which has already been used recently for a staff summer barbeque. There are two kitchens, one for staff and one in the showroom space which is available for customers and visitors.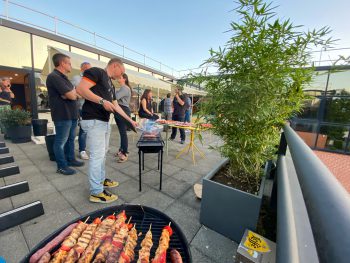 The showroom on the first floor can be converted into a black box area for demos with custom-made curtains to block out the light from the windows. It is also fully equipped with a sound system.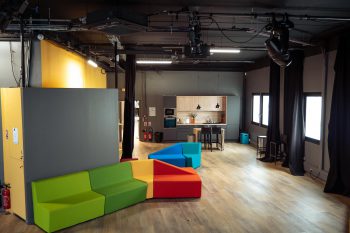 When you visit the multi-purpose area, you will see the Video Studio that ETC France use on their YouTube channel, Facebook page and for virtual demos. For the launch of fos/4 it was easily transformed into a broadcast TV show set with a fake background wall that was created to represent the real exterior walls of the ETC France building and remains in use today.
The technical department has an area fully equipped with professional, electric, height-adjustable desks allowing our technicians to alter them to their own comfort and making it easier to work from particularly with heavier products.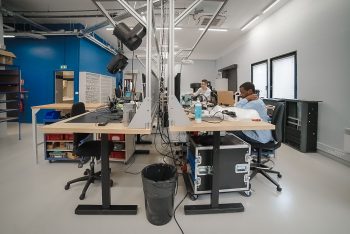 The central location of the office was also a key element in choosing this space as it has the capital on its doorstep as well as being based close to several TV studios. The office is also situated next to the famous Stade de France, the national stadium of France, which will be transformed into the Olympic stadium for the Paris 2024 Olympic and Paralympic Games!
History
After running as a successful distributor of ETC products for several years, Avab Transtechnik France was officially taken over by ETC in 2018 and rebranded to ETC France. With the focus now fully on ETC products, the team are building up a strong sales network, growing their connections with end-users and overall increasing ETC's presence in the European market.
Inside look
Take a virtual tour of the building by Office Coordinator Coralie Diaz here:
The ETC France team look forward to welcoming visitors to the office for future events coming soon. If you are ever in Paris, we hope you can drop by and say bonjour!