ETC's Mosaic architectural system and Source Four fixtures have been selected for Austrian amusement park Prater's latest attraction: the new, rapid rollercoaster 'Gesengte Sau'.
Designed and operated by Barth GmbH, the rollercoaster in Vienna offers an immersive experience speeding around an animated, bustling farm with animals and race cars. The 'Gesengte Sau' is 610 meters long with a maximum height of 24 meters and a top speed of 60 km/h. The theme of the ride is achieved through animatronics, decorative elements and video components. Lighting designer Markus Fuchs relies on ETC's architectural control system – Mosaic Show Controller X to coordinate and control the various mechanisms of the ride in an effective and reliable manner.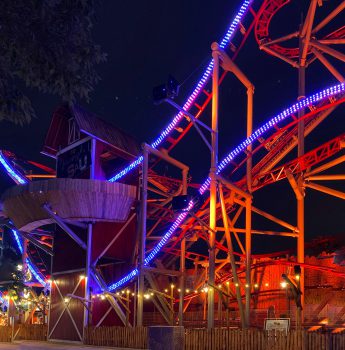 In order to deliver the best lighting effects at Prater, Markus Fuchs divided the design into two different areas: classic architectural lighting for the main building and lighting for the various paths around the amusement park. The lighting designer installed ETC Source Four profile fixtures which are recognized for their durability, power and imaging excellence. The energy efficient fixtures were able to set the desired night-time atmosphere and be adjusted to emphasize different areas in the park without disturbing the video production.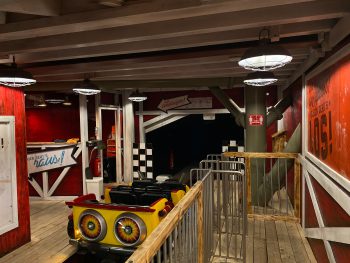 ETC's Mosaic lighting control system commands 14 DMX universes via sACN and DMX as well as handling the show control of all other effects for the rollercoaster. The Mosaic Show Controller X integrates the I/O modules and runs the animatronics from the 'Gesengten Sau' which can then trigger the correct effects that are required depending on the position of the rollercoaster cart.
The architectural system uses the Mosaic Designer software which gives designers advanced tools to create shows and manage all the pieces they need to maintain it. Fuchs comments on the software: "It allows you to prepare what you need in advance, prior to setting up the system. The software is very easy to program, and complex processes can be handled simply without any issues – including scenes with longer timelines that need to work alongside several output protocols." The 4.3 inch touch screen also gives users the ability to interact with an entire Mosaic show through a customizable interface.