Emanuele Agliati and Oscar Frosio are two lighting professionals from Italy with an abundance of experience, especially in the world of musicals. Emanuele is an esteemed lighting designer and co-founder of k5600 Design – an associate studio of lighting designers focusing on visual lighting design projects. Oscar is a lighting designer and programmer and works in close collaboration with Emanuele as the main lighting programmer and engineer for k5600 Design. Additionally, Emanuele and Oscar teach lighting design and lighting programming respectively at La Scala Academy (Accademia Teatro alla Scala) in Milan.

In this interview translated from Italian, learn about Emanuele and Oscar's ETC encounters – from fixtures and software to consoles and training – and get a feel for the skills involved in lighting musicals.
Lighting for musicals: an interview with Emanuele Agliati & Oscar Frosio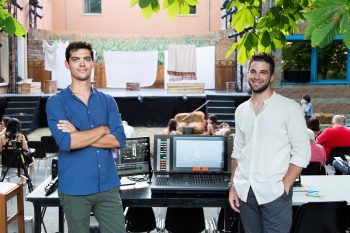 Can you remember when you first encountered ETC products?
Emanuele: Of course, it's common to find ETC products in theatres. Both in Italy and overseas, we've had many experiences where ETC products have proven to be fundamental – from fixtures (both incandescent and LED), through to advanced dimming systems, and finally consoles. Speaking of consoles, we really started focusing on the ETC Eos Family during the first lockdown. Like everyone in our world, we took advantage of that downtime to update our knowledge and study market-related news, to prepare for the restart of our sector. We'd had some experience of these consoles before, but due to the fast pace of our work we'd never been able to devote a lot of time to them or put them to the test on a show. The ETC Italy team dedicated time and energy to help us get to grips with Gio @5 and Augment3d software, both during our study of the console and then later for field tests when shows started up again.
We know you make extensive use of the Source Four 750W. Why do you still consider this fixture to be among the best on the market?
Oscar: The technical characteristics are the relative size, ease of assembly, solidity, and brightness. A fundamental feature is the interchangeable lenses that we can swap out depending on the situation, as well as the extremely versatile zoom lenses. On an artistic level, the beauty of the incandescent fixture, as well as the light produced by it, is uniquely recognized.
You recently used a Gio @5 on a tour of NINE: The Musical, can you describe how you used it and how it facilitated your work?
Oscar: For over a year now, we've been gaining experience with Eos Family consoles, the Gio @5 in particular. In terms of usability, in many locations and situations, this console is unbeatable, as it represents an excellent compromise between robustness and compactness. We worked in a variety of locations, from Italian theatres with small stages, to outdoor theatre festivals, and in this respect, the characteristics of Gio @5 helped us a lot. In terms of programming, it's exactly like using the other Eos consoles, both from a software point of view and from the point of view of the programming keyboard, with the availability of five motorized faders, which we used to the full.
We found ourselves very comfortable working with this console – the precise color controls and the various methods of updating cue lists, to the option of recalling the parameters between one fixture and another, and the division of cue lists into scenes etc. All typical and essential operations for those involved in theatre.
What about Augument3d?
Emanuele: We used it to pre-program some shows, mainly those outdoors and in a context where there wouldn't be much time to work on site. It offers a real advantage as it allows you to insert all the necessary cues before arriving at the venue, and then you can verify everything in situ in a very short time.
Despite some challenges, due to it being our first time using the software, our overall experience was extremely positive. More than once we looked at each other and said, 'Lucky we had Augment3d!', especially for outdoor shows, when some rainy days would've otherwise caused serious difficulties. We were pleasantly surprised by the software's ability to reflect reality, especially with regard to focusing fixtures. The configuration of the system is both intuitive and fast. It allowed us to prepare in advance and arrive with the cues already programmed, covering times, positions, and all situations. With little time available – Monday editing to Friday debut – using Augment3d really helped. It enabled us to spend time in the theatre fixing or adding cues.
What are the most important skills you think a lighting designer involved in musical shows should have?
Emanuele: The musical is a form of show that combines acting with dancing and singing. It's therefore a mix of different ways of using light. We try to create a lighting design that supports the story and is able to emphasize spaces, places, time, and situations.
It's certainly a kind of show that requires a great versatility of light – passing from one situation to another must never lose the common thread.
We focus on illuminating the scenographic environment by creating more or less natural situations (depending on the requirements), then go on to tell the intentions, and the characteristics of the characters and the situations they experience, always with an awareness of what are narrative or purely choreographic moments.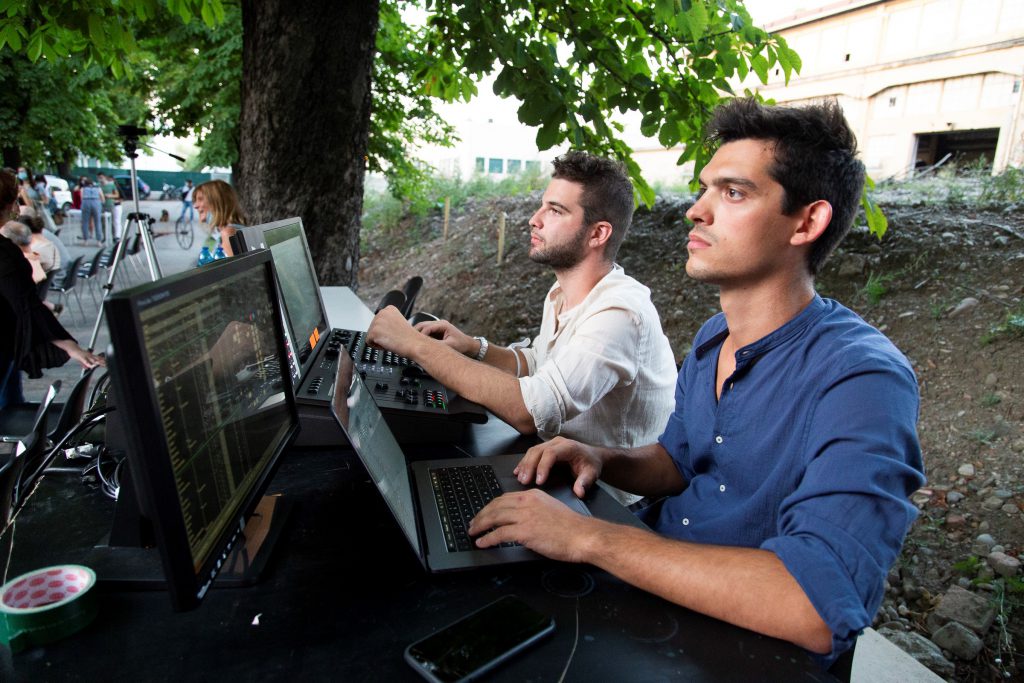 The key features of musicals are the moments of singing and choreography. These may be narrative; or tell fundamental elements of the story or signify passages of time; or musical numbers, which are moments of pure entertainment where the queen is the dance. There are also choral group numbers, where the light tends to become more abstract with the intention of stimulating the emotions of the audience through effects, sudden changes, following choreographic movements, and musical changes. In this case the skill of the lighting designer is based on maintaining the common thread of the dramaturgy of the show without turning it into a "live concert".
A musical requires a significant number of light changes to be programmed and – above all – created with speed. It's also a form of show in which there are numerous and sudden scene changes, where sometimes a large proportion of the scenography is transformed in a few seconds (and often in view). With the lighting design we aim to highlight or hide these changes, making them more or less visible depending on the directorial needs and/or narrative.
All this means that a good design and a good workflow are essential, and it's usually necessary to create a large number of cues. We often use cues "linked" to one other. We place a lot of importance on the timing of the cues (based on the music) and make great use of effects and chasers designed specifically for each situation.
Let's talk about training, a topic that – at least in Italy – is always rather delicate in our sector. What are your preferred sources to stay up to date and educated in products and technologies?
Oscar: First of all, we look to manufacturers. Beyond the regular lighting courses available in Italy and in specialized schools, the best training is – at least in our case – offered by companies. We contact them to find out the latest developments and see the latest products so we can compare them and explore the benefits and drawbacks of each one. We like to do personal tests, especially in the field, when we have the opportunity. This is partly because, as much as schools and courses can be updated, industry developments happen so quickly. Going to the manufacturers is now the only real way to stay completely up to date with the advancement of technology and products on the market. Sometimes manufacturers loan us products so that we can test them comprehensively, enrich our knowledge, and subsequently understand the situations in which we could apply the products.
Are there any other ETC products you find particularly intriguing and would like to use on one of your shows?
Emanuele & Oscar: We definitely want to try the Source Four LED Series 3. We had the opportunity to see the official launch presentation online. We noticed there had been even more in-depth research into the color aspects, as well as a significant increase in the amount of light emitted. This really caught our attention and with ETC being such a reliable brand with products of the highest quality, we'd love to see it in action for ourselves.
Links:
https://www.instagram.com/k5600design/
Enjoyed reading this post? Why not take a look at our interview with Leonardo Benetollo?