The Orthodox Educational Society (OES) in Jordan is a charitable organization that serves communities across the Middle East including the education and training of students. In the midst of the pandemic, ETC dealer, Girhoma worked with OES to supply lighting equipment for its latest 450-seat theatre to help improve the setting for drama students and provide a better atmosphere to the stage for their performances. Girhoma received a request to design, supply and install a full theatrical lighting system and selected ETC ColorSource fixtures to do the job.
20 ColorSource Spot fixtures with fresnel adaptors, 10 ColorSource Spot (25-50 degree zoom) profiles and 9 ColorSource PARs were installed in the theatre. In addition to this, a High End Systems HedgeHog 4X lighting desk was added for control.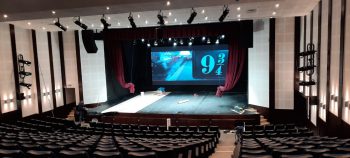 "ColorSource fixtures have a good output of bright, beautiful light and they are easy to use. There is no worry about the light fading over the course of a show as it compensates with thermal drop to keep the color consistently strong. The thermal management algorithms built into every ColorSource fixture ensure that the colors you choose in rehearsal are the colors you get during the show," says General Manager for Girhoma, Hanna E. Zananiri.
ColorSource luminaries are factory-calibrated to ensure consistency. They offer bright, vibrant colors and perfectly-mixed pastels which made them an easy and effective choice for Girhoma to fulfil OES's request.
High End Systems HedgeHog 4X console was also selected to control the lighting at the theatre. The compact yet powerful control desk shares the same programming layout and capability as the larger High End Systems consoles and has full networking capabilities. "The HedgeHog 4X console packs a serious punch and has a user-friendly interface which makes it very simple and quick to work," adds Zananiri.
Despite the challenges the pandemic brought, the Orthodox Educational Society were very pleased with the outcome at the theatre and the quality of the work in this project by Girhoma and ETC.