ETC founder Fred Foster instilled his passion for education in the company's corporate philosophy early on. For over 20 years, ETC has facilitated career growth for lighting students through its Fred Foster Student Mentorship Program; a program that helps Fred's spirit of giving live on.
Each year about a dozen university students are selected and get the opportunity to network with and learn from some of the industry's top designers and artists. Each student is paired with an industry mentor and they remain in contact with their mentors for the next year, and often beyond. The mentors act as a source of inspiration and guidance as each student transitions into the working world.
"Before ETC selected me to attend the LDI conference I felt very much on the outskirts of the industry. I knew the important names in lighting, but had never dreamed of engaging with them, especially this early in my career," says Jasmine Lesane, 2018 recipient. "The Mentorship dinner event that ETC held immediately immersed me into the industry's network."
The switch to meeting online has impacted so much of our lives over the past year and a half, and the mentorship program was no different. For the first time ever, ETC hosted the 2020 Fred Foster Student Mentorship Program in an entirely virtual format. This also means that for the first time ever, we were able to easily record some of the conversations and share them with you.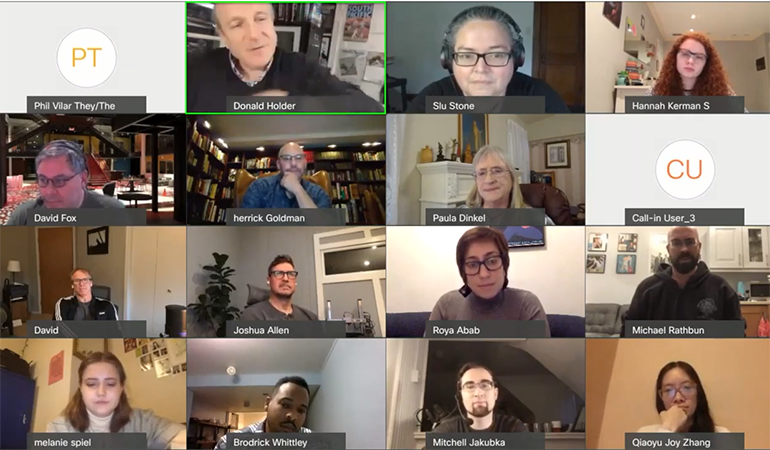 In this small group discussion from the spring of 2021, students got to hear from lighting legends Don Holder, Herrick Goldman, and Roya Abab about their careers in theatre and dance.
Conversation highlights
During the hour-and-a-half online conversation, the 2020 Fred Foster Student Mentorship Program mentees asked a lot of great questions. Some of the most impactful moments came during the following discussions. If you are interested in hearing the answers, we encourage you to watch the full interview or skip ahead to the minute markers below.
Through the creative process of designing, how often do you think of your technicians? (14:50)
Can you discuss the rental market, how to build relationships, price gear, and negotiate contracts? (25:00)
How do you avoid getting "boxed in" to a certain role when you might want to branch out and try other tasks such as lighting director, programmer, designer, etc. (35:00)
How do you prepare a show to go on tour? (43:00)
When and why would you make the move from freelance designer to a small business owner with an LLC? (52:00)
Do you have any tips on prioritizing your day and making time to create? (59:00)
How do you decide when it's time to join the union? (1:03:00)
Fresh out of school with minimal experience, how do I know what I can/should charge and how do I make sure I don't get cheated on a contract? (1:14:00)
What is your best advice on finding success in the industry and what qualities do designers look for in an assistant? (1:18:00)
And finally, Can you tell us any horror stories from your careers? (1:24:30)
About the mentors
Roya Abab Born in Seattle, WA, Roya is a New York-based lighting designer and programmer. She has been the associate lighting director of the Alvin Ailey American Dance Theater since 2011. In that time, she has had the honor of mounting the lighting for the Ailey company all over North America as well as Russia, South Africa, Germany, France, Brazil, Argentina, Norway, Denmark, Switzerland, Spain, and Israel. In her time at AAADT, she has had the pleasure of working with some of the world's top choreographers and designers. Roya graduated from the North Carolina School of the Arts with a BFA in lighting design. She is a member of United Scenic Artists Local 829.
Don Holder Don holds a Master of Fine Arts degree from the Yale School of Drama and is currently Head of Lighting Design at the Rutgers University Mason Gross School of the Arts. His specialties include theatre, opera, and dance. He has been nominated for thirteen Tony Awards, winning the 1998 Tony Award for Best Lighting Design as well as the Drama Desk Award for Outstanding Lighting Design for The Lion King. He won a second Tony in 2008 for the revival of South Pacific.
Herrick Goldman An award-winning designer of theatre, dance, and live events, Herrick is the founder and principal designer of Evoke Collaborative and HG Lighting Design. He has been designing professionally for more than 30 years with numerous off-broadway and regional shows to his credit, hundreds of corporate events, permanent installs at Madame Tussauds NY and Las Vegas, a water feature at LaGuardia Airport, and tours.
Herrick has been honored with a 2020 Drama Desk Nomination for Einstein's Dreams, the 2018 SALT award for Wizard of Oz at Syracuse Stage, Henry Hewes nominations for Rooms a Rock Romance and Falling For Eve, ISES Big Apple award for Best Event Lighting, The Live Design Excellence award for Best Theatrical Lighting Design, as well as the inaugural Live Design Redden award for excellence in theatrical design.
The 2021 Fred Foster Student Mentorship Program group has been selected. Keep an eye on social media as we continue to introduce this year's recipients. If you're interested in applying for mentorship opportunities in the future, please check back in the spring of 2022. Click here to learn more about the opportunities.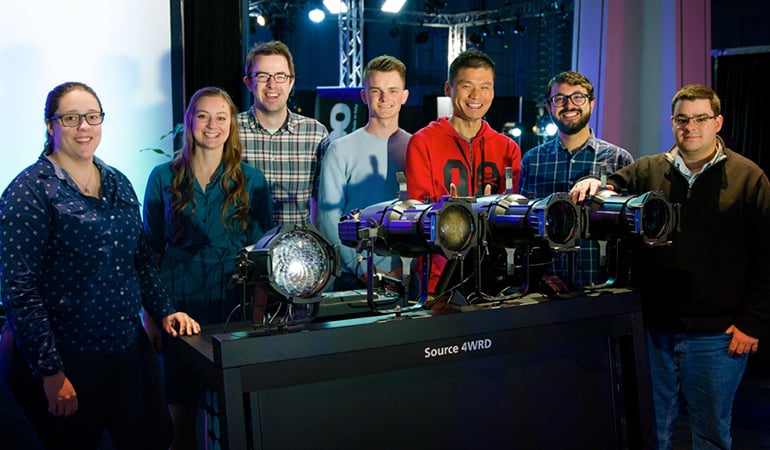 Read more about some of the Student Mentorship Program alumni and where they are now in this article from earlier this year.