Anne Valentino retired from ETC in October of 2020. Before she left, however, Steve Terry (ETC Director of Standards and Industry Relations) and Dennis Varian (ETC Vice President of Research and Development) sat down with her in a virtual interview to capture the stories and memories of her time with ETC. This is a brief recap of that interview. You'll find the full interview linked at the bottom of this article.
Anne worked with and for ETC for nearly 30 years by the time she retired in October of 2020. She finished out her career at ETC as the Senior Product Manager for Entertainment Controls. Prior to that, in the early 90s, she was the manager of ETC's Research and Development group where she co-designed the Obsession control desk. But let's go even farther back to her days before ETC.

Before ETC…
Anne holds a Master of Fine Arts in technical theatre from the University of Wyoming. In the late 1980s, Anne was working for Strand developing consoles such as the Light Palette. Prior to 1990, consoles that had a preset design, like ETC's Expression family, were popular in a variety of market spaces. The Broadway market, however, had not yet been convinced and remained incredibly loyal to Strand's Light Palette.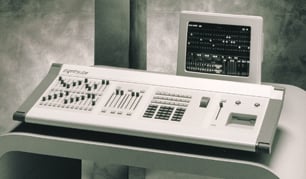 When ETC launched the last of the Expression consoles, Anne wrote a letter to Fred Foster congratulating him on successfully doing something no one else in the market had been able to do – including Strand. ETC was the first to produce a family of consoles where the same software package was wrapped in different facepanel hardware depending on the market space and cost target.
"This is something (Strand) had been talking about for a long time, but nobody had pulled it off." -Anne Valentino
If a customer wanted a smaller board and basic features, they'd purchase one console. But if they wanted to size up to a board with more advanced features, they'd buy a different version. This family-of-consoles format cut back on the learning curve for many users and was a great way for ETC to build a long-term brand and customer base.
By the early '90s, Strand was struggling to keep the console current and the industry was beginning to notice. ETC CEO, Fred Foster called Anne and offered her the job of "making a better Light Palette" for ETC. As we know, she thankfully accepted.
Along with John Ide, ETC's lead software developer at the time, Anne started researching what made Light Palette so appealing to Broadway programmers. They determined that the command line was the biggest draw. With Light Palette, board ops would enter syntax as they spoke instead of as computer language. It was a more intuitive way of programming. And so ETC began development on what would become the Obsession console.
Testing the Obsession
Before a console ever makes it to market, ETC insists on extensive testing. So, when Ken Billington offered a national tour of Annie as a beta test show for the Obsession console, ETC agreed. Anne worked on-site during the run for two weeks and took notes during the day while the cast and crew worked.
"God love Ken Billington, he always stepped up and wanted to do beta testing with us on new hardware." – Anne Valentino
As with any pre-market software, there will be changes. But in the early '90s there were no cell phones or internet connections, so making those changes wasn't anything like it is now. Anne would take notes during rehearsals and call John Ide to talk through the possible updates. John would then take Anne's notes and rework the software overnight to fix any bugs or implement new features. The next day, a new version of the software would be downloaded through the phone line.
"If anyone picked up the phone, it interrupted the software and they had to start over. Because there was no internet in '92. Also, there was no backup. If the console went down, your show was dead." – Anne Valentino
It didn't take long for Obsession to take over in the Broadway market which proved that timing was everything. Light Palette was long in the tooth and ETC was there to step in with a replacement. The two consoles were foundationally very similar and giving people the ability to tech a show, in the same way they'd tech it with Light Palette proved to be incredibly valuable.
Around the time that Obsession began shipping was also when Anne left ETC.
A focus on bigger projects
ETC has always had the goal of having gear on Broadway, but another part of the company's dream was to have gear in opera houses. In the late '90s and early 2000s, ETC switched gears toward a more systems-driven focus to get gear into high-profile places. This led ETC down a path of working with consultants and specifiers who were looking at full systems.
"We started spending our efforts on meeting specifications instead of providing functionality." – Dennis Varian, ETC Vice President of R&D
We added products to fill out full systems including networking gear and system processors. This full-system approach led us to some impressive installations including The Church of Jesus Christ of Latter-Day Saints Conference Center and New Orleans Convention Center. But it also meant that we lost the connection that Anne had established with the design community.
"We're not the ones who use these products. We're not the ones who sit behind them for hours. You need to listen to your user base." – Anne Valentino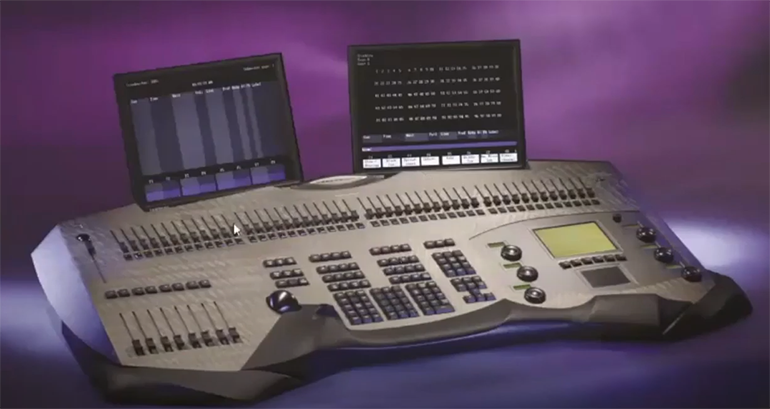 Out of this systems approach came a desire to use the Obsession console for things that it was not originally designed to do. Some of the feature requests stuck, but many did not.
"Adding in capabilities for moving lights into a theatrical console didn't make much sense from a programmer's perspective. If you were going to have someone busking during the show, you didn't need all of the programming features to set up a show ahead of time, like you do for live theatre. This opened the door for consoles like Hog 2 and Hog 4 to fill that need." -Anne Valentino
For example, when other manufacturers were trying to integrate controls for automated lighting into their consoles, ETC remained separate. And the fact that Obsession remained successful for so long proved that Broadway programmers wanted things to remain separate from other market segments as long as possible. They liked what they had with Obsession and didn't want that to change.
The rock and roll world seemed to have a similar viewpoint and desire for separation. Their lighting designers were often seen as "another member of the band," meanwhile, the board op ran the conventionals with one console and the programmer ran the automated fixtures with a separate console.
Things can't stay the same forever, and ETC was about to change the game again with Eos.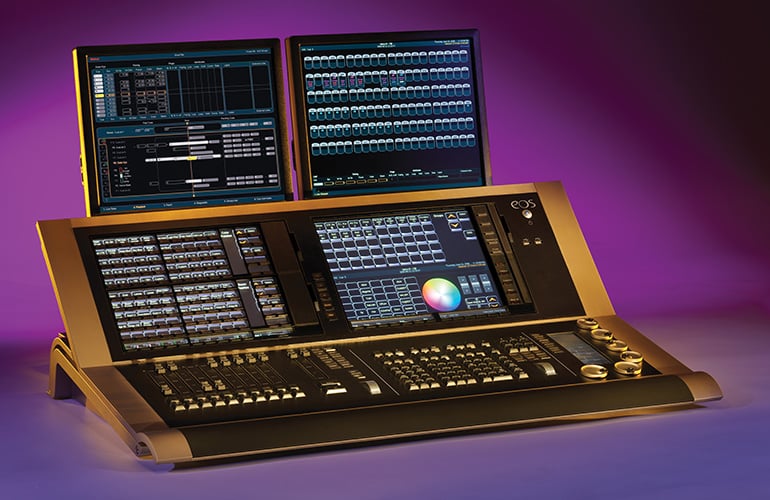 Anne returns to ETC
In 2001 Anne returned to ETC for the Onyx project, which was later known to the world as Eos.
Every other console ETC made had very clear-cut parameters but Eos was different. Management felt that the biggest hole in the market at the time would be filled by a fully integrated console in the theatrical market space. The one directive R&D got was that they needed one console to replace all the others. ETC had Express and Expression and Obsession II. But those consoles were aging and approaching end of life. So, Anne and her team started a multi-year market research project.
"It's really hard to start a new console from the ground up. Every potential solution is open to you until you write the first line of code. The moment you make your first decision, you narrow your choices." – Anne Valentino
One of the hot ticket technologies of the time was touchscreens. Touchscreens, however, don't have the tactile feel of buttons. As a designer, you want to be looking at the stage, but with touchscreens, you have to look at them. You have to take your eyes off the stage to use your console. The goal of adding in button modules was to have tactile feedback so you can activate the controls without having your eyes leave the stage.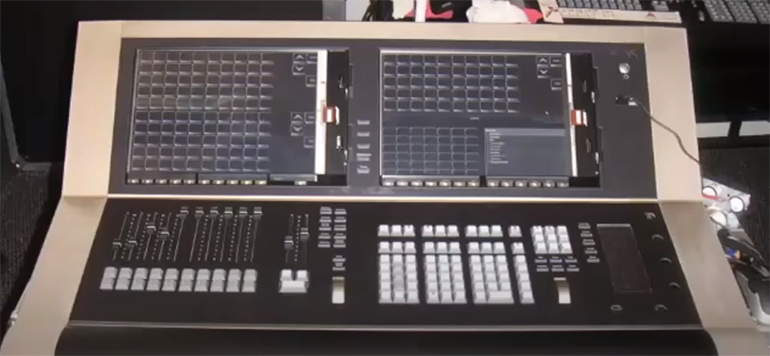 With Eos, Anne and Dennis helped answer hundreds of these seemingly small issues with a new way of thinking, a new workflow, and a new design. They dissected every feature. Determining the functionality of a single button push often turned into a multi-day conversation.
In the end, Eos ended up having an Obsession-like feel. It felt like an Obsession on the surface, but it wasn't an Obsession and Anne was originally worried that people would be disappointed because they were expecting one thing, but got an Eos instead. Now, years later, the Eos family has expanded in a similar manner as the early days of Express and Expression. With the addition of the Ion and Gio consoles, Eos was able to stretch from the entry-level market all the way to Broadway.
With 3.0 open beta, ETC had almost 6000 users interested in testing and giving feedback. During the pandemic, the development team was getting feedback from high-level users who wouldn't normally have time to give their input.
"We have very passionate users and they are very opinionated about the way this platform works… they really understand the platform well. They are fighting back about the way things work because they have a sense of ownership in the console. That's a great compliment." Anne Valentino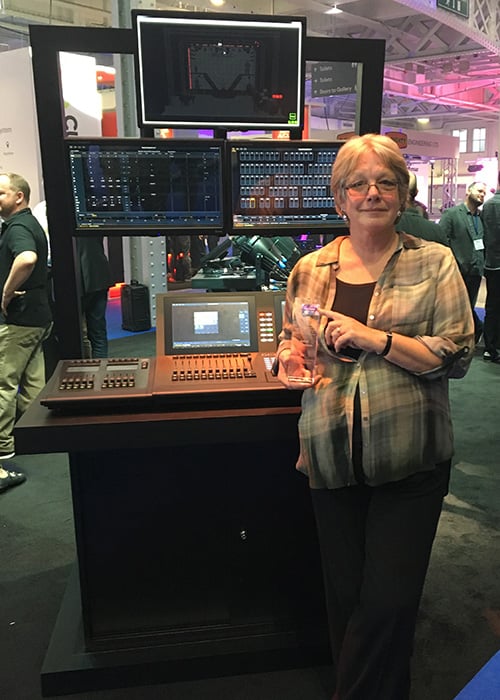 Want to hear more? Watch the full interview to hear more about:
the day the Eos development team fired Fred Foster
features that Anne would like to see eventually implemented into Eos
what it was like building a career in the industry as a female
how ETC names consoles
and what's coming up next for Anne
Listen to the full interview and learn more about Anne's Career and the history of consoles at ETC.
Anne holds a Master of Fine Arts in technical theatre from the University of Wyoming and has received numerous awards throughout her career including an Academy of Television Arts and Sciences Engineering Award (Emmy 2001), the Gottelier Lifetime Achievement Award (PLASA 2016), and Distinguished Achievement Award in Lighting Design and Technology (USITT 2018).
"Anne has been more than a product manager or developer, she has been a force, constantly pushing lighting control forward since its infancy. We are all proud that she called ETC her main home over these years and wish her well as she takes more time for herself in retirement," -David Lincecum, Vice President of Marketing at ETC.