It's been a season of growth and change at ETC. The Orlando office moved into a new space last September. The LA office moved into a new space in March. ETC France, our newest office, is up and running in Paris. There are also plans for updates to the Germany and UK offices in the coming years as well!
Here at home, almost 200 employees are officially settled into the new building addition in Middleton, WI.
This is the third addition to the headquarters building that first opened in 2004. At that time the space was nearly 250,000 square feet. In 2007, the company was feeling a little cramped and added an additional 78,000 square feet of manufacturing space.
By 2013, the building was once again feeling restrictive, but instead of adding on in Middleton, ETC purchased a 355,000 square foot building 16 miles west of town in Mazomanie, WI. The large majority of this space is occupied by manufacturing but also houses the wood shop, tradeshow booth storage, and our state-of-the-art video studio.
In the spring of 2017, ETC broke ground on the north side of the headquarters building for the next phase of growth – a multi-story, 75,000 square foot addition. While the previous two building expansions increased manufacturing space, this addition brings offices, for the research and development and marketing groups, as well as lounge space and meeting rooms for use by all ETC departments.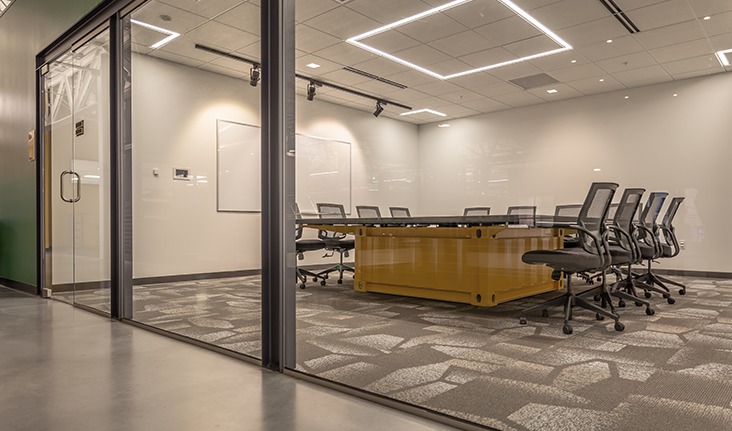 We can't "contain-er" our excitement!
If you get a chance to visit us you'll immediately see that the inside of the addition, like ETC's corporate culture, includes unexpected elements of fun and playfulness. While the space does include conventional work and meeting spaces, many of those spaces were created in an unconventional way using salvaged shipping containers, uniquely crafted and stacked on multiple levels.
ETC Co-Founder, Fred Foster admitted that they had been playing around with shipping container office designs for a few years. In 2018, he was quoted as saying,
"This unique recycled design gives our employees not only the individual room they need to work, but also a creative space that encourages collaboration, growth, and open communication through a wider range of departments."
Real, flexible design
The design of the space was thoughtful and intentional. Using "real" elements whenever possible, the glass, concrete, metal, wood, and even paper elements create a very grounded feeling throughout the space.
One of the most important design elements is the feeling of community. Each section of the space was designed to always keep you looking in. This is true in the neighborhoods of containers that surround each lab space, to one of the most visually impressive spaces fondly known as "The Bear Pit."
While the bear pit is a reference to old outdoor Renaissance theatres, no bears will be allowed in. This bear pit is visible from all three levels. Its flexible design and central location encourage meetings for both work and rest. It's reminiscent of old Spanish theatres, and the well-known Globe Theatre in London.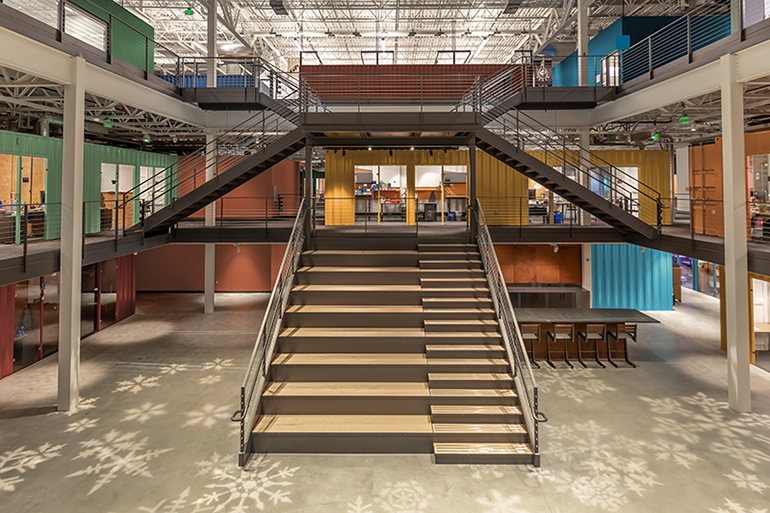 Color and light
The desire for natural light was of the utmost importance. This is evident by the wall of glass on the north side of the building. This wall of glass, however, means everyone can see into the space when approaching the building from the road. And if everyone can see in, the interior needs to be as visually appealing as the exterior – if not more.
There was no question that color would play a large part in creating the artful elements of this building. The most striking way to bring that vision to life was to paint the containers. The team chose bright, playful hues of orange, turquoise, red, and yellow.
The goal was to create a functional interior environment. It had to work with the brightly colored containers, a large amount of natural light, and harsh elements of concrete and corrugated metal. This task was left to a creative team of ETC employees who worked through dozens of different designs before deciding on the current layout that is both fun to look at and inviting to be a part of.
Using furniture in neutral tones of blacks, grays, and browns and softer textures of paper and fabric create incredibly functional spaces that soften the environment. They also act as barriers to reduce visual distractions and the inevitable noise of equipment and co-worker conversations.
The entire space is a creative piece of artwork that you really have to see in order to get the full effect. If you're ever in town, make sure you swing by for a quick tour.