A treasured destination in Winnipeg, the Manitoba Museum recently completed a multi-phase renovation over the past four years to bring new life to the museum's beloved galleries. Among the largest upgrades was the Nonsuch Gallery. The Gallery is now equipped with more than two dozen ETC ColorSource Spots along with Mosaic controls for captivating light shows.
The Nonsuch Gallery features a replica of the original Nonsuch, a small ship that sailed from England to what we now call Canada in 1668 to trade for furs in Hudson Bay. After the Nonsuch's successful trip, investors established the Hudson's Bay Company in 1670. HBC is now considered a staple in Canadian history, and Nonsuch is the ship that started it all.
The Nonsuch replica, seen in the Gallery, was built in England in 1968 to celebrate the 300th anniversary of the Hudson's Bay Company. Built using hand tools of the 17th century, it is considered one of the finest replicas in the world and sailed 14,000 kilometres of salt and fresh water before finding her home at the Manitoba Museum in 1974. In 2018, as part of the Bringing Our Stories Forward Gallery Renewal Project, the Nonsuch Gallery has been updated and enhanced.
–"Nonsuch Gallery." Manitoba Museum
Steve Bedard, Director of Design at Eos Lightmedia, led the charge on the Gallery's lighting overhaul. One of the most significant lighting upgrades was replacing 10-inch Fresnels with ColorSource Spot fixtures to illuminate the 80-foot ship.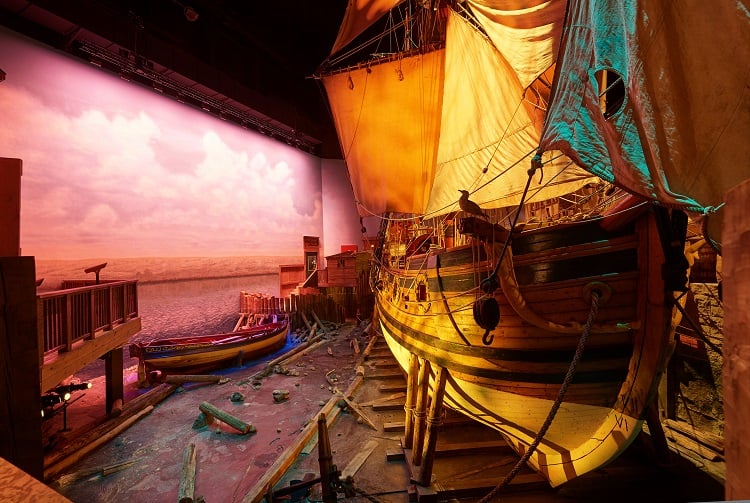 "With a museum that gets renovated every 50 years or so, you have to consider quality and longevity when selecting new technology to implement," says Bedard. "With ETC ColorSource, we knew we were getting high quality light from fixtures we could depend on to stand the test of time. ColorSource also checked off important boxes, such as controllability, lensing, shutter gobos, and more."
The Gallery cycles through three 17-minute shows throughout the day, including scenes of a sunny day, a blustery day, and a rainstorm. With the pairing of ColorSource fixtures and Mosaic controls, Bedard was able to simulate all those effects. In total, there are eight Mosaic units throughout the museum running different gallery light shows.
"One thing that's really unique about the Manitoba Museum is that they still have people on staff doing hand-crafted murals, dioramas, and taxidermy that is absolutely mind blowing," says Bedard. "In a time that a lot of museums are heavily focusing on virtual resources, it has been incredible to work with an institution that's still committed to more traditional crafts. The curators are all exceptionally focused and diligent."
"The reception of the updated Nonsuch Gallery has been fantastic," says Bedard. "Many people in the Winnipeg community have fond memories of visiting the museum throughout their lives. Seeing the space with this new depth and light really enhances those warm memories. With the upgrade, we can accomplish saturated color, nuanced storytelling, motion, and effects in a way that wasn't possible before."
All photos © Manitoba Museum/Ian McCausland