For anyone who has ever worked in live theatre, you understand the massive amount of time, energy, and materials required to put up a single show. The costumes, lighting, scenery, marketing materials, and travel considerations for audience after audience each night add up quickly and have a shockingly negative impact on the environment.
Thankfully, theatrical artists are some of the most creative, hardworking, and proactive people on the planet. Over the past several years, these people have created a number of organizations around the globe that are diligently working to bring awareness to the wastefulness of live theatre and are encouraging others to join in the sustainability movement.
The National Theatre and the environment
One of the most influential organizations leading the charge is The National Theatre. In 2019, The National declared a climate emergency and set a goal to become a carbon-neutral facility by 2050.
Theatre, like all industries, has an impact: we create work that is inherently temporary; that makes use of raw materials, of heat, light and sound; that asks people to travel to a particular location at a particular time. However, we believe theatre can be part of the solution. We tell stories, shape culture and encourage empathy and understanding. Our industry is made up of creative and inspiring people who are motivated to make change.
The National has tackled an impressive number of projects, many of which required substantial building and infrastructure change.
They are using wind and solar energy for a large percentage of the building's power.
They've planted a rooftop garden, added beehives, and landscape with native plants to encourage biodiversity.
The water extraction system used supplies 100% of non-drinking water from the London chalk aquifer.
While your venue may not have the budget for these types of projects, there is still plenty of inspiration to be taken from The National to make your theatre a little more earth-friendly.
Use recyclable and reusable materials where possible.
Eliminate single-use cups from concessions. Encourage staff to bring reusable water bottles.
When upgrading lighting fixtures, choose LED to reduce electrical consumption.
Upcycle costumes, fabrics, scenery, and props for future shows when possible. Donate the items you no longer have space for to a local theatre company or school.
Empower staff to start new initiatives and make it easy for audience members and visitors to contribute to your individual programs.
Want more inspiration on how The National Theatre is reducing waste? Read more about their environmental policy here.
What's happening in the US?

Stateside, we have The Broadway Green Alliance (BGA) working toward a greener world, one theatre at a time. This group brings sustainability and environmental protection to the world of show biz by encouraging cast, crew, and facilities to do what they can, no matter how small, to reduce their carbon footprint through a series of eco-friendly initiatives. Watch this video to learn more about what they do and how they got started.
One of the great things about BGA is that they make it easy to join their movement. All you have to do is appoint someone in your cast or crew to become the Green Captain. This person is in charge of organizing eco-friendly practices and sharing the success stories with the alliance. Go here for more information on what it takes to become involved. BGA knows that change happens when others are inspired to take action. Organizations like this make it easier to get organized, do our part, and inspire others to keep progressing.
The power that theatre has in tackling climate change lies in its story-telling ability – Alessandra French, student writer with The Boar
A greener reopening toolkit from BGA
BGA has created a resource guide to help theatres reopen safely while directly addressing the needs presented by COVID-19. As we get back to work it's important to keep the health of our planet and all who inhabit it at the forefront of our efforts to rebuild our industry. Learn more and download the toolkit here.
What is ETC doing to help?
Read this blog article from 2019 to learn about a few of the things that ETC continues to do to help make the industry a little more green.
And this one from 2017 showing some of the innovative ways you have upcycled your ETC products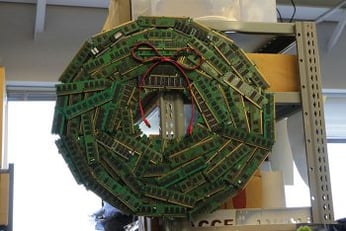 If you're like us and can't get enough of the Broadway community singing together over zoom, here's one more earth-day-inspired video from the cast of Jagged Little Pill.