Many movie theatres of the 1930s, like the starlets who graced their screens, have faded away. Time – and real estate developers – wait for no one. But in Vancouver's west side the art deco Hollywood Theatre was rescued from demolition by an enterprising team who turned the classic '30s palace into a professionally equipped multi-purpose venue. The new venue can host movie screenings, live shows, educational events, and more thanks to a powerful and versatile lighting system stocked with ETC gear.
A three-year project, the renovation of the Hollywood Theatre called for an LED-based lighting rig filled with ColorSource Spot Fixtures, hung on an electrics bar supported by a Prodigy XO 1400 hoist, new house lights controlled by Paradigm and integrated with top-of-the-line, cinema-quality audio visuals. The theatre's classic 1935 façade was lit with ETC Desire XTI exterior fixtures.
Tyler Martin, a seven-year veteran of Field Service Canada designed the system that was installed by local dealer Christie Lites. "My only brief was to make this a true multi-purpose space using first-rate components," says Martin. "As an ETC turn-on technician, I get to see at least 30 venues a year, so that helped with the design concept."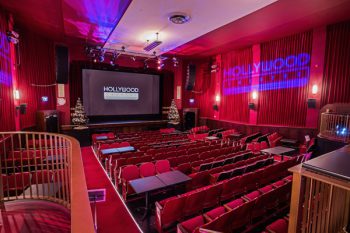 Which leads us to the first two ways ETC helps the theatre fulfill its brief: rigging and lights. The space can easily be swapped between a movie house and a live event venue thanks to a retractable cinema screen, which creates much needed stage depth. The Prodigy XO 1400 hoist sits above the stage apron, providing hanging positions for the ETC ColorSource fixtures.
"These were a no-brainer," adds Martin. "No other LED ellipsoidal on the market gives that quality of light for the price. I didn't want to sacrifice these for more moving lights. With 10-degree lenses at a 70-foot throw, they do a great job."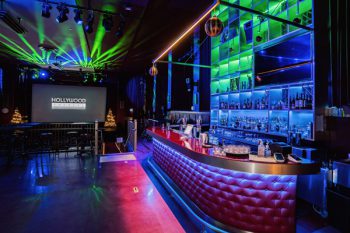 ETC controls it all
Since they can't host live events or screenings during the current pandemic condition, the Hollywood Theatre house rig works with heritage house lights to create a very well-lit cocktail bar. ETC power distribution and architectural controls made integrating the two a breeze. An ETC Sensor IQ panel and Unison DRd handle a variety of power and dimming needs, including line dimming, 0-10V, and straight relay control. And a Paradigm processor controls the whole system, including the refurbished neon on the façade and the theatre's projector.
"We integrated a Barco HD projector into Paradigm – this was a first for the projector company," says Martin.
Special care was taken with house light control. "We took charge of house lights early on," explains Martin. "For me they are as important as stage lights, especially in a venue that can be so quickly re-configured."
Hollywood Theatre's community-based plans
The pandemic forced the team to start small but there are big plans for a lot more according to Hollywood Theatre operators David Hawkes and Sean Mawhinney.
Both have a rich background in the Vancouver restaurant, music, and night club scene and are a perfect fit to make the theatre a prime destination for live acts and special events. Hawkes drew on his background in TV production to specify film festival quality projection and 7.1 audio. The space can also be used for broadcast quality streaming and editing of live events. "The owner told us not to scrimp on the audio-visual gear," adds Hawkes. "We want visiting tour managers to tell their agents that this is a first-class place to play."
Yet, they are steadfast in their determination to make the venue work for everybody. Even before the pandemic, Hawkes wrote a business plan that stressed the need to diversify. "At first, the city was concerned that we were creating just another nightclub," says Hawkes. "Now they see that it is a real community gathering place."
That sense of community goes way back. "I was brought to this place by my grandparents to see movies after a trip to the ice cream shop," Hawkes says, laughing. "I never thought that one day we'd be running the place."
Martin lives in the same neighborhood. "I found myself coming in here at weekends, cleaning and checking on things. I have a vested interest in making it work."
Even though COVID-19 restrictions have tested the multi-purpose concept to its limits, there's been bright spots, too. "Right now it's the hottest cocktail bar in the neighborhood and that's a great way to build the local audience," jokes Hawkes.
Plus, the Hollywood Theatre was recently granted a rare "Heritage A" status by the city of Vancouver. "We are a young city, we tend not to hold on to our historic buildings as much as we should. We all feel this is a triumph for our city as it sets a precedent on retaining cultural spaces," says Hawkes.
Gear List