In this guest blog post, LDI Student Sponsorship recipient, Mari-Riin Paavo shares her experience in the United States learning from some of the industry's brightest luminaries.
This is a story about reaching the heights I never have dared to dream about. I am Mari-Riin Paavo, young lighting designer from Estonia, a 2018 ETC LDI sponsorship recipient (now the Fred Foster mentorship program), who got lucky and in addition to a week at Las Vegas, got an opportunity to spend two weeks in New York City, to meet lighting designers, observe their work, and take in every possible inspirational drop.
Everything you want will eventually come to you. This is a sentence I live by, but I never thought my biggest dreams could become reality so quickly. I have always wondered how life is in the Big Apple. Are the fixtures on Broadway the brightest and do they make theatre magic with the same resources as we do here, in Estonia?
More than just luck in Las Vegas
It all began in July 2018, when I received a letter from ETC. I was accepted as a recipient for the ETC LDI Student Sponsorship! In October, I flew to Las Vegas for the show. On my fourth evening in Las Vegas, we had dinner with selected industry professionals.
That evening, the eight students from USA, France, Taiwan, and Estonia headed to the dinner with a mixture of a little fear and a great sense of honor. At least, I had a tiny bit of fear in me, but why? Guests at the dinner included big names such as John McKernon, Ken Billington, Al Crawford, Richard Pilbrow… I think you get the point. However, at the end of the night, fear was gone, replaced with boundless gratitude and joy. Most of the dinner I spent talking with Stan Pressner, who later ended up being my mentor for the year.
This is the most interesting part of the sponsorship – from the dinner, every student is matched with a professional to guide the sponsorship recipient for a year. Just before the end of the night ETC's sponsorship organizers came up to me – "We would like to have you in New York, to spend time with your mentor and meet other designers." Can you imagine my surprise? I didn't sleep that night!
Big opportunities in the "Big Apple"
Fast forward to May 2019, when after endless planning and emails, and a lot of dreaming, I landed at JFK, ready to take in all that this two weeks had to offer! My dear mentor Stan had made me a wonderful schedule, filled with theatre, rehearsals, meetings and some time for Central Park, the MET, and Brooklyn Bridge.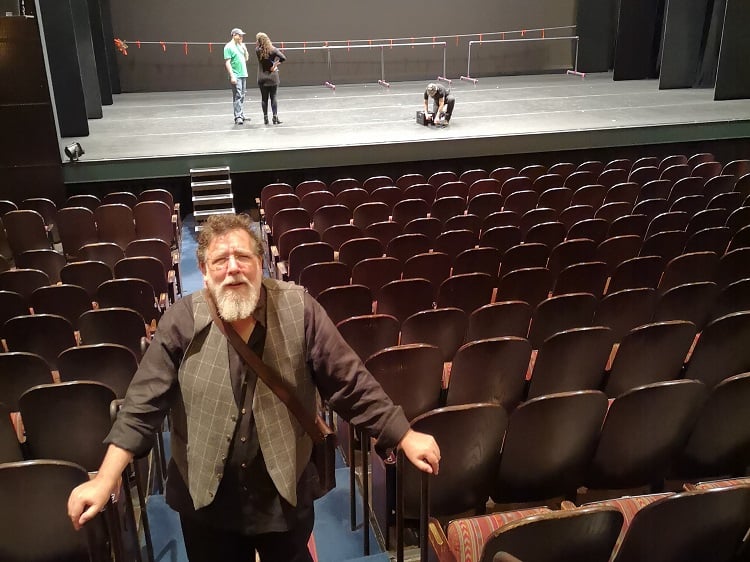 As I said, before the dinner at Las Vegas, there was fear and gratitude. The emotional fear-excitement-gratitude carousel started all over again. Every day during these two weeks felt like the first day of school – I wanted to hear more, see more, learn more! I am really grateful for the people I got to meet!
It is hard to pick out any highlights because I don't want to leave anything out. I got to be at Joyce Theater and enjoy a wonderful show by Parsons Dance Company. During the day, I got to see Howell Binkley teching a short dance piece for a commercial. It was astonishing to see him work so quickly and yet be so calm. A trick I learned from many rehearsals and designers I met – during the tech, designers used very organized and masterfully made magic sheets: drawings that depict which channel does which angle, color or spot on the stage. Mostly, in Estonia, we use ETC Magic Sheets to make programming more "visual," but having such a robust resource next to the console during the beginning of tech will make it much easier.
More lighting lessons
I spent a day at Cherry Lane Theatre with Paul Whitacher doing lights for Little Women, as well as a rehearsal of Long Lost at Manhattan Theatre Club with Kenneth Posner. Both Whitacher and Posner had very talented associates working with them. This was one of the largest differences I noticed between USA and Estonia. We rarely ever work with other lighting designers/technicians while doing a design. Here, the LD will do the drawings, rig it up, and program the cues. I do like the style of working here, rigging and focusing my own show feels good. I know every little detail about the show. Although, there is only so little time, so there is a risk of losing some of your focus to programming, and not actually observe the design itself. On my upcoming show, I will have another lighting designer assist me with programming. I am really looking forward to this, to see if I will have more focus on my design.
If that weren't enough, I also attended Shakespeare In the Park with Peter Kaczorowski, went to a late-night Vectorworks session with Nick Houfek, and learned about documentation over breakfast with Vivian Leon. Documentation is quite a new thing for us here, we do make rigging plots, some theatres might have focusing plans and more detailed paperwork, but mostly we work with hand-drawn rig plans or Magic Sheets from Eos. I loved to see those thick folders on the designers' tables that had every little detail about the lights on the paper. Foolproofing, as many designers said.
In addition to all of these learning opportunities, I saw Al Crawford make a birthday party shine and create a fabulous atmosphere for DanceAfrica. I got morning coffee at Jules Fisher's office and spent an evening with Kirk Bookman and Socrates. To put a cherry on the top, I went to Whipped Cream with ABT and Brad Fields. I also got to see Wicked, Beetlejuice, and Sleep No More.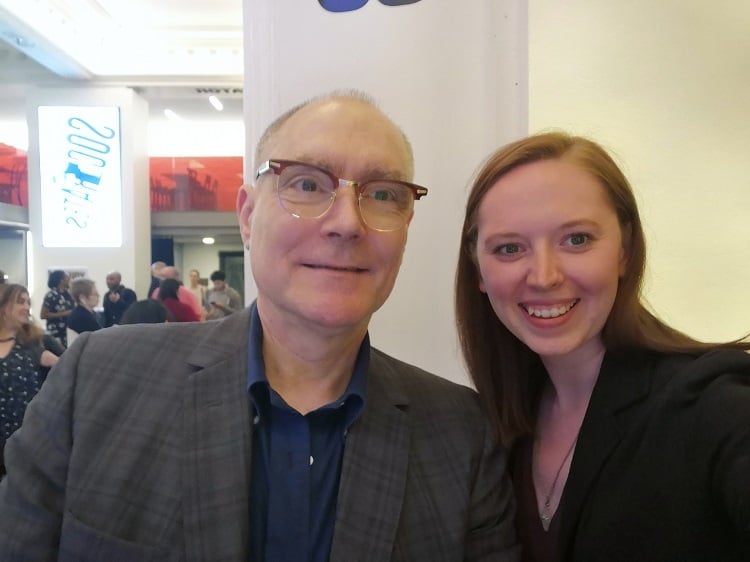 Before this experience, I thought that Broadway mostly worked with moving lights and the latest technology. Seeing Wicked, designed by Kenneth Posner, changed my perception. That show uses around 800 fixtures and only around 60 of them are moving lights or LEDs. Of course, the show opened around 15 years ago. In contrast, another one of Posner´s shows, Beetlejuice, had a completely different rig filled with mostly LEDs, moving lights, and strobes. Both shows were incredible, even though the technology was so different. Magic really starts within the designer!
The biggest lesson I learned during the trip – never stop asking, never stop learning, and never stop dreaming! I think this trip had as much of an impact on me as a human being as it did as a lighting designer. Part of this is because of the kindness and openness I experienced. I was amazed that the very busy designers made time for me, to really talk and introduce me to their viewpoints. I loved how every one of those brilliant designers really wanted to give! They all were eager to pass on their knowledge, their experience, and beliefs! As I continue on my career path in lighting, I hope the upcoming generation carries the same passion for mentoring and learning from one another.