In keeping with its reputation as one of the most liberal, diverse cities in the country, it is no surprise that Santa Monica, Calif. wanted to light its City Hall in rainbow colors for Pride Month. And it's no surprise that ETC architectural controls were at the heart of City Hall's new look.
The city first approached the rental division of local company, Kinetic Lighting of Glendale, Calif. to install a temporary system for Pride Month. But they soon were convinced that a permanent install was the best solution. Laura Green, systems specialist with Kinetic, explains: "The roof of the old building would not support top lighting and the city had no way to secure temporary lights."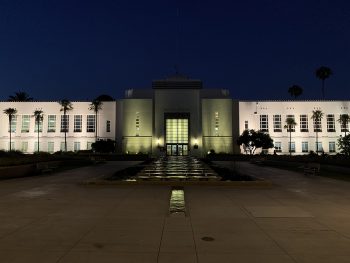 Plus, new growth shrubbery and palm trees were blocking the existing architectural floods, throwing shadows on the building. The city came around and saw that new lights were necessary. New architectural fixtures were placed close to the building's façade for a dramatic uplight effect.
An ETC Mosaic Tessera Panel Controller provided the perfect solution to provide the city with "push button" scene selection throughout the year. The Tessera is a Mosaic controller and touchscreen interface combined into one unit. The programmer was able to load in a Pride look, a standard white wash, and other looks that can be selected throughout the year with just a finger tap on the Tessera's integrated touchscreen. Green, and the city of Santa Monica, are very happy with the result: "After Pride Month, the system defaults to a warm white wash, followed by a '4th of July' look, or a Santa Monica High School football team look – our programmer had a good time with it."
The new lights are a welcome – and welcoming – look for this city.