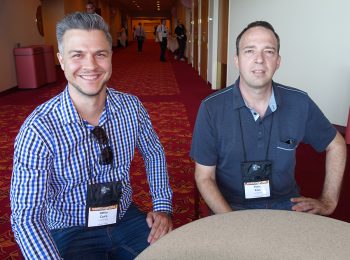 "Diversify to grow" might well be the motto of the many companies we interviewed at the 2018 ETC Workshop in Madison.
Already well-established after 20 years in the film and television market, Budapest-based Luminis is looking to expand into theatre and live events. They are also exploring neighboring Dubai and Qatar for growth opportunities.
General Manager Attila Czira studied lighting in University and later worked as a residential contractor but soon found it "very boring" and was drawn to studio work. "We deal only in quality products like ETC and expect to make the greatest progress in Budapest," he says. ColorSource has been a winner for them in a very price sensitive market where Chinese-made products dominate the lower end. The larger state-owned theatres have bigger budgets and a tender process for bidding. Luminis keeps up with current ETC technology with regular factory visits. "At this Workshop we also picked up a lot of marketing ideas," adds Czira.
Luminis was also one of High End's original European dealers and is hopeful that sales for Full Boar and other High End consoles will be revived under the revamped High End banner. With a staff of 15, many of them devoted to grip or residential sales, Luminis is building on a very solid reputation. We liked the uplifting tone of the company motto "We Deliver Solutions" which, by the way, sounds just as good in Hungarian.
For more info about Luminis, visit www.luminis.hu