Most dealers and rep companies have offices, a storage area, and a small demo room to show off the products they represent. Arizona ETC sales representative RC Lurie flipped that dynamic upside-down and made every area of their new 24,000-square-foot facility in Phoenix into a virtual demo room.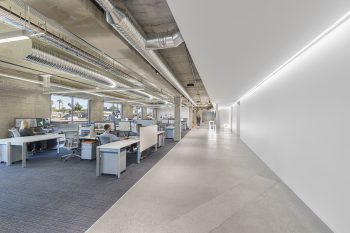 "The move to the new building not only brought the company together but launched a new image, logo and coherent direction for the 21st century," said Stuart Pieloch, V.P. of Controls and Technical Services for RC Lurie. Previously the company of 60 employees had been operating out of separate buildings. Using the real estate model of creating sample rooms, they were careful not to present the building as a retail showroom, or series of vignettes, but rather as "spaces that our customers would want to create for their clients."
The impressive two-story lobby, grand staircase and event center are all controlled by ETC's Paradigm Central Control Server, allowing individual control of each space. The large conference room and larger event space has RGB color changing lighting either up-lighting a soffit or wall wash on a cove, all controllable by a virtual touch screen.
In addition there are multiple DMX output Gateways tied to a Mosaic Controller which manipulates color washes on an exterior wall visible from Interstate 10. Pieloch describes the effect as: "Not Las Vegas – but to stimulate the idea that customers could do that on the outside of their building."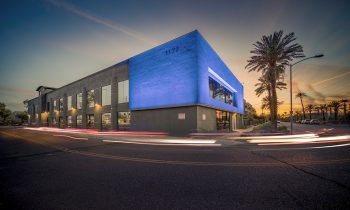 The private office lighting draws on fixtures from the over 80 different lines that RC Lurie represents. Each office employs subtly different techniques and instrumentation to give excellent lighting and a sales opportunity to visiting architects, engineers and consultants.