Theatrical Lighting Designer, Museum Assistant Preparator, Sound Designer, Eagle Scout: Matthew Russell's background is as colorful as the projects they've worked on.
Hailing from Memphis, Tennessee, Matthew (who also goes by MB), fell in love with lighting growing up going to performances in Memphis. MB was especially influenced by any show they were able to see featuring Howell Binkley and Bradley King's work—and eventually was able to work on the Hamilton (Angelica Tour) production that came through Memphis.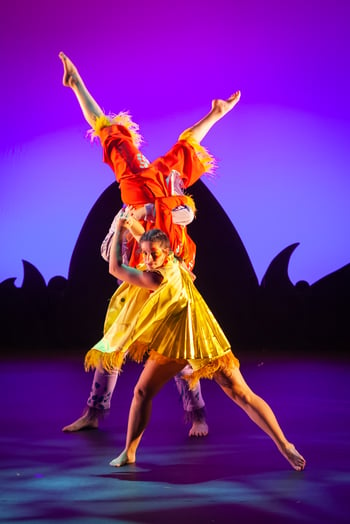 Carnival Vitas, see credits at bottom of post
From Eagle Scouts, to Museums, to the Stage
Reflecting on the breadth of experience that has brought MB to where they are today, MB discussed how their time as an Eagle Scout set them up for a career in theatre design:
"I am thankful for my time in Scouting. It provided me with several skills that proved helpful in theatre. Learning many knots was one way to get myself ahead, already having climbing safety training, knowing first aid, and having a knack for being thrifty has constantly come in handy. My Eagle project also taught me project management skills that directly translate into my work as a Production Electrician."
MB's work has also been seen within two Memphis Museums as a part of temporary and permanent exhibit elements. Many of the exhibits they worked on required them to approach the lighting from a scientific perspective to preserve the pieces on display and ensure accessibility. While prioritizing the aesthetic of lighting the exhibit, MB also had to be mindful of eliminating UV radiation and heat emitted from the fixtures.
MB also discussed the difference in creative processes when working on a theatre production or a museum display:
"With longer lead-times on deadlines in museums, there was a lot more time to work on projects. I had more free time for experimenting, whereas in theatre it's very fast paced. You're constantly thinking on your feet—and you have to move forward with whatever idea you have in the moment."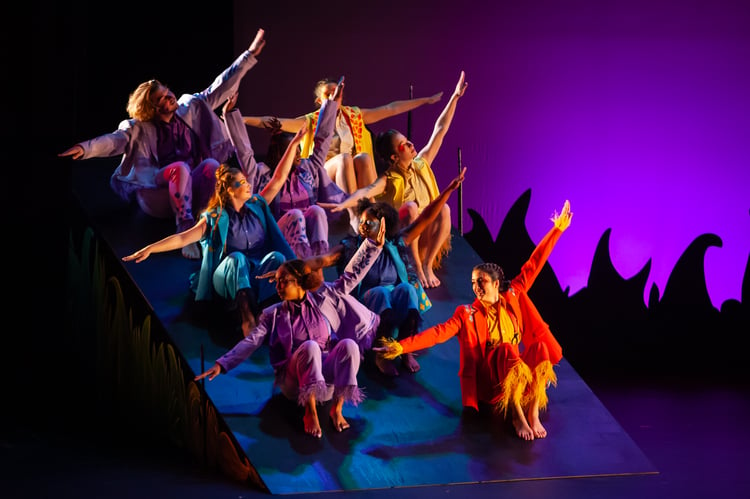 Carnival Vitas, see credits at bottom of post
Dancing, Puppets, and a Cosmic Creation Rainbow Snake
When asked to describe one of their favorite projects, MB immediately jumped to Carnival Vitas, their last show with the University of Memphis that was a collaboration with Off The Wall Arts.
The production engaged with schools in the community to bring the dancing puppet extravaganza to life. Local students created the show's 13 colorful animal puppets, with help from local artist and sculptor Yvonne Bobo. Everybody on the production team worked together to create a world and story around the animals brought to life by the children.
Among the puppets that became integral to the show were the main character, the cosmic creation rainbow snake, as well as a sizable rainbow giraffe.
Exploring Identity and Finding Community
Over the course of the last two years, MB says they've been especially focused on finding their identity. As a nonbinary artist, it has been important to surround themself with supportive people and places in Memphis and specifically within the local theatre industry.
MB says that they've been fortunate to find community in a handful of local organizations. OUTMemphis, ArtsMemphis, The Orpheum Theatre Group and the community theatre scene have all been very supportive. MB says that people working in Memphis community theatres put in the work to make sure the whole community is loved and taken care of.
Another huge source of support for MB is their partner, Lillie, who is a scenic painter and understands the demands of working in the theatre world and encourages MB to reach for new horizons, dream, and help others do the same. They met while in school at the University of Memphis.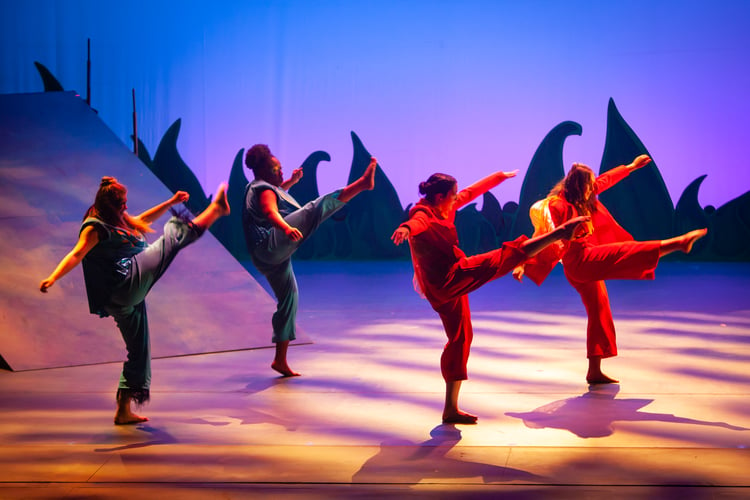 Carnival Vitas, see credits at bottom of post
What's Next on the Horizon?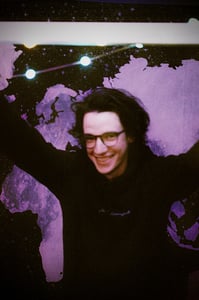 Coming out of the depths of the pandemic, MB says it's an exciting time to be in this field of work. We're seeing how much people need live events; there's no replacing the energy of gathering to enjoy art.
MB is working on establishing themself as a Designer in Memphis and the US in general. They are grateful to mentors like Mike Wood, Mandy Heath, Brian Ruggaber, Lindsay Krosnes, and Anthony Pellecchia who have helped prepare them for this next step. MB is also taking a step back to think about how they can support the local Memphis community through their design work.
In closing, MB mentioned one of the career and life skills that becomes important to many people working in the entertainment industry:
"This career teaches you to be an advocate. As storytellers, we have strong influence on societal perception towards ideas. The great joy of theatre is the ability to tell these stories again, and again."
Check out MB's website at explrdesign.com.

(Photo of MB by Joey Echeverria)
Carnival Vitas Credits:
Production
Neile Martin, Director/Author
Jill Guyton Nee, Producer
Michael Medcalf, Choreographer
Kristen Lucas, Choreographer
Wayne Smith, Choreographer
Rachael Arnwine, Choreographer
Tamara Prince-Parris, Choreographer
Marrissa Cherry, Costume Design
Micki McCormick, Sound Design
Matthew Russell, Lighting Design
Josh Williams, Production Electrician
Zoe Perrock, Scenic Design
Jennifer Gillette, Costume Advisor
Anthony Pellecchia, Sound/Lighting Advisor
Mike O'Nele, Technical Director
Rick Mayfield, Technical Director 2
Amy Hale, Production Manager
Akilah Suggs, Stage Manager
Emma Day, Asst. Stage Manager
Hallie Phillips, Asst. Stage Manager
Caelan Ingram, Asst. Costume Designer
Cast
Lauryn Adair
Mykayla Balfour
Jolie Berry
Grace Byrd
Rhaniyah Chism
Kylie Davis
Holly Ferguson
Elyzah Gasmen
Melody Green
Ily Jeanniton
Jasmine Johnson
Jewell Kirksey
Ella Lark
Abbie Martin
Kaylin Martin
Kamille Moore
Kennedy Reed
Daniel Rickman
Haylee White