When the Manitoba Centennial Centre Corporation decided to upgrade the Centennial Concert Hall lighting system to improve energy efficiency and coverage, ArcSystem stood out for multiple reasons. Since installing the system, consumption has dropped from 76,000 watts to 10,200 watts. That's a mere fraction of the power the venue once used. But beyond the power savings of an all-LED house lighting system, the move to ArcSystem led to an environment that looks and feels better for all who visit the space.
Perfect dimming
"The thing that impressed me the most was the dimmer curve," says Denis Crymble, stage electrician. "In my experience, getting LED lights to dim to zero smoothly is very difficult. When I saw the ArcSystem luminaires, I was thinking 'wow.' They don't bump out and they don't bump in."
Vince Paulich, facility supervisor, adds, "Even to this day, I have never seen a product with a smoother dimming curve than ArcSystem."
Better coverage
The new system is four times as bright as the old system and provides better overall coverage. Prior to updating the lighting system, patrons frequently complained about visibility in the theatre. Visitors had difficulty reading programs and finding their way to their seats. Paulich says, "Walking to your seat, you would notice that you were walking in a dark spot and then a bright spot. It wasn't inviting." ArcSystem has eliminated that problem.
Crymble adds, "With the new ArcSystem, there is a warmth in the theatre that wasn't there before. The quality of light just makes you feel better."
"When we walked in to see the first show with the new system, it was just stunning. It turned out exactly as we wanted. It didn't feel dark, it didn't feel bright, it just felt comfortable," says Paulich.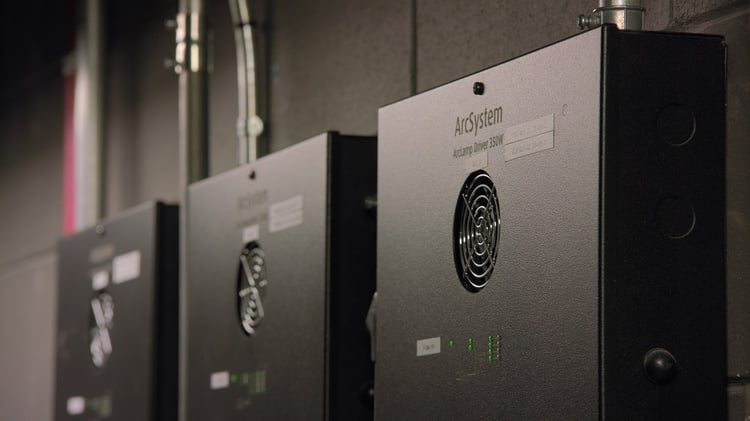 Minimizing maintenance
The advancement in technology also means less maintenance for Centennial Concert Hall. With the old system, staff had to spend 8 hours each week replacing lamps and sockets. Paulich says, "It was getting to the point that we had 10-15 lamps go out in a week. The heat from the outdated fixtures was also affecting the wiring. It was a real challenge for us to keep the system running."
Since the installation has been completed, the venue has yet to have a single ArcSystem luminaire go down. The staff went from weekly maintenance calls to just once a year.
A foundation for the future
Now that the five-year project is complete, Centennial Concert Hall is confident that it will benefit from the forward-thinking system for years to come.
"I've always believed that you have to get cutting-edge technology and push the envelope," says Crymble. "With this system, I wanted to make sure that we wouldn't feel like we have outdated technology again in the next five years."
"It was like building a road map," says Paulich. "Once we put in a proper foundation, we can just keep building on top of it. We won't have to upgrade anything in the lighting system for a long time. We really aimed to make sure we had the basic technology that would meet any needs the future holds for Centennial Concert Hall."
Watch the video to see the full transformation in Centennial Concert Hall.