The word "iconic" is often used to describe the natural amphitheater in the grounds of Stanford University. Joan Baez, The Grateful Dead and Crosby Stills and Nash are a small sampling of the seminal acts of the '60s who performed on what some call "that hallowed stage." Opened in 1937, Frost Amphitheater hosted University gatherings, but from the 1980s to the early 2000s fell mostly silent. A recent renovation brought new life to the stage for a brief while in 2019 before, well, you know…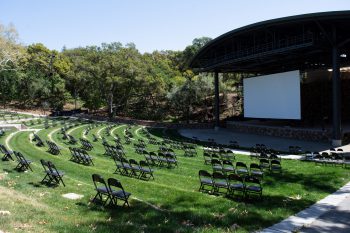 The renovation included a new stage, better access, upgraded dressing rooms and green room, and of course a new lighting system. When it came time to install a lighting control system, preserving the spirit of that past era was important. "The overall challenge was creating a production friendly venue that kept within the historic feel of the university," says Kimberly Pross, Director of Operations and Production for Stanford Live, the venue's promoters.
But it was also important for the stage to be ready for the next 75 years. Michael Howden, Senior project Manager for Musson Theatrical headed up the installation. "We built infrastructure that allows for future expansion. They expect acts to bring in their own trussing, fixtures and lighting console – we've made it easy for them to connect to the house system," says Howden.
A Network Definitely Not from the '60s
Faced with stage to FOH runs of around 500 feet (beyond the useable 100-meter limits of traditional copper wire) fiber was the only option. "We looked at wireless, but the overall scale of the project was too big for that," says Howden. The fiber optic-based network specified by design firm Fisher Dachs is based on streaming ACN routed through 12 Response Gateways and finally to six Universes of DMX located at the front of house console position and duplicated backstage. Howden believes that fiber-based systems "pushed us into the future of where all networks need to go."
The DMX ports in this forward looking design allow visiting touring acts to bring in a large console. The house system itself is fairly basic – two 48-channel Sensor racks, with nine modules dedicated to house lighting and an Echo Relay Panel supplying 0-10V circuits. Musson also supplied a distributed network backbone and emergency lighting equipment from ETC.
"The biggest challenge we faced, apart from the huge distances involved, was that there is no indoors in this venue," says Howden. The installation, carried out in the rain and cold of a Northern California winter, was at times muddy and treacherous. All distribution complies with NEMA 3R outdoor rating. "I have never before seen so many stainless brushed outlet boxes," says Howden. "They will last a lifetime."
Howden is proud to have been involved with the revival of the amphitheater. "I have been in this business over thirty years, but I still get a chill working on the stage that Jimi Hendrix once played on."
New acts should get their chance to play on the stage again soon. The Frost Amphitheater is set to begin welcoming performers and audiences back this October.