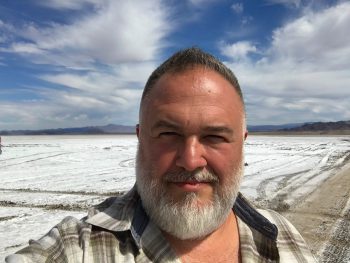 The sharks are back – let the deals begin. Returning for its ninth season, Shark Tank got a new time slot and a smart new set and lighting system designed by Oscar Dominguez, focused around ETC fixtures.
First aired in the UK as Dragon's Den, the show retains its original cast and winning formula. A four-man, two-woman team of tough, self-made millionaire investors dole out advice and, if the deal is right, cash and equity partnerships. Inventors and entrepreneurs can walk away with a piece of the American dream – or see their business plans savaged by shark teeth. The real theatre lies in the sharp exchanges and good-natured interplay of the sharks.
That interplay takes place in a new set that is upscale Manhattan apartment chic. It gleams with polished wood and glass surfaces, white leather chairs and water features. Dominguez spec'd 30 ETC Source Four Series 2 Lustr and 46 ETC Source Four Series 2 Daylight HD fixtures.
"Every face I light uses an ETC fixture," says Dominguez, referring to the Sharks of Shark Tank and the coaches on The Voice. "Faces are the most important part of any show." ETC Source Four Daylight HD2 fixtures cover the basics: key lights, side fills and back light.
Best known for his eye-popping looks on The Voice—for which he's won three Emmy awards—his design team (under the name DarkFire Lighting Design), is also behind The Bachelor and Bachelorette series, The Wall, World of Dance, and others. He has been with Shark Tank since its first season, and shares the art of making tycoons look good on camera.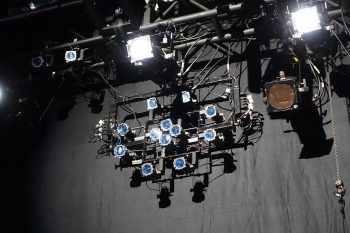 "Different complexions and face shapes require slightly different lamp placement," explains Dominguez. "We give Mr. Wonderful a more chiseled look using less fill and a steeper angle on his front light." The ladies (Barbara Corcoran and Lori Grenier) require a softer treatment using an ingenious Dominguez invention he calls the "Cyclo-Maximo." The rig uses 12 ETC Mini Profiles arranged in two concentric circles on a welded frame about three feet in diameter. Controlled on two circuits, it is the perfect soft and controllable source. "The idea of using a profile array as keylight is not new," says Dominguez. "But I wanted it to be about the size and shape of a 10k Big Eye so I had it built to my specifications."
A row of 30 Source Four Minis rigged on the front truss, often dimmed to a glow, provide the final level of tweaking. For a show that shoots around 20 foot candles, minute changes of light level make all the difference.
The set lighting shows Dominguez's fondness for saturated color that he calls "slightly higher than reality." On the set of Shark Tank he works closely with the video engineer to deliver "a consistently beautiful picture."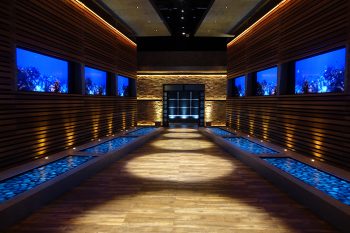 "The new rig has a lot more LED and that is fine with me," adds Wirsgalla, who has also been with the show since season one. "We have a tight load-in and rigging schedule and the more adjustments we can make at the console, the better."
Dominguez makes the comparison: "Incandescent fixtures are a hunting knife and LED sources are like a big Swiss Army Knife – they do so much more."
An inveterate tinkerer, Dominguez is all about finding innovative solutions, throwing out a challenge to manufacturers: "Come to me with your crazy ideas – I'll test them for you! I love crazy stuff."
He hopes the union with High End will produce a moving key light. "I don't need gobos or effects – just great glass, phenomenal zoom range and optics, an iris and indexable shutters. It should be fairly quiet and have variable color temperature – right now people are keying with standard moving lights and it looks terrible." He also sees a future for a follow spot with an ETC LED engine: "It's crazy that we are still using color boomerangs in onstage follow spots."
But still, seated behind a bank of monitors manipulating the more than 3000 fixtures in the new rig for The Voice, he doesn't complain. "This is what I love," he says. "I never tire of it."