Art and high technology unite in spectacular fashion in the latest iteration of
Leni Schwendinger's
Dreaming in Color
illuminated color field at the Seattle Center Campus.
Drawing on her early experience as a concert lighting designer, where she "sought to interpret musical compositions with color fields of light and abstract projected forms," Schwendinger first lit the nine rectangular mesh scrims that form a series of backdrops between the Phelps Center and Marion Oliver McCaw Hall, in 2003. Extending the drama of performance and stagecraft outdoors to the 450-foot long passageway was a bold and challenging undertaking in an era when building exteriors were blasted by mono-color low pressure floods and the term "architainment" was just entering the lexicon of architects.
The obvious need for a waterproof fixture in the Pacific Northwest only made the task seem more impossible. "We sought one individual light that the site's scale and layers of canvas suggests – a light with a panoramic beam spread that would change colors automatically," remembers Schwendinger. The solution to use open-faced HMI fixtures fronted by moving dichroic plates allowed almost infinite color rendition, but strictly limited the color palette of each composition.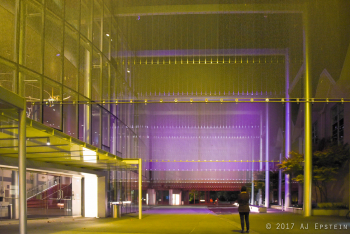 "Twice a year the Seattle crew took everything down, performed a week of maintenance, and put everything back," says Greg Bloxham, Partner and Principal of upLIGHT in New York, system integrator and programmer. "I would estimate it easily cost $30,000 a year to maintain."
Jump forward to 2017, when Patty Mathieu, venue Production Manager, got the chance to re-equip the project using current LED technology. Of course, with this opportunity came new challenges. For Mathieu, the ETC Desire D60XT PAR, controlled by a Mosaic Tessera, ticked all the boxes for automated color changing, beam spread, and programmable automation. "The original design was Leni's unique vision. The new system would be a platform allowing other creative people to put a spin on her idea," explains Bloxham.
Local lighting designer Randall "Rico" Chiarelli, best known as one of America's foremost ballet designers, christened the new installation with programming sequences based on the artwork of James Turrell. "He created very slow moving long sequences that are calm, meditative and explore the relationship between dusky daylight and artificial light," says Mathieu.
Accurate color rendering, that represents the seven different states of consciousness explored by Color Field painters of the 1950s, lies at the heart of Schwendinger's design. "Leni was very specific in her color choices, to the point where Seattle Center in-house programmer Dominic Iacono wrote custom script to change the color profile of the PAR fixtures from beat-to-beat," adds Bloxham, using the musical shorthand that defined their workflow. "Leni would explain the concept using colored pencils and graph paper – my job was to program her vision into the Mosaic."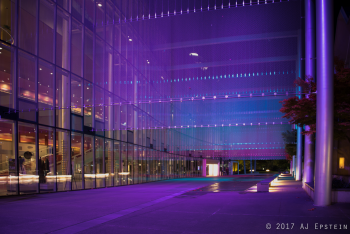 Now, the nine screens of different sizes are lit by 32 ETC D60XTI outdoor-rated PARs, replacing the original HMI fixtures. The sequences are controlled by a Mosaic Tessera, and the Seattle Center continues to offer lighting artists the chance to realize their own vision. "A designer can suggest a new set of cues and sequences which the house crew can program into Mosaic," adds Bloxham.
Unlike standard architectural installations where the building is the subject, here color itself is the theme. Schwendinger, who describes herself as a lighting designer and public artist, sought to "offer a theatrical experience to all Seattle Center visitors, whether ticket holders or not – to transport a building's meaning from inside to outside, for all to experience."
Looking back on the pre-production process, Mathieu says, "I am not sure this project would have happened without the support from our local ETC Rep, Eden Van Ballegooijen from Pacific Lighting Systems. She provided lights from ETC and other manufacturers for demos, and gave great guidance on the ETC Mosaic control system. Hollywood Lights Seattle office provided the equipment and excellent customer service throughout the process." Looking to the future she adds, "We love the quality of the light and color rendering so much that, this summer, we will replace original PARs inside our main lobby with more ETC Lustr fixtures, to give us more theatrical color options inside the venue."
Seattle's Office of Arts and Culture funded Schwendinger's design in recognition of her work creating the original Dreaming in Color. The new installation was funded by Seattle's Office of Sustainability and Environment. Schwendinger is the driving force behind Nighttime Design, a group of artists who believe that we all deserve an exhilarating visual treat from our cities after dark.