ETC and Kinetic Lighting combined to upgrade the iconic Hollywood High School with a new plot built around ColorSource fixtures.
Located only a few zip codes east of legendary Beverly Hills 90210, Hollywood High School boasts a formidable group of alumni that includes Cher, Carol Burnett, Keith Carradine, James Garner, Mickey Rooney, and Sharon Tate. Their school mascot was derived from the 1921 Rudolph Valentino film The Sheik. Not surprisingly, then, it has a large focus on the performing arts.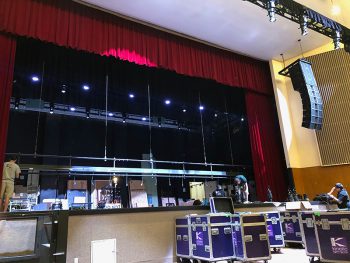 The school hosts a Media Academy and has a 1400-seat auditorium with a well-equipped stage and fly gallery. In order to take advantage of advances in technology and provide students with the best theatre training possible, the school re-designed its mostly incandescent lighting rig and replaced it with an all-LED rep plot based on ETC's ColorSource line of fixtures.
Chris Stokes, the ETC Associate Regional Manager based in ETC's Burbank office, was responsible for the design.
"The school is very close to the old ETC offices on Sunset Boulevard. I used to fill a wheelie cart with ColorSource gear and take it to them – that's how the job started," said Stokes.
To meet the terms of a new equipment grant from LAUSD, the school needed to maintain their existing dimmer and cable infrastructure. This posed two problems: How could they get control to all the new locations they could now fit LEDs – but where cabling hadn't been run when the system was originally designed? And how would they operate LED fixtures (which require constant power) on dimmer circuits?
Local ETC dealer, Kinetic Lighting Inc. of Glendale, California, supplied the answer to both problems: ETC's ColorSource Relays. "ColorSource Relay transmitters and wireless receivers are definitely the 'get out of jail card' for bringing control to areas where existing wiring is not practical," said Laura Green, who handles systems sales for Kinetic.
Because ColorSource Relays handle power switching, the school was able to save money on a dimmer upgrade and only needed to add six CC20 constant circuit modules for their existing Sensor rack. "There was no need to replace the dimmer – or use the more expensive relay modules, since the ColorSource Relay has that built in," added Stokes.
And because ColorSource Relays offer wireless DMX communication, the school could put control wherever they needed it without having to run new cabling. Now the school has data everywhere – which is good, because Kinetic Lighting also supplied them with 13 Color Source PAR Deep Blue fixtures and 45 ColorSource Spots to fill out their rig.
On the stage control side, a classic Ion console was upgraded to the latest Ion Xe 20. "The big change for them was the ability to move away from a dimmer-per-circuit mode to a channel patching system, allowing them to lay out their console in a more friendly way," explains Stokes.
Dr Bassim Sannah, Scenic-Costume Designer/Technical Director of the Hollywood Senior High School Performing Arts Magnate program ("Life is Performance") worked closely with Stokes on the design of the rep plot. "Lighting technology moves fast like computer software, and it's important to be up to date," said Sannah. "I want my students to have a seamless transition when they graduate into college or the professional theatre. They need to work with the latest equipment." And now, thanks to ETC and Kinetic Lighting, they have it.