Theatre technology is moving so fast that it hasn't had time to create its own vocabulary. A refurbishing project now sounds like an overheard Silicon Valley conversation.
Torms, footlights, and cyc strips have taken a backseat to network protocol, backbones, and contact interfaces. Faced with bringing old installations up to modern standards, many theatres opt to keep their instruments and upgrade their controls, onstage and front of house. The Newmark Theatre and the Dolores Winningstad Theatre, sister spaces at the heart of Portland'5 Center for the Arts, are a good example of control "heart transplants" – with ETC.
Their architectural DNA could hardly be more different. The Newmark Theatre, named for its benefactor, opened in 1997 and most resembles an Edwardian-style theatre. It offers what management calls "one of the most intimate theatrical experiences you'll ever encounter." Located in the same complex, the Dolores Winningstad Theatre is an open courtyard-style design where flexible seating plans can turn the whole room into a performance space.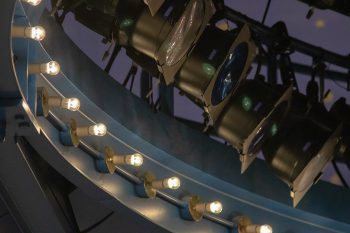 The Newmark
Chris Ochocki, Senior Consultant for PLA Designs, got the call to replace the old control system in the Newmark and upgrade lighting controls for house and work lighting in both theatres. "As the on-call theatre consultants, we knew these buildings very well," said Ochocki. "In both the Newmark and Winningstad, we replaced the entirety of their architectural controls systems, emergency lighting transfer systems, work light controls, stage manager's panels, and as a last-minute decision replaced all existing house and light fixtures with LED based fixtures."
Backstage in the Newmark, Strand CD-80 dimmers were replaced with 240 channels of ETC Sensor3 dimming, run by ETC Gio and Ion consoles. More than 250 ETC Source Four fixtures were run dimmer-per-circuit using Socapex distribution. Front of house, an extensive ceiling and wall wash lighting system was brought back to life using ArcLamps run through a Paradigm control server.
The Winningstad
The Dolores Winningstad Theatre received a similar makeover. Its existing, half-full ETC Sensor3 rack was filled with Thru Power Modules. Ochocki was tasked with renovating the house lights while maintaining the look and feel of the of the existing jelly jar fixtures. "We created a custom LED fixture to match the originals and added some ArcLamp cylinders and it turned out beautifully."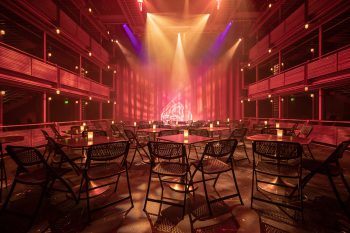 The renovation was not without its challenges said Ochocki: "The existing space was a labyrinth of concrete – we had to do extensive documentation of the existing gear and as-built drawings, many of which did not reflect the actual field conditions." The architectural controls were based around Unison Paradigm and a Central Control Server, with an Emergency Bypass Detection Kit (EBDK), DMX Emergency Bypass Controllers (DEBC), and Echo Relay Panels filling out the infrastructure, plus 18-inch and 7-inch Touchscreens offering control.
The challenge for Ed Williams, Facility Manager for Portland'5 Center for The Arts, was fitting this major renovation into a packed performance schedule. The five theatres in the Portland'5 complex see around 1 million visitors a year with 1,000 performances and seating for 7,800, making it the fourth busiest Arts center in the USA. "It would have been impossible without the co-operation of the vendors, the patrons and the customers," said Williams. "The decision to move forward was driven by the availability of controllable LED lights that would look good and cut running costs. I am happy to say that everything is up and working."