Maintain the quality of light. That was the company message in 2011. Global energy conservation laws were coming fast and furious and the world was asking questions about the long-term impact of incandescent lighting. Commercial and residential facilities began swapping practical lighting from incandescent to LED sources but ETC was there to slow down the theatre and live event world and remind them of what they were about to sacrifice.
The color temperature of fluorescents was terrible and the light sources did not dim well. LEDs were barely affordable, and the technology was still fairly new. No one could deny that the industry could be more sustainable, but unfortunately "going green" seemed to mean sacrificing the visual quality of arts as a whole.
"Environmental concerns and the push for sustainability are posing a threat to the quality of lighting." -Fred Foster.
Since the beginning, ETC has placed a top focus on quality. Offering LED fixtures that did not offer high-quality, useful light to an industry of people whose lives depending on visual quality, was never an option for ETC founder, Fred Foster. Instead of giving in, Foster started asking the hard questions. What problem are we trying to solve? What are the options? What are we not willing to sacrifice? How do we give the industry sustainable tools with high-quality light?
"I sent emails to (lighting designers) like Richard Pilbrow, Jennifer Tipton, Don Holder, and Duane Schuler. I had conversations with Rick Fisher, Ken Billington, Paule Constable, Neal Austin, Jason Lyons, and Hugo van Uum. Everybody responded almost immediately, saying 'thank you for starting this discussion."
-Taken from Fred Foster's 2011 speech at PLASA "A Call to Arms: We Must Join Together to Protect the Quality of Light,"
The industry needed a leader. Someone who would continue to ask the hard questions, stay abreast of the newest technology, sit on the standards committees, and push innovation in the right direction. A direction that preserves the visual art.
The beginning of a dedicated research effort
An official team of scientists, researchers, and engineers known as the Advance Research Group (ARG) came together at ETC with one common goal, to ask the difficult questions, get deeply involved with the science of the industry, and suggest solutions in the form of innovative technology. Embodied in the group's name is the word "Advance," a constant reminder that the research will advance the technology.
The original group consisted of Wendy Luedtke, Gary Bewick, Bill Florac, Dennis Varian, Fred Foster, and Christine Smith. The team has since included Evan Gnam, Marina Mitchell, and Elly Burian. Their task was to address topics not directly related to products or sales, but rather focus on the bigger picture and improve the quality of light.
Projects become reality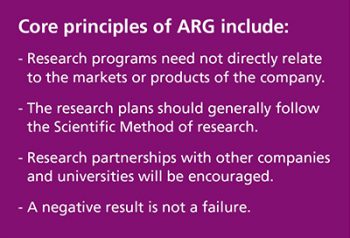 In 2017 the Advance Research Group set up a research experiment to collect as much data as possible on the incredibly subjective topic of creating the best possible light for cameras. The team began researching cameras and what happens between the light and the sensor in a camera, what happens during processing, and finally, what happens in the viewing monitor. There were many factors at play. "This was one of our first directives," Recalls Wendy Luedtke. "But, as they often do, questions lead to more questions. We ultimately had to determine what the word "best" meant to this project. So much of what we initially had to do was create processes that would effectively bring us to the scientific outcome."
The team put together a booth consisting of products, food items, and people to create a scene with a wide variety of colors we experience in our daily lives. They then lit the booth with fixtures of different array types. Test subjects consisted of lighting designers, industry professionals, and non-industry professionals.
Each subject was asked to choose between two video clips of the same scene. The two clips varied only slightly in their lighting properties. What they found was people generally focused on the rendering differences related to long-wavelength red light. Better skin tones won out time and again.
"We knew we had to make our choices based on field use, not lab use. Ultimately it was real-world relevance that would determine the success of the products that were developed because of the experiments." – Wendy Luedtke
This experiment gave ARG the data necessary to help ETC raise the bar on the quality of light for camera with the new X8 array. The X8 array launched in early 2020 and is one of the only arrays on the market to include a deep red, or far red LED in the mix.
"One thing we want people to understand," says Luedtke, "is what makes up the color they see. With this software behind the new X8 array, you get to decide what you are putting into your color. What is your color recipe? How do you get there? How are you rendering skin tones, clothing colors, and scenic elements? These slight nuances are so important."
Because Luedtke, ARG, and everyone at ETC understands that even though you use our tools, it's your light. Adopt new technologies but continue to complain about them until we make better. Continue to be noisy until we give you the perfect tools. That is what's going to push the 'good enough line' toward perfection. Don't let us off the hook.
"Embracing technology is important, and not just embracing it, but driving it." – Jason Lyons, Broadway Lighting Designer
Want to hear more from ARG? Watch the full director's cut interview here.
Who is ARG?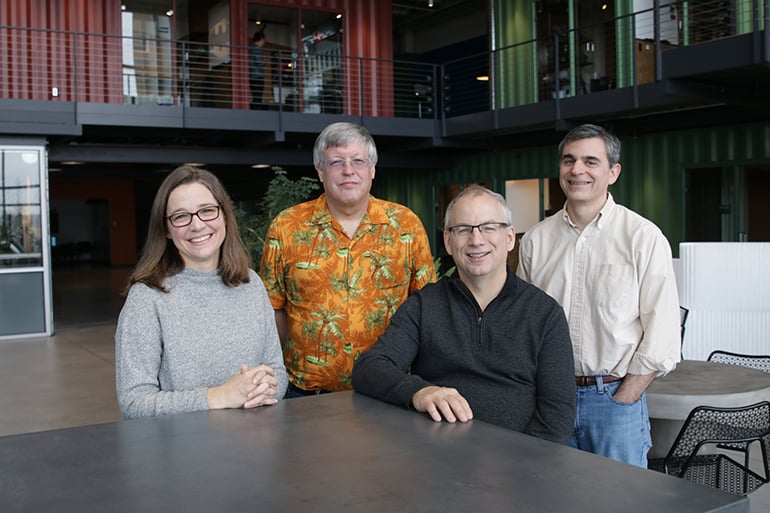 Wendy Luedtke
Ms. Luedtke is the product technology specialist for color at ETC and is a member of its Advance Research Group (ARG). She chaired of the Color Committee for the Illuminating Engineering Society of North America for eight years, remains a member, and is also a member of both the ESTA-TSP Photometrics Working Group and United Scenic Artists Local 829. Previously, she was the product manager for color and lighting at Rosco Laboratories, Inc. Ms. Luedtke has more than 15 years of experience designing lighting for theater, live entertainment, corporate events, and architectural projects. She holds a BFA in Technical Production from New York University's Tisch School of the Arts, where she later served for more than a decade as an adjunct instructor.
Gary Bewick
Gary is a founder of ETC and is Principal Engineer. He has been responsible for much of the research and algorithm design behind the color control that ETC has implemented in its products. Gary has extensive experience in logic and memory circuit design, as well as VLSI design. He holds three patents for driver circuit design and memory arrays and has been published multiple times. He holds a Ph.D. in Electrical Engineering from Stanford University and has founded two other computer engineering companies.
Bill Florac
Bill is ETC's Senior Technical Product Specialist. Early in his career, he was integral in the development of the first digital dimming systems and the development of dimming and DMX 512. He stayed
central in the development of all subsequent LMI and ETC dimming systems through the development of LMI L86 and ETC Sensor CEM. He has contributed to the success of ETC in many different roles over 37 years including product development, technical service, manufacturing, IT, rigging development, and now our new research department. On our initial project, he is focusing on light measurement technologies. Gary and Bill will put our group's ideas to the test.
Evan Gnam
Evan is ARG's Researcher. An astronomer by training, he brings technical expertise in the physics of light and light measurements, in developing mathematical models of complex systems, and in technical writing. In a two-decade career in education as a National Board Certified teacher, Evan taught AP Calculus, Astrophysics, and many other courses in diverse settings worked as a data scientist to analyze and present large datasets to a variety of stakeholders, and specialized in facilitating collaborative work.
Dennis Varian moved into a new role as Vice President of ETC's Research and Development department. Christine Smith accepted a position as Product Development Manager for Entertainment
Controls at ETC. Fred Foster passed away in February of 2019 after a hard-fought battle with cancer.