San Diego Opera used creativity and all the tools at their disposal to stage a full run of the opera classic La Bohème recently. Presented as a drive-in experience in the parking lot of a local sports arena, the opera came together under tight constraints. Luckily for the lighting team, ETC's suite of lighting tools on the Eos 3.0 platform, including the Augment3d visualizing software, was there to give a high-tech assist to this classic opera.
The drive-in aspect of the show helped keep the audience safe, but AGMA (American Guild of Musical Artists), the union for opera singers and musicians, had strict requirements for keeping the performers safe, too. Singers weren't allowed within 15 feet of each other if they were facing together, or four feet if they were facing apart. Director Keturah Stickann incorporated these restrictions into the concept of her show, staging it as a memory play taking place in Rodolfo's head. Of course he can't embrace his dying lover Mimi – she's a ghost. This rationalized the constraints the singers had to follow about proximity to other actors and made several lighting decisions clear. It had the consequence of breaking the stage up into different areas for different performers and influencing much of the color palette: blues and greens for the ghostly memories.
"Stickann came up with a good concept for presenting the story that would allow us to do an actual show and not just a concert riddled with compromises," said lighting designer Chris Rynne.
Of course, putting an opera in the middle of a pandemic requires more than a good idea. It means working with a tight budget and an intense schedule: two weeks to put a plot together and make sure it fit the Opera's budget, then submit permits for trussing with weights and placements to make sure it fit the city's safety requirements. Furthermore, IATSE rules for the venue meant they couldn't bring in a programmer, which meant there was no opportunity for pre-viz before they got to site.
When it came time to get the show on its feet Rynne able to watch a run-through of the show "and then it got crazy," he laughs. Because evenings – and the dark – were used for actual run-through dress rehearsals, cue building happened offline in the afternoons.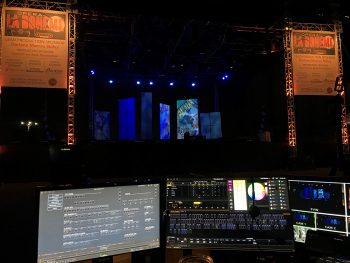 With the help of his assistant Jason Bieber and programmer Mike Lowe, Rynne made a first design of the show in Augment3d, using the modeling features to sketch in cues and positions. Dean Collins helped with Augment3d setup and developed the magic sheets for programming. "using the stock furniture and figure library in the visualizer model, I placed a person in the center of each designated acting area, threw in stock furniture pieces and shapes to represent the set we had, and we worked our way through the show."
"The Stick Beam mode for easily identifying light beams coming from each fixture was awesome. It really allowed me to see where the lights were all focused to when there was a pileup of lights on the visualizer screen without having to break rhythm and go into highlight mode," Chris says. "When we hit rig check in the evenings I'd go through and fine tune focus of movers acting as specific specials, walking around stage with a wireless headset and updating cue adjustments while standing in those cues on stage."
Further adjustments happened during evening rehearsals. Rynne modified cues as the director and performers worked through the show, and even as the stagehands struck the set, using every last moment of dark he could.
During this frenetic push he was also grateful for ETC's Eos color tools. Because the show was presented drive-in style, large, trailer-mounted video screens were located in the parking lot so cars that were further back from the stage could still see. Chris relied on ETC's color tools to hold color but adjust spectrum for an appropriate white balance for the cameras.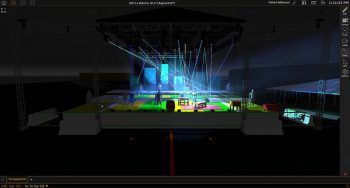 "It was a fun balance of making the show look good for people who paid a premium to park their cars up close to the action while balancing levels and colors to provide a good looking show for those primarily relying on the camera output to the screens further back" adds Chris. "The spectrum and tint color tools were especially helpful in allowing me to keep the right mood onstage for each cue while popping faces, costumes, and set panels without freaking out the cameras."
It was a breakneck show process, but Chris is happy with how it turned out.
"It was fast, it was a challenge. But with Augment3d and ETC's tools, everything came together nicely."