Augment3d demos, new automated fixtures, and a giant lighting rig made LDI 2019 a show to remember. Spanning across two booths, ETC and High End Systems paired up on the exhibition floor to show complete lighting solutions for every stage and every show. Here is a roundup of just some of the highlights during our weekend in Vegas.
Augment3d draws crowds
Making its first appearance at LDI, Augment3d captured the attention of show attendees. Each hour, Product Manager Lowell Olcott gave a demo of key features included in the program. The 3D programming environment went on to win an LDI booth award for Best Debuting Lighting Control Product. Check out the full slideshow at the bottom of this post for photos of all the action, including a mini-game of Pong using Augment3d's Focus Wand feature.
ETC also snagged the PLSN Gold Star Product Award for Best New Dimmer with the innovative PhaseAdept Dimming Module for LED fixtures and lamps.
Hype with High End Systems
On the first day of LDI, High End Systems launched the SolaHyBeam 3000 with a feature set designed for beam control, aerial effects, and raw power. The SolaHyBeam 3000, TurboRay, and SolaPix worked together to put on a brilliant show in-booth every hour. Altogether, the rig was comprised of 175 fixtures weighing 22,000 pounds! Cory Fitzgerald with Live Design Magazine stopped by the booth to talk SolaHyBeam 3000 with Product Manager Matt Stoner.




Adding to the list of awards our team took home from LDI, the TurboRay fixture earned a PLSN Gold Star Product Award for Best LED Wash Light.
A focus on students
ETC and High End Systems hosted a number of events to help students advance their careers in the lighting industry. Recipients of the Fred Foster Student Mentorship Program networked with top-tier lighting designers during a special reception. Additionally, High End Systems held its legendary Hog Factor competition, with the Plaid Pigs from Carnegie Mellon University winning first place. Students also gathered for ETC's annual Student Session on Saturday evening.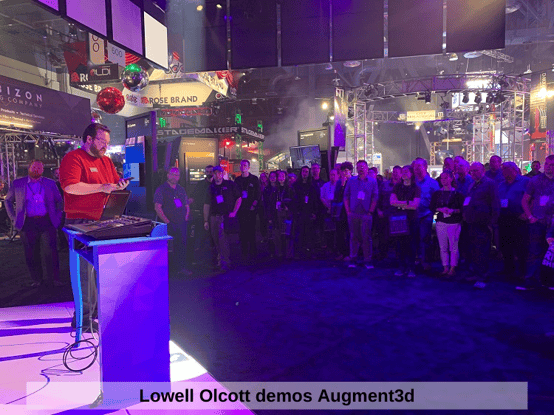 And that's a wrap on this year's LDI show! We'll see you with more exciting new products in 2020.
Additional new products at the 2019 show: