Specifying cruise ship lighting systems is no simple task. Beyond finding lighting fixtures that are both appealing and practical, cruise ship specifiers must consider the infrastructure of the entire lighting system and how it's all going to fit into the ship's design.
ETC knows that what works well on land might not necessarily be the best solution at sea. That's why we developed a lighting system specifically with the maritime industry in mind.
ArcSystem Navis luminaires and the F-Drive LED centralized driver solution offer a compact and customizable design for cruise ships. Optimized to be used in tandem, the Navis and F-Drive system reduces expenses for vessels and streamlines maintenance calls.

Clearing up ceiling space
F-Drive removes critical components controlling LED luminaires from the ceiling space and places them in the convenience of an electrical room or cabinet. Featuring mix-and-match output cards, the F-Drive R12 rack option meets the unique needs of a wide range of LED luminaires. Rather than working in a tight ceiling space, maintenance technicians can service LED power supplies by swapping output cards from the accessible F-Drive rack.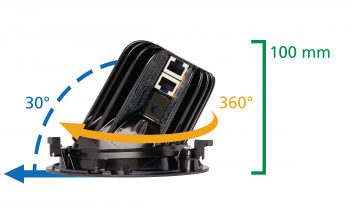 Additionally, Navis luminaires cater to ceiling thickness from 0.5 to 20 mm, with the entire fixture only extending 100 mm above a ceiling. Make any required adjustments with a 30-degree tilt that doesn't break the ceiling plane, a 360-degree rotation to focus light any direction, and a tool-operated pan/tilt lock. With these meticulously designed features, it is now possible to realize complex design choices while catering to the restrictions of limited space applications.
Data cable for improved installation
ETC's F-Drive power solution primarily uses CAT-6 Ethernet Style cabling. Using data cable to power luminaires makes for easy installation and reduces the cost for your entire lighting system. F-Drive can also connect to third-party luminaires using terminal connections via the optional B-Box interface accessory, providing seamless third-party product integration. As seen below, the B-Box4 accepts an RJ45 connection from F-Drive and offers four terminal channels to power luminaires of your choosing.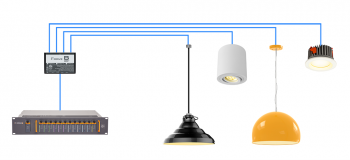 Reduced storage needs
The modular design of Navis makes it possible to transform installed luminaires, without needing to store extra fixtures on your ship. Adjustments are easy with twist-and-click field-changeable optics, magnetic trim plate options, and a wide variety of snap-in optical accessories. As the design needs evolve, simply pop in any of these accessories to update your look.

With fixed white, RGBW color-mixing, and Fade to Warm color options, Navis helps vessels create a wide variety of lighting looks while using the same luminaire body for a consistent room aesthetic.
To learn more about ETC's cruise ship lighting solutions, check out etcconnect.com/Cruise-Ship-Lighting-Systems/