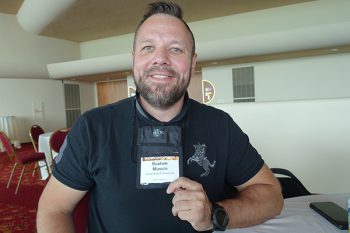 Samat Show Technics is a leading player in Kazakhstan. Company president Rustam Mussin attributes their size to a willingness to do every aspect of a job.
Mussin joined the company in 1996 when they had 15 employees witnessing its astonishing growth to over 300 today. This is all the more remarkable in a country of 18 million (half the population of California), whose major cities have around 1 million citizens.
The company is extremely broad based. In addition to lighting they offer audio, rigging, system integration, set design, theatre seating, draperies, plus full installation and after-sales service. "We have grown because we have been willing to take on every aspect of big jobs – it's the only way to be competitive," says Mussin.
After college, Mussin first pursued a career as an electrical engineer with an interest in singing and playing a guitar. "That's a secret," he jokes "I'm not ready for the High End Systems jam sessions." A keen amateur photographer, he was often mistaken for the official ETC photographer during Workshop.
This interest in music and an eye for interesting visuals pulled him through the steep learning curve of shifting his focus from engineering to professional theatre. Now he designs and oversees projects from start to finish. Samat Show Technics' after-sales service gives them a competitive edge over foreign bidders, an edge they keep sharp by attending events like Workshop.
As the country takes a turn in the "green" direction following a recent ban on incandescent fixtures, Mussin broadened his knowledge of LED technology at the summer event. He believes ColorSource products will provide an easy transition from the classic Source Four and Revolution fixtures found in many of the local opera houses. ETC's rigging technology also piqued his interest, with a view to retrofitting existing theatres. Mussin is proud of his company's dedication to training its staff in the latest network and control technology. "It's what will give us the edge in the future," he says.