It's the middle of October, but the evening is getting late at the Antaeus Theatre in Glendale, Calif. and Technical Director Adam Meyer is coaxing stubborn wires into wall sconces that were never designed to hold LED candles.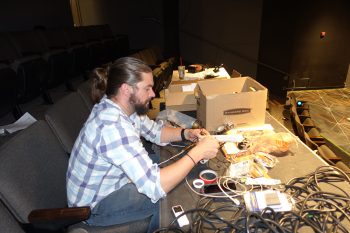 "How many do you have to do?" I ask. "Only four, thank God, but they are a nice part of the design," he says. He is interrupted by a request for petty cash for a Home Depot run to find shoe moulding for the set of Les Liaisons Dangereuses which opens in two days' time. Meanwhile, a scenic team is creating a mind-altering geometric pattern on the stage floor and the lobby has turned into a furniture refinishing workshop.
Late nights, pitching in and knowing which Home Depots stay open till midnight are the staples of Los Angeles 99-seat Equity-waiver theatre. Adam is proud that he once used the gasket from a toilet to repair the drive mechanism of a scroller. "It actually worked better than the OEM part," he laughs. Meyer made the leap from Chicago to L.A. nine years ago and has found his niche backstage and onstage as an actor in this dynamic company he now calls home.
And make no mistake, the theatre's new home in Glendale (formally named the Kiki & David Gindler Performing Arts Center), is something to be proud of. The result of four years of fundraising and one year of the construction, the theatre is full of amenities and gear that most L.A. spaces could only dream about.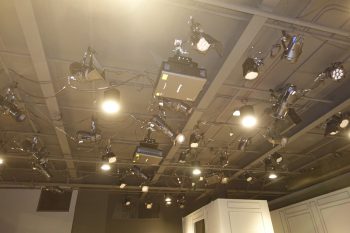 The lighting rigs of most 99-seat spaces that dominate the L.A. theatre landscape are a mish-mash of decades-old fixtures, assorted hand-me-downs from larger theatres, and donations from rental companies. Their control systems are old two-scene controllers thick with gaff tape, geriatric dimmers and a spaghetti factory of colored extension cords. Not so at the Antaeus, whose spotless pipe grid supports a lighting system built around ETC LED theatre lighting. The rig features 18 ETC Source Four LED Series 2 Lustr+ fixtures with 50-degree lenses, 20 ETC ColorSource PARs, and 14 Desire D40 fixtures, driven by an ETC Ion 2000 console. For good measure there's a 24-channel Sensor dimmer to handle the few holdover incandescent fixtures.
Everything about this theatre, tucked into downtown Glendale, speaks quality and attention to detail. "At first the idea of an all-LED lighting rig was very foreign to us," says Meyer. "Now we can really see the advantages over the old system of color changers – and our running costs are significantly lower."
Founded in 1991 with a mission statement to "preserve the American classics," the Antaeus moved from North Hollywood to its new location in 2017, earning rave reviews for its inaugural production of Cat on a Hot Tin Roof. Liasons continued the high production values with a design that relied heavily on projections.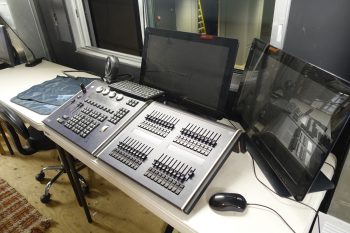 The three-person artistic directing team, each with his own specialty, carefully chooses the visiting set designers, directors, and lighting designers from the pool of talent at work in the L.A. theatre scene. With a four-play season and partner casting (each production has two casts) the audience will never see an understudy and the actors are available to take on other projects. The theatre arranges regular play readings and runs acting classes to reinforce its vision.
"We believe that learning never ends. We train ourselves, we train the next generation, and we include our community in this work," finishes Meyer, before heading back to finish the sconces and bring the theatre's latest work to life.