Each year, springtime in Japan brings the much awaited, spectacular display of cherry blossoms. The iconic pink blooms are anticipated by the entire nation and five years ago, High End Systems dealer Ushio Lighting Inc. saw an opportunity and proposed the idea to illuminate the cherry trees in Tsukuba, Japan.
"Every spring, swarms of people visit Japan to see the cherry blossoms which we light up on the Tsukuba premises," stated Hideto Hosoi, Tech Manager of Ushio Lighting Inc. "The people in the neighborhood should enjoy and make the most of the blossoms with the lighting that we set up".
The selected High End Systems fixtures were the SolaSpot series: the first family of bright white light LED engine spot luminaires. Due to the varying shades of color that the cherry blossoms bring, the SolaSpot lighting provided rotating and fixed gobos which allowed total control of beam shaping, enhancing the illumination of the cherry blossoms.
The SolaSpot 1500 was chosen by Ushio Lighting for its 'multi-functional, LED, bright light offering'. Its state-of-the-art color mixing system created impressive beam effects and offered a limitless palette of different shades.
Below, the image demonstrates the SolaSpots emitting light through the windows onto the cherry blossoms. The powerful automated spot luminaires change color every 15 seconds, allowing visitors to admire the spring trees in vivid pink, orange, green, white, yellow, blue and purple ­– also demonstrated here https://www.youtube.com/watch?v=CIitYRvUg9w&feature=youtu.be.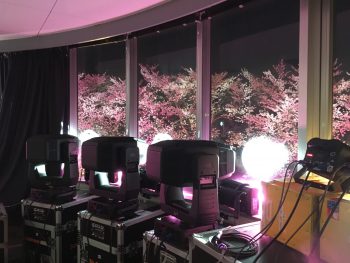 The celebrated blooms which were lit up in a variety of colours, created a stunning effect across Tsukuba Science City in the evening.