There's no doubt about it—LEDs are shaking up the industry as we know it. There is a lot to be excited about as venues make the transition from tungsten light sources to LED. One of the largest areas of impact is color capabilities.
At our Workshop 2018 event for reps and dealers, Product Marketing Manager David Hilton discussed both the challenges and potential of color mixing with LEDs.
With LEDs, designers and programmers have control of color like never before. Multi-color arrays allow users to mix the same color in a variety of ways. For example, amber can be created with an amber LED alone, or by combining red and green LEDs.
Each of these choices creates a distinct feel on stage and allows artists to express emotion in different ways. A designer might want green to pop more on a costume or an actor to appear either vibrant or lifeless. They can accomplish that by adjusting the amount of red or green in the same amber light. This kind of control would never be possible with an incandescent source.
Designers also have greater control over transitions with LEDs. An orange light on "Cue 1" can transition right into a blue light on "Cue 2," or they can make it become purple before reaching the final blue light. [Figure 1]

All of these affordances make color mixing with LEDs highly desirable, but they can also make finding an exact color challenging.
Many find that controlling the individual parameters of an LED is neither intuitive nor fast when finding a specific color, especially with LED fixtures that use more than three colors. Zeroing in on an exact color becomes much easier when programmers have a point of reference or use a control system that offers control beyond a basic color picker.
If you are working on an Eos-family console, there are a number of tools that can save you time when finding the perfect color. [Figure 2]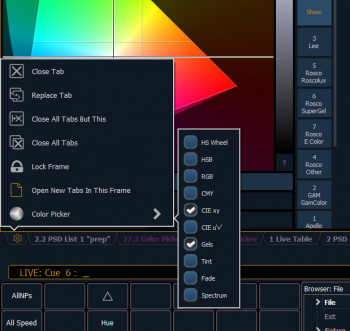 The gel picker provides options associated with colors produced by various gel manufacturers, and it is designed with algorithms that approximate how that gel looks in front of a standard Source Four. This streamlines the programmer's ability to get the right color on stage quickly. A variety of temperatures of white light are also readily available to simplify making a color-mixing LED produce white, which can often be one of the trickiest colors to make. This can be found in the 'Standard Colors' library of the gel picker. [Figure 3]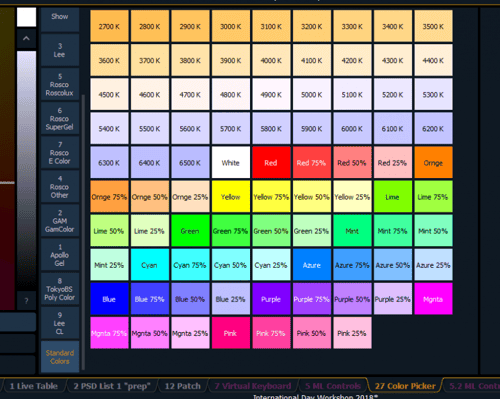 There is a recipe option within the gel picker which provide additional customization options. This is located at the top of the screen above the gel library buttons. [Figure 4] The "Brightest" option is based on the brightest chromaticity of the gel. The "Spectral" option closely mimics the color transmission from a traditional gel, and "Hybrid" is in between "Brightest" and "Spectral."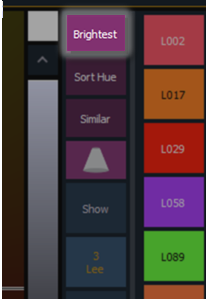 Another powerful tool is the "Tint" controller, which enables programmers to easily translate "designer speak" into lighting adjustments. Whether a fixture is RGB, CMY or X7, the programmer can make small changes like making the light warmer or cooler, bringing up the saturation, and pushing the color of the light towards magenta or green.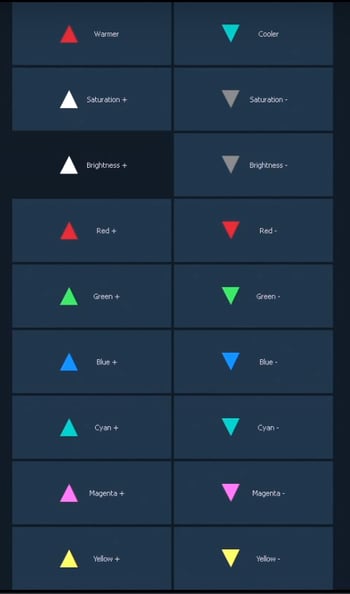 As console users navigate color mixing in a LED world, ETC is working hard to get the best solutions in your hands. Like a baker making a perfect cake, we know you need the right tools in your kitchen to pull off a successful recipe.
For more resources and videos on color mixing in the Eos family, visit http://www.etcconnect.com/Support/Tutorials/Eos-Family-Videos/Expert-Topics.aspx