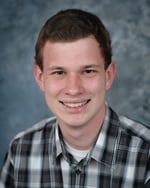 In March 2014, Mathias Wolf joined the Research & Development department at ETC GmbH in Holzkirchen, Germany, where he spent the following 18 months working as an intern. Mathias has since returned to the university, to study electrical engineering and information technology, and he is currently working on a project for his master's thesis at our headquarters in Middleton. In this interview, Mathias talks about his time at ETC, some of the projects he has been involved in and the impact the experience has had on him so far.
How did you first become connected with ETC and how did the internship come about?

At the age of 16, I started setting up and running the lighting rig for a local theater group and one of the lighting technicians on the team was working for ETC. After graduating high school, I looked into various jobs in the event technology industry. ETC offered me an internship in the Technical Services department in Holzkirchen, near Munich. A few years later, I came back during my studies and started a second internship in the Research & Development department.
During your second internship, you worked on a project involving calibrating RGB buttons on ColorSource consoles – what did this entail?
The new ColorSource consoles have illuminated RGB LED buttons. Since LED production is a complex process, manufacturing tolerances in color and intensity are unavoidable. As a project for my bachelor's thesis, I developed a unit that can automatically calibrate the RGB LEDs on the consoles' printed circuit boards. After calibration they all look exactly the same. To achieve this, specific parameters like intensity and color are measured for each LED individually. Afterwards, individual calibration values are calculated by a self-developed algorithm and saved on the boards. This method saves a lot of time and is more precise than calibrating by hand. The project included a lot of base-level research in the beginning. For example, one basic question was "what is the best way to measure an LED?" The three different colors in RGB LEDs make this particularly difficult. After finding answers on those basic things, I started designing the hardware to control the consoles' printed circuit boards and the sensors. In parallel, I also developed the corresponding software for the microcomputer in the calibration unit to be able to test each development step on the prototype unit. Last but not least, I wrote an application for a fully automatic calibration process by only hitting one button.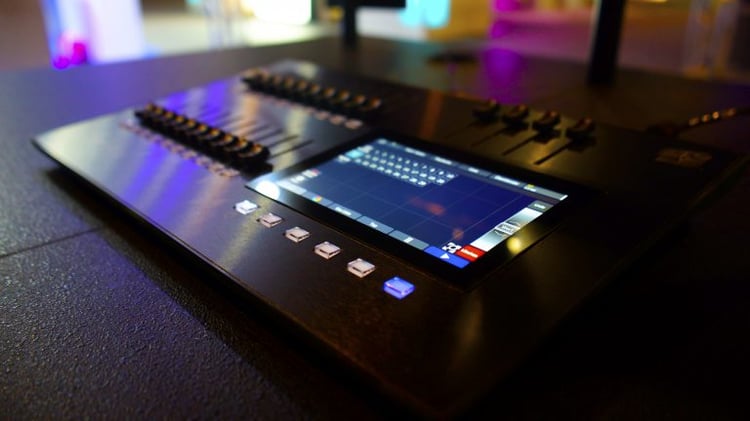 Dennis Varian [research & product strategy manager for ETC] said that you also developed remote console apps for using OSC in our consoles – could you explain what this involved?

With a new Eos-family software update, lots of new OSC [Open Sound Control] functions to control the console were included. These enable full remote control of the console using tablets and smartphones. I developed a layout for the iOS and Android application "TouchOSC" that includes all of the main functions. For example, the main buttons of the Eos keyboard are included on one page. On another, the attributes of lighting fixtures, such as intensity, pan, tilt and color, can be controlled. Also, faders with labels are included. The layout adapts to any project by loading group, color, beam and focus palette names. This makes it very easy to control any project without additional configuration steps. When I was developing the layout, the Eos update was still in the testing phase and had not been released. It was very interesting for me to be one of the first people trying out the new features and, at the same time, bringing in my own ideas on how to use the OSC commands and deciding which ideas would be relevant for the layout. Afterwards, I was also involved in the OSC control part of the ColorSource AV console.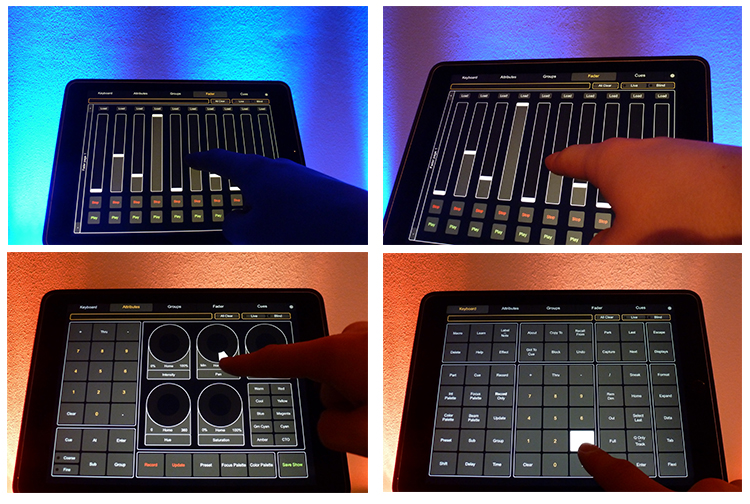 How would you describe your experience of working at ETC?
Working at ETC was a great experience. All of my colleagues were very friendly and helpful, and integrated me into the company really fast. Working on an international team was a lot of fun. I also got the opportunity to visit the headquarters in Middleton [Wisconsin], which was great. There, I set up the LED calibration project for ColorSource. They also enabled me to improve my lighting technology skills at workshops and the professional development conference, CUE.
What did you learn while working at ETC, and what impact has the internship had on your studies?
The practical experience I got while working in the Research & Development department was the perfect addition to the theory that I had learned at the university. Especially designing circuits and programming the associated software on my own was really interesting. While working at ETC, my interest in the technology behind lighting products grew, and I went on to study electrical engineering and information technology. The experiences I had have given me great motivation working towards my master's degree, because I know what I am learning for.

What are your plans for the future?
After graduating from the university, I'd love to start a career in the development of lighting consoles and fixtures at ETC. I love developing my own ideas, which are inspired by the experience I gain while lighting events. In combination with the knowledge I build up by studying electrical engineering and information technology, I believe it is the ideal background for starting a career in the lighting equipment development field.
You seem so passionate about it! Could you tell us a bit more about the events you've been working on?
One of my main interests is the event technology itself. Therefore, I spend some of my free time designing the lighting setup for concerts and theater groups. Also, I love operating lighting consoles like Cobalt and controlling all the lights. At the moment, I am doing light shows synced to music in several regional historic churches.
At ETC we love students! Whether intern, extern, or summer help, we know you bring a myriad of talents, a ton of enthusiasm, and make a huge difference during the busy summer months. For more information on student opportunities at ETC, visit our website etcconnect.com/careers/.