Sometimes chance encounters turn into lifelong friendships and so it was for a young Jeff Ravitz. In the late '70s he was working with the Chicago band Styx and they had a show in Madison's Civic Center. While he was setting up his front of house consoles—a standard two-scene preset linked to a Berkey Colortran Channel Track—caught the eye of a stagehand wearing a hardhat and Birkenstocks. The stagehand introduced himself as Fred Foster and said "I developed that console you're using and wrote a lot of the software. And we're working on bigger and better stuff." Jeff explained that he came from theater and needed a computer assisted console to create the trademark complex looks he brought to rock 'n' roll shows. Forty years later, they could be having the same conversation. Jeff, of course, went on to become a world class, Emmy-winning lighting designer with a jaw-dropping resume. And Fred quit his stagehand job to start a company that he believed had a promising future.
I met Jeff in the late '70s, too, when he came through London with Styx. The band was riding high, playing to sold out arenas in the U.S. But their huge production with set pieces and drape tracks was hopelessly at odds with the small U.K. venues they were booked into. Jeff took it all in stride, as entire trucks of scenery were left unloaded until the band cut the tour short and headed home. Jeff was not completely surprised.
"When we played Sheffield the huge mirror ball hung so low as to block the lead singer," says Jeff. Looking back, he views that entire decade as a learning experience. "Every day you were forced to adapt to a new and sometimes very neat way of doing things."
That philosophy served him well in the early '80s as he, along with partner Jim Moody, became the peacemakers when the lighting of rock shows had to meet the needs of old-school TV cameras and older-school thinking.
"It was very contentious back then—the relationship between the TV and touring people," Jeff says. "We rock and roll guys were much abused by TV crews until we all learned to adapt. I learned a lot from my early mentors, Bill Klages, Alan Adelman, Imero Fiorentino, and Jim, of course, who were very free with information." He is quick to point out that the last 20 years have seen immense changes in TV lighting. "We don't need 200 foot candles for the lead singer now and it's okay to have some color and shadow on faces if done correctly and with artistic purpose."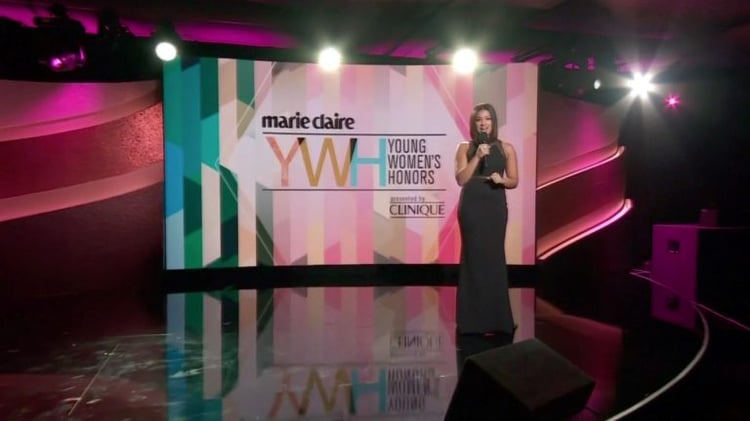 Lately he has been using ETC's Source Four LED Lustr+ as key lights and for backlight, where the flexibility of making on-the-spot changes of color and temperature is crucial. "It is really hard to color-correct a tungsten fixture to an exact target temperature, and the Lustr+ just makes that process so easy," he adds. Like so many other designers, he waited and watched as LED fixtures became more than scenery candy. He now foresees a time when tungsten fixtures will be a nostalgic memory to a new generation of lighting designers.
Now in his 33rd year as lighting designer for Bruce Springsteen and The E Street Band, Jeff strikes the balance of keeping the show fresh and leaving well enough alone. "We won't change the rig for the sake of it," he says. "Fancy truss designs are okay but only if they give you the angles you need, and we know exactly what those are."
For years the downstage dramatic "footlights" effect was produced by standard PAR64 fixtures with Wybron color changers (a pre-LED color-changing technology for millennial readers). For the latest tour though, Jeff made the switch to ETC Selador Desire LED luminaires.
"We loved the tungsten look we got on the faces, but for this tour we have switched to ETC Desire PARs that do an even better job with more color range and they're smaller."
Jeff has enormous confidence in the lighting directors who manage his current tours, sparing him from the rigors of the road and the tour bus. Apart from The Boss, long-term touring clients include Styx and Ringo Starr and His All Starr Band since 1989. In May he will head to Florence, Italy for a presentation on his lighting for the Springsteen tour at Showlight 2017. A natural educator and presenter, Jeff could easily follow his old partner Jim Moody into academia. But there are still gaps he'd like to fill in his very crowded resume. "I have never done a Broadway musical, though I know I would have to get my theater chops back. I would also love to try my hand at a daily variety talk show."
*****************************************************************
Marshall Bissett grew up in Central Scotland and developed an early interest in theater at Perth Repertory Company. After graduating with an MA in English and French from St. Andrews University in 1970, Marshall studied theater direction at the prestigious Old Vic Theatre School and worked as a production manager for every small regional theater in Britain. At the Young Vic in London, he worked on the original productions of Joseph and the Amazing Technicolor Dreamcoat and Tom Stoppard's Rosencrantz and Guildenstern are Dead. Lured by the promise of foreign travel with per diem, Marshall worked as lighting crew chief for Brian Croft's ESP LIGHTING. He toured with Chicago, The Beach Boys, Neil Diamond (two tours of duty with Patrick Stansfield), the Rolling Stones, Bette Midler (with Chip Monck) and Bob Dylan. In 1978, he was Lighting coordinator for Paul McCartney's Concert for Kampuchea. In 1980, he moved to Los Angeles to run the lighting division of TFA until 1983. There, he organized the concert lighting sequences for This is Spinal Tap. In 1983, he founded TMB, a supplier of lighting equipment and production supplies worldwide. He directed an award-winning production of Oh! What a Lovely War at the Knightsbridge Theatre in Silver Lake. He retired from TMB in 2014 and is currently working as a freelance writer for the concert lighting industry.