Like so many designers in this industry, Erica Lauren Maholmes says she came upon her career by accident. And like so many students, the momentum of her young career was dramatically impacted when the world shut down in 2020. Despite the unfortunate timing, however, she is an inspiration to students and other young designers trying to pick up where they left off.
University life
Erica was studying musical theatre at West Chester University of Pennsylvania. As a performance major, the world of design had never occurred to her as a serious option. But as she built her class schedule semester after semester, she found herself registering for the lighting practicums simply because they fit into her week. It wasn't long before she took on the role of master electrician, and soon after, lighting designer.
In 2016 she was awarded the KCACTF Region II Theatrical Design Excellence Award in Lighting Design for the university's production of Ghosts. And not long after, Stagecraft Institute of Las Vegas offered her a scholarship to attend for two weeks in the summer of 2016 (Audio and Lighting Technology.) Her hard work and natural talent piqued the interest of Illinois State University where she was offered a spot in their grad school program for lighting design. She completed her MFA in 2019, just months before the world shut down.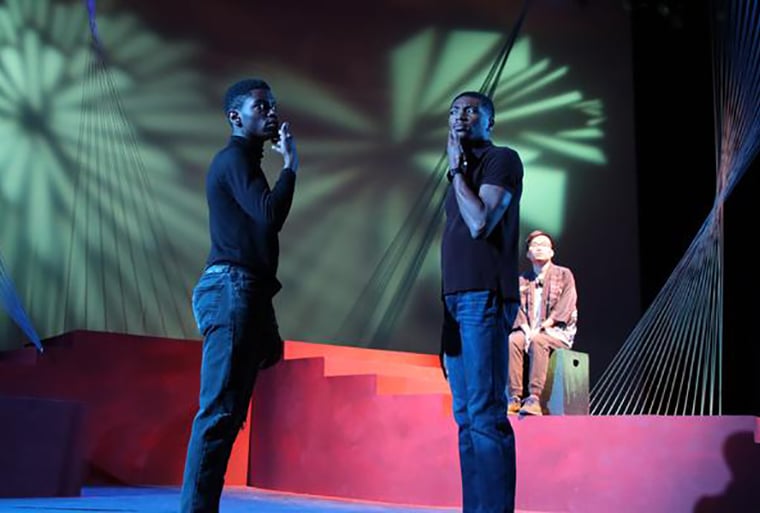 Thriving lighting designer
Despite the shortened timeframe since earning her MFA and live theatre opening again, Maholmes has done an impressive job of making herself invaluable. With a note-worthy resume of venues and shows behind her and an equally exciting portfolio scheduled out through the year, she is a great example of someone who is out making it happen and showcasing her talent along the way.
When asked about working as a female lighting designer, Erica says she's been incredibly lucky to have worked with and been mentored by some amazing women along the way. Including Mextly Couzin who designed the Repertory Theatre of St. Louis production of The Gradient.
"It becomes immediately apparent when you're working on a show that's run by women. I was Assistant Lighting Designer at St. Louis Rep for a show called The Gradient where all but one person on the design team was female. It was a very comfortable, laidback environment. Conversations were easy to navigate. The show itself is about a rehab facility for toxic men, so the fact that the design team was mostly women was poignant (not sure if it was entirely intentional,) but it was still an interesting dynamic that doesn't seem to happen very often."
Maholmes was quick to credit her online communities for her continuous supply of work.
"Everyone is looking out for each other and supporting each other. As projects come available, people are posting them and sending information back and forth. Being a part of these online communities and getting to know people throughout the pandemic has been incredible."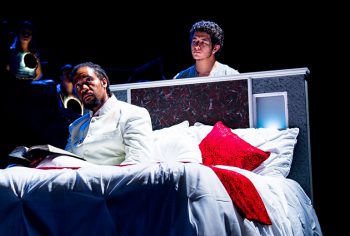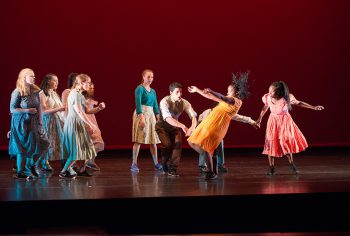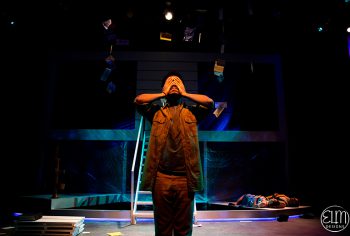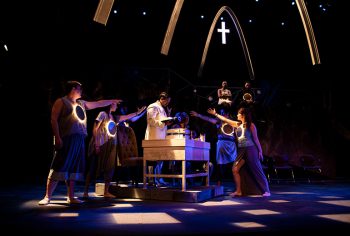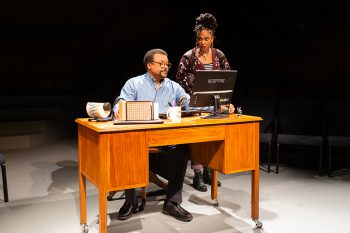 One particular example comes from a project earlier this year. When Xavier Pierce had to take a step back from the show Amerikin, Erica was asked to step in as co-designer alongside Jason E. Weber.
"I've never worked on a show with Xavier in person. But there I was, being asked to collaborate on this show with Jason Weber. We picked up Xavier's existing plot and had to figure out how to make it work together. It was a great experience. We quickly learned how to break down the process and talk through the intention of each cue, so our one programmer had clear direction. Thankfully it all worked, and I think Xavier's design was strongly executed because of the collaboration."
When asked which of her designs she was most proud of, Maholmes pointed to a production of Eurydice from 2018. "The set was completely white and became a constant play on color and space and dimension. We turned the stage into a living organism that ebbed and flowed depending on what we wanted the audience to focus on." She was also quick to give a nod to dance lighting. "Sidelight is my favorite and I'll use booms if given half a chance," she says with a laugh.
In our opinion, Erica Lauren Maholmes is definitely someone we'll all want to keep an eye on in the future!
To see her full portfolio and learn more about Erica Maholmes, visit her website here.