During ETC's CUE conference in February, one of the most popular classes — in multiple languages and around the world — tackled the topic of upgrading your theatre lighting. The class, taught by Marketing Product Manager for Entertainment Fixtures, Jim Uphoff, was so popular, we wanted to share it here so everyone could see it! In this blog post, we'll show you how to dissect your space into four zones and weigh the pros and cons of upgrading each zone independently.
The four zones of theatre lighting
We know that your budget may not allow you to tackle your entire theatrical lighting inventory at once. This class (and now blog post!) breaks your theatre into four zones to help you decide what to tackle first and how to get the most bang for your buck. Each of these zones serves a different purpose and requires different lighting tools. From the backstage wall to the back of the house, the zones are:
Upstage, or cyclorama lighting: Look for fixtures that save on energy and bring a wide variety of color mixing to your theatre lighting.
Over stage and side stage: Look for fixtures with impressive color mixing, quiet operation, and cooler to the touch.
Front light and balcony rail: The expansive color mixing is less essential in this zone, but brightness is key.
Back of house/long throw: Here, brightness is key for these far positions and easy maintenance is essential for the hard-to-reach locations.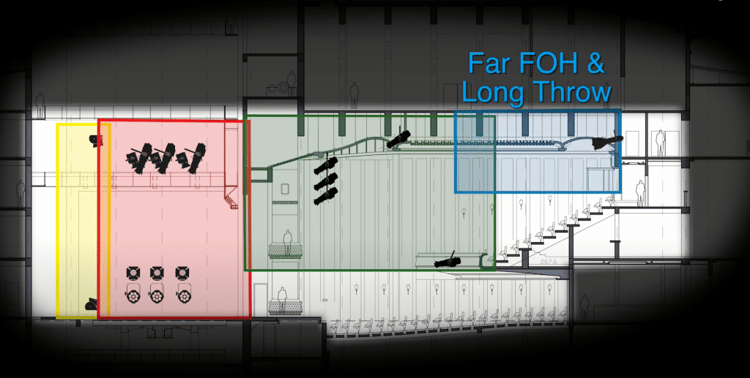 What type of lights should you buy to upgrade your theatre?
Well, as Jim said in the class:
"I don't think I'll be shocking anyone by saying the future, and maybe even the present of theatre lighting is LEDs."
Why switch to LED in the first place? Technology has come a long way in the past decade and while switching from incandescent used to be primarily about energy savings, it's now also about additive color mixing and intelligent features like NFC and wireless control.
ETC offers a variety of LED solutions no matter your budget. Our Source Four LED Series 3 luminaire has the brightest light and most nuanced color of all our fixtures, along with a few wireless features to make your workflow easier. Our ColorSource family offers great color quality at a more approachable price. And our Source 4WRD modules help you adapt all your current Source Four incandescent fixtures into LED fixtures to capture the convenience of color changing and energy savings.
Watch the video below and keep reading for more tips and tricks!
Watch the session here
Tips and tricks
The conference included a live Q&A immediately following this session that you won't see on the video. Here are some highlights from that conversation.
Leverage factory defaults
Don't forget that your ETC fixtures include a factory default setting. This is a great option when you are starting from scratch with a design to ensure you're starting from the same baseline. Resetting the defaults can also be a great habit to get into if your theatrical fixtures are used by lots of hands in a learning environment.
Reuse your barrels
Newer ETC fixtures are often backward compatible with older versions of LED and incandescent fixture barrels. You may be able to keep your barrels and lens tubes and save a bit of cash when upgrading your theatre lighting!
That's a lot of talk about fixtures. What about the rest of my system?
What if your fixtures are still in good shape, but you need to upgrade the power and control? These products have come a long way in recent years too. Upgrades to your control systems may include adding energy-saving options like zone and occupancy sensors. Check out recent Paradigm features and wireless options like ArcSystem.
Are my dimmer racks useless now?
They definitely are not. You'll want R20 relay modules to control your non-dimmable fixtures like LEDs, but, in a pinch, there are ways to reuse your existing dimmer modules. Your ETC field project coordinator or local dealer can help you with that.
I'm renovating a small black box theatre that doesn't have all of these zones. What are my options?
Great question. You probably don't have to worry about the distance or long-throw applications. We recommend adding a couple of high-quality fixtures for impressive color mixing and filling in with fixtures that may be more cost-effective.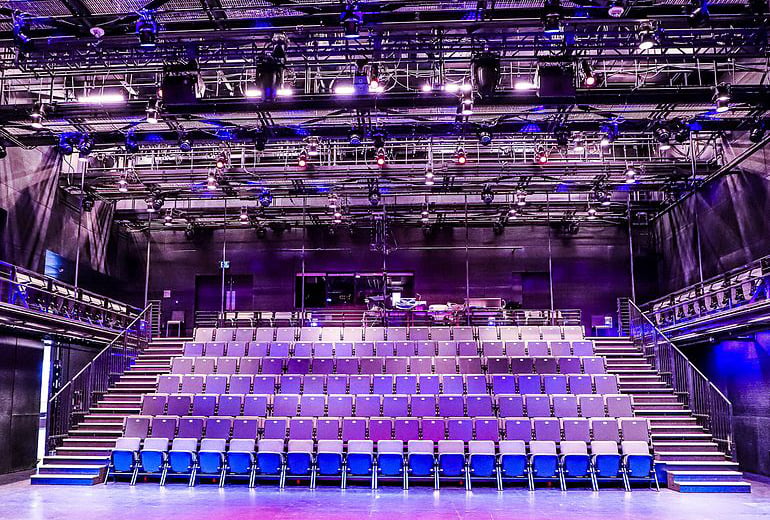 Budget-friendly ETC
ETC has budget-friendly fixtures too. Let's take a look at the difference between Source 4WRD and ColorSource.
ColorSource: LED fixture
warranty: 5/10 year
power: relay
L70 rating: 54,000 hours
color: variable white, RGBL, or RGIL color mixing
family: fixtures include Spot, Spot jr, PAR, Linear, and CYC
Source 4WRD: retrofit for your incandescent
warranty: 3 year
power: line dim (static white only) or relay
L70 rating: 45,000 hours
color: static white or RGBA color mixing
family: fixtures include white retrofit, color retrofit, PAR, and PARNel options
Another handy tool to write home about
Check out the Photometrics app to calculate your individual scenario to compare the brightness and throw distance of any of our ETC Fixtures! Or call your local dealer and request demo units and we'll help you mock it up in your space.
Have questions or want to talk through a project? Contact your local ETC dealer