Even before there was electricity, people were looking for ways to dim their stage lights. This sketch from 1650 shows the pulley mechanism used to lower cans over candles to dim the output from the flame. Technology has come a long way since this early sketch, but it's clear that the ideas to expand on controlled and automated lighting have always been there.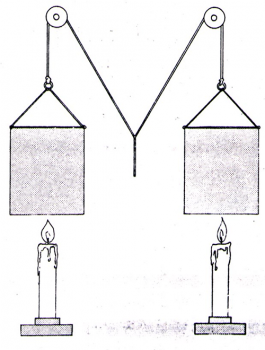 Electricity was introduced and technology began to evolve. Simple gear and motor systems were introduced. The patent drawing below illustrates an idea for a moving light in 1928 that includes gears that represent what we know today as pan and tilt.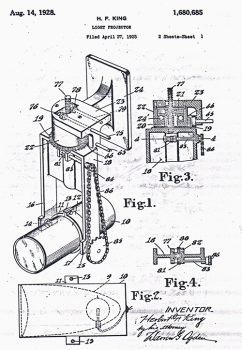 Who made the first moving lights?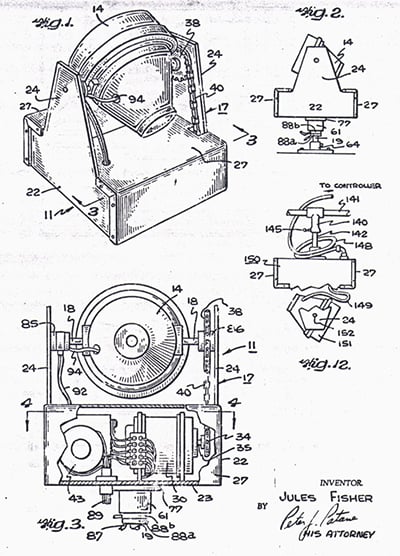 There is evidence from the 1950s of a German company named Pani manufacturing multi-light systems with basic automation functionality.
Meanwhile, in the US, George Izenour, a well-known theatre consultant and Yale professor, was working with his students to create moving lights with basic robotics. Izenour is also credited with building one of the first mirror lights with a liquid cooling system. Unfortunately, water and electricity are not a good combination and the technology of the time did not offer more advanced cooling solutions.
The other technology limitation at the time was the simple control systems. Izenour quickly realized that the advanced functionality of moving fixtures would also require more advanced control – just one more piece of the puzzle that was not yet available. It's clear that the ideas for moving lights have been around for nearly a century, but a lack of technological advancements continued to limit the realization of usable products.
Well-known lighting designer Jules Fisher holds this patent for the invention of a slightly different automated fixture from 1965.
Rock and Roll
By the 1970s, rock and roll shows had moved from small intimate venues to tours of sporting arenas, large theaters, and festivals. These larger tours required an increase in power, sound, and lighting equipment. A new business of rental companies was born to supply these tours with quality equipment on the scale they needed.
One of the first was a company out of Dallas, TX called Showco.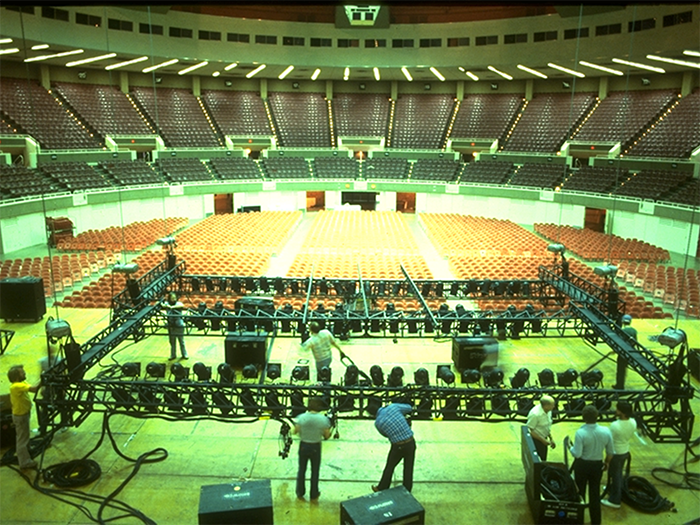 By the mid-seventies, the systems were even larger. Riggers toured with the bands to install full truss systems for a small lighting rig. By the end of the 1970s, those systems had grown substantially. Within a decade, the industry moved from small stage productions with a few dozen fixtures, to mega-shows with huge production value and 1,000 fixtures.
As you can imagine, with rigs that looked like this VanHalen tour, shows started to come up against the limits of what building structures could support, and once again the industry was looking for new technology to compensate.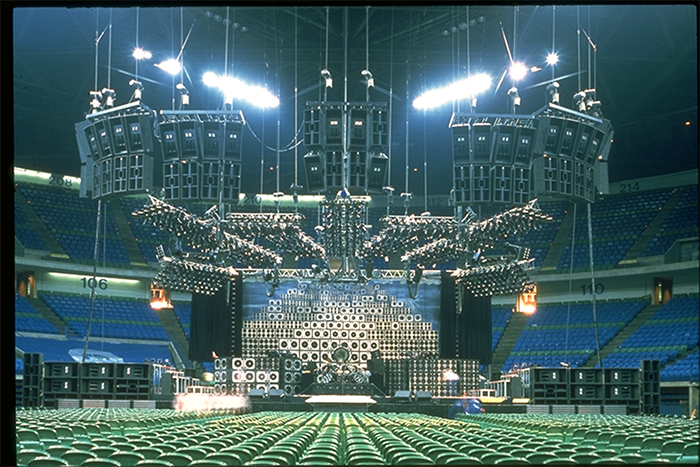 Changes in technology
With new problems come new solutions and the growing touring industry was definitely seeing new solutions. Discharge lighting sources that were created for projectors were compact with high-brightness – something that turned out to be useful for the rock and roll lighting world. They were not consistent in color temperature, but this industry did not really care.
When it came to adding color to light, the gel used in theatrical productions turned out to be unpractical for concerts. It limited light output and burned out too quickly.
The introduction of dichroic glass, however, was a game-changer.
The 1970s was also when solid-state electronics came into use.
Showco took all of these individual technologies and started putting them all together to create the first color-changing fixture.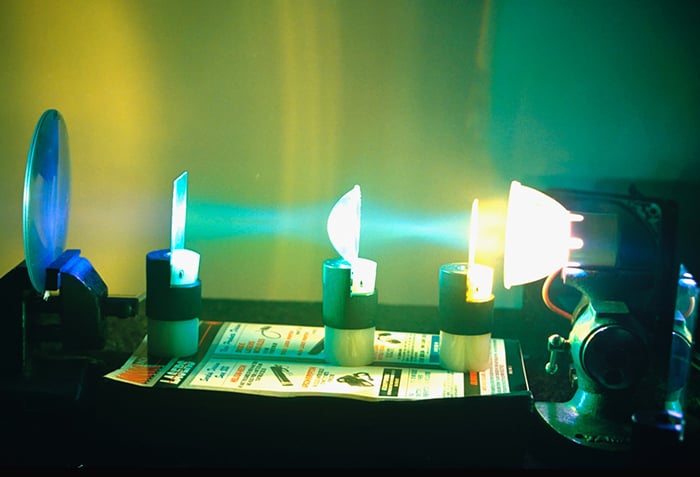 This, however, was not intended to be a moving light at first. It was one of the Vari-lite owners who saw Showco's color-changing fixture and asked what it would take to add pan and tilt functionality.
That color-changing, panning, tilting fixture became the VL Zero.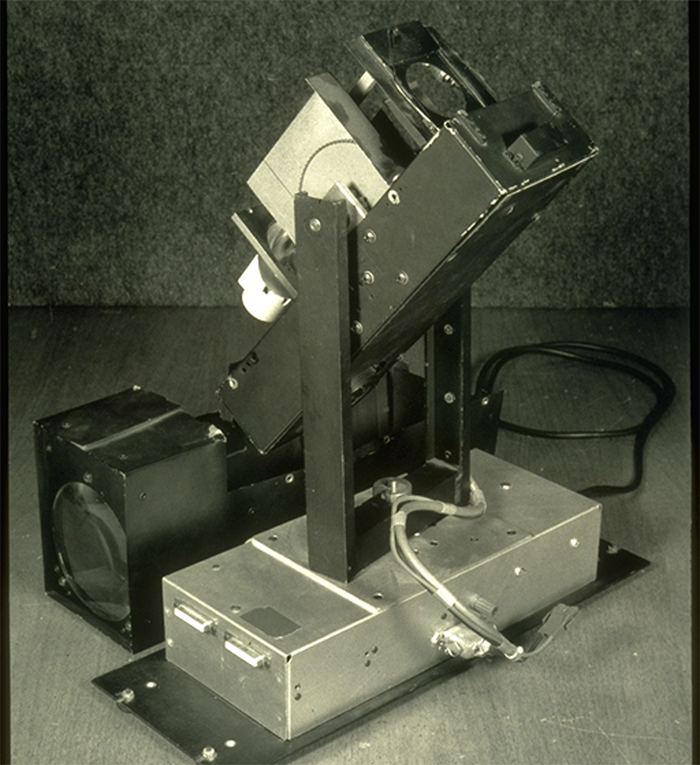 The controller was made to control a single light and run two or three cues, but it was a huge leap in technology progress for the touring industry.
Genesis Tour
Showco worked closely with the band Genesis, and as a band that was always interested in trying new technology, it made sense to take this first prototype to the UK to show band members, Tony Banks, Phil Collins and Mike Rutherford, along with long-time manager Tony Smith.
Genesis was impressed enough that they decided to invest and requested the first order of 55 fixtures for their tour.
Like with other technology, there were plenty of nay-sayers in the industry. Many people thought the fixtures were a fad and would quickly fade into obsolescence. There was one piece of automated lighting design that people did not anticipate being as big and successful as it was.
Because these fixtures were designed as a way to add color and lighting positions to a rig, it was widely assumed that the designer would turn them off, refocus the beam, change the color, and then turn them back on. The fact that you could leave the light on while changing color and position was not seen as a feature until they were in use.
Turns out that the move itself was incredibly eye-catching and, as we now know, a key feature of most concert lighting.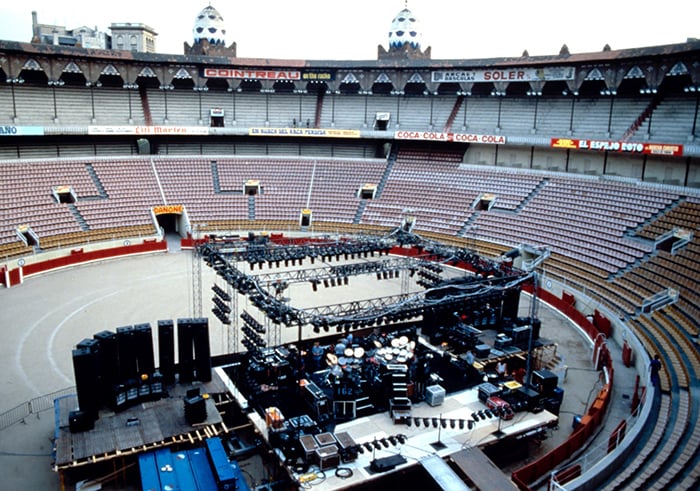 The first Genesis tour with VL1 started in Barcelona, Spain in 1981.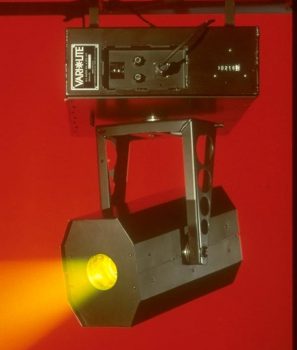 Concerts/rock and roll adopted moving lights very quickly. The next generation of the Genesis show went out with over 100 moving lights, nearly doubling the size of the first rig.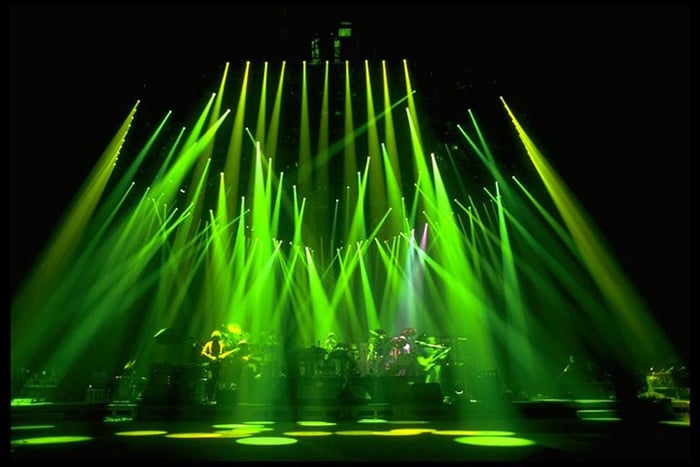 As time went on, Vari-Lite expanded and fixtures improved. The VL4 fixture shown below from 1988 was the first practical wash light. It had a bright, nice soft beam.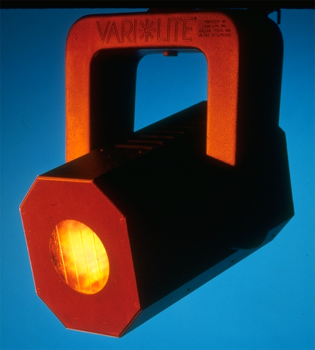 "Nothing has ever looked as good as the VL4 mechanical strobe." – Tom Littrell
Color changing and moving lights enabled rock and roll lighting designers to become better designers. They had more colors to work with on fixtures that could move and dance in artistic ways never before realized. As more companies joined the ranks, a healthy competition arose, challenging manufacturers to think smarter and iterate more quickly. Robotics technology continued to grow and has played a massive part in the growth and development of automated fixtures over the years.
Beyond rock and roll
In the late 1980s, moving lights started appearing more and more on stages. Many of these performances were not about effects or how much haze was in the air but rather, adding more color and lighting positions to a rig. Unfortunately, the cooling fans in the moving lights were loud and designers had to be selective about which brands they chose.
Moving lights turned out to have huge advantages for rep theaters because of their flexibility. And now we see them everywhere.
Concerts
Award shows
Operas
Theatres
Half-time shows
Olympic ceremonies
Corporate events
Houses of worship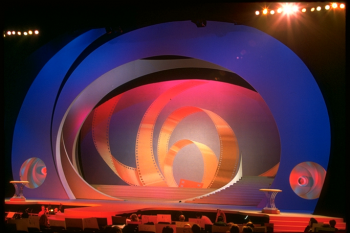 Moving light technology has come a very long way in the past 50 years, but like a lot of technology, the seeds of the idea were planted nearly a century ago by people who were thinking of the possibilities and not the limitations.
If you want to hear the entire story of a history of moving lights, head over to YouTube and watch this class taught by Tom Littrell, retired ETC employee, former Showco employee, and part of the first Genesis tour in 1981.
To read more about what ETC and High End Systems are doing with current moving light technology, visit HighEnd.com