ETC's new project portfolio (https://portfolio.etcconnect.com) showcases some of the most impressive, boundary-pushing, and industry-defining installations we've been privileged to be a part of. Visitors can scroll through a photo gallery and click on whatever image strikes them to learn more about the installation, the gear involved, and the people who helped make it happen.
"ETC helps buildings become genre-defining landmarks, best-in-class business centers, and models of energy efficiency. We're proud of every project we're a part of and I'm so happy we can share them here," says David Lincecum, Vice President of Marketing for ETC. "This is a compelling way to let people know what is possible with us."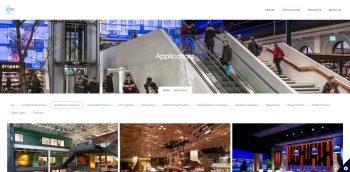 Using the portfolio to find a specific type of install
For those who are looking for specific types of installations or gear examples, the portfolio is organized into three categories: Venues, Applications, and Products. Want to find projects that feature stadiums or government buildings? Head to the Venues page and click on either of those categories from the list of different venues at the top of the page. Want to find projects that highlight architectural control or wash lights? Head over to the applications page. And of course, the Products page will let you find projects that use specific products.
"The portfolio is a living document. As more projects are completed, more will be added to the site, so users can always return to find new content to share and be inspired by," adds Lincecum. "We can't wait to show you all the amazing things ETC is doing."
Share the love
You can also contribute to the portfolio! If you have an install success story you'd like us to share, please email it to projectportfolio@etcconnect.com. Write a few sentences describing the install and what was special or notable about it. (Keep this short! 3-5 sentences max.) Also include a short list of the most relevant gear that was used in the install. Finally, attach any photos you have of the project – the more high-res the better, but at least 1200 pixels on the short edge.
A quick note on photos: Before you send us photos, make sure you have the appropriate RIGHTS to the photos. We can't post photos that are used without permission or that have simply been taken from another website. Tell us who took the photos and provide documentation that we have rights to use them. Yes, we know this can be tricky, but we assure you it's easier than dealing with a lawsuit because a photographer used Google Image Search to find unlicensed versions of their pictures on our website.