When Phoenix Sky Harbor International Airport (billed as "America's Friendliest Airport") was looking to replace its aging control system, they recognized the legendary products and services ETC had supplied to the theme park business and decided to apply them to the airport.
"What you get with ETC is excellence. ETC's work at Disney and Universal Studios were clear examples to our client that they would receive the same high-level customer support," says Stuart Pieloch, the VP of Controls and Technical Service for RC Lurie, the local Phoenix ETC rep agency.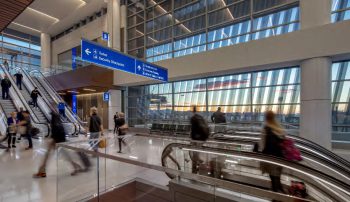 ETC gave Sky Harbor the gear and support they needed to centrally monitor and control lighting across the whole airport, over a complex network, without losing sight of the fine details. "If a light goes out at a gate, that information can be relayed back to maintenance and be corrected very quickly," explains Pieloch. "There's a high level of awareness."
Each area being renovated at the airport features an ETC Paradigm Processor networked back to a Paradigm Central Control Server for facility-wide monitoring and control. ETC Echo Relay Panels provide 277V power switching for large circuits of lights, with 0-10V dimming based on light and occupancy sensors, plus time-of-day scheduling for terminal operations.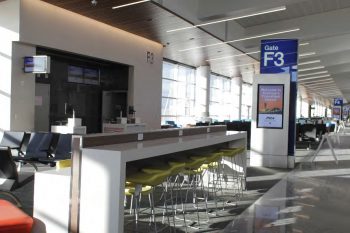 Recently completed projects include a brand-new Terminal 3 South Concourse expansion, the Terminal 3 main "Processor" upgrade (Ticketing, TSA security, and baggage claim), and a just-started North Concourse remodel. Outside Terminal 3, several stand-alone buildings – such as the Command Center, parking garages, bus station buildings – have also been remodeled and outfitted with ETC gear.
"Only ETC could bring together that many points of control spread across literal miles of real estate and all under a 24/7/365 support system that is the standard against which all other companies are measured," finishes Pieloch.