Focuspoint is an ETC dealer in Estonia – and if the company name looks familiar, it's because it was taken from a knob on the ETC Expression. As his company name suggests, founder Kalle Karindi runs a tight operation. "I am a one-man company with no plans to expand," he laughs.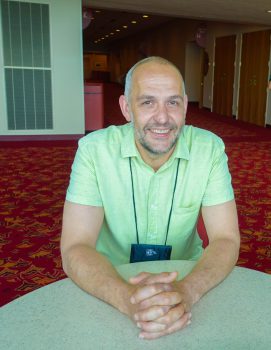 For those who missed that day in high school geography, Estonia is a former Soviet Union country, bordered to the north by Finland, to the west by Sweden, with Latvia to the south. A member of the EU, its children rank 3rd in the world in education, has a digitized culture and was the first country to hold online elections and offers its citizens free education and health care. Before you start packing, the winters are harsh and the native language is Estonian.
Karindi was born into the theatre. After leaving the Russian army, he started as a stagehand at his father's comedy theatre and for seven years was the console operator for the most analog system many of us will ever see. (Yes, that's a lighting console in the photo up top, and yes, Focuspoint sells modern gear now.)
Ironically the comedy theatre failed at the same time as the Soviet Union. "There was nothing to make fun of anymore," said Karindi. After a stint at an audiovisual importing company, he moved to the Tallin City Theatre and was encouraged by his many theatre contacts to start his own company. With three other ETC dealers in a crowded but tiny market, he used those contacts to pull off big installations, notably the Paide Kultuurikeskus. Inspired by an ETC Master Class conducted by the London office, he recently designed a cinema with four Sony projectors controlled by Mosaic.
His entrée to the tight-knit architectural market will come with a design to project flags on to a government building in the country's capital. At the recent ETC International Workshop, Karindi concentrated on the system design seminars. "There's a lot to catch up on – we just started to get used to the huge jump from our old Russian consoles to DMX, and then LED came along." His background in comedy showed when asked for his business card, "I don't have one – I'm on vacation."