Home to both the Boston Bruins and the Boston Celtics, TD Garden - https://www.tdgarden.com is bustling with sporting events and concerts throughout the year. Recently, the arena has been turning heads with a massive, two-year expansion currently underway. As part of its renovation, the Garden tapped ME Engineers and Port Lighting Systems to revamp its aisle lighting. ME Engineers designed an aisle lighting solution with layout and lighting calculations while Port Lighting Systems provided the controls solution and upgraded lighting in the aisles as well as additional sections of the arena.
TD Garden faced a unique challenge when rethinking its aisle lighting. The old system featured an odd voltage, which meant the entire arena's wiring would need replacing to complete the aisle light upgrade—and would come at a hefty cost.
ME Engineers was ready with an alternative solution, having completed a renovation at Madison Square Garden with a similar issue. In that project, LED fixtures were used to light the aisles from the catwalk—a solution ME Engineers has also designed for Staples Center, United Center, and nearly 20 other new and renovated arenas and stadiums nationally and internationally.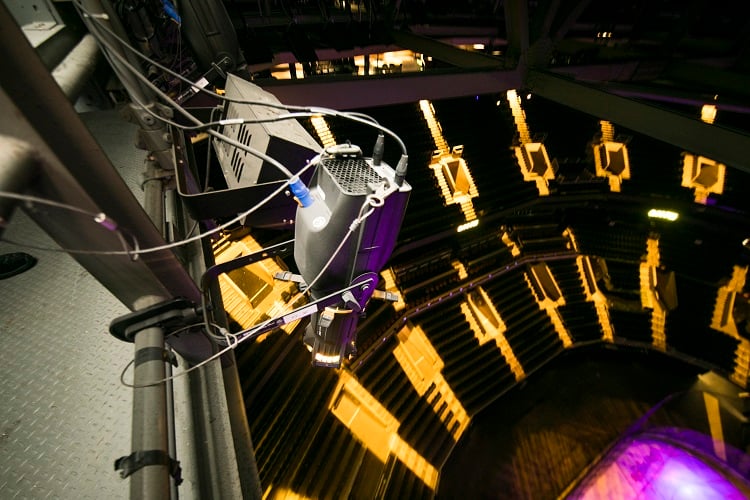 Once ME confirmed this approach would comply with local code regulations, TD Garden called Port Lighting Systems—its collaborator for over a decade. Together, the team selected aisle lighting fixtures ideally suited to the arena's needs.
Port Lighting Systems recommended the UL-924-listed ETC ColorSource Spot LED fixture to meet National Electrical Code (NEC) section 700.24—a new requirement stipulating that fixtures installed for emergency lighting must be specifically listed for use in emergency lighting. This recently added code section has proven nearly impossible to meet, as most lighting manufacturers do not provide UL-924 listed luminaires.
"In addition to meeting code, the ColorSource fixtures provide aisle lighting for all uses including emergencies, and offer both white and color-changing options," says Ron Kuszmar, Vice President of Architectural & Theatrical Lighting at Port. "We knew the Garden team would love this flexibility to display appropriate colors for Bruins games versus Celtics games versus events calling for standard white light and so on."
TD Garden approved the plan and the lighting upgrade was completed during summer 2019. Port Lighting Systems also added master control elements to Levels 2 and 9, installed a new lighting solution for the Coors Light HUB Bar, and continues to prepare additional upgrades as construction progresses.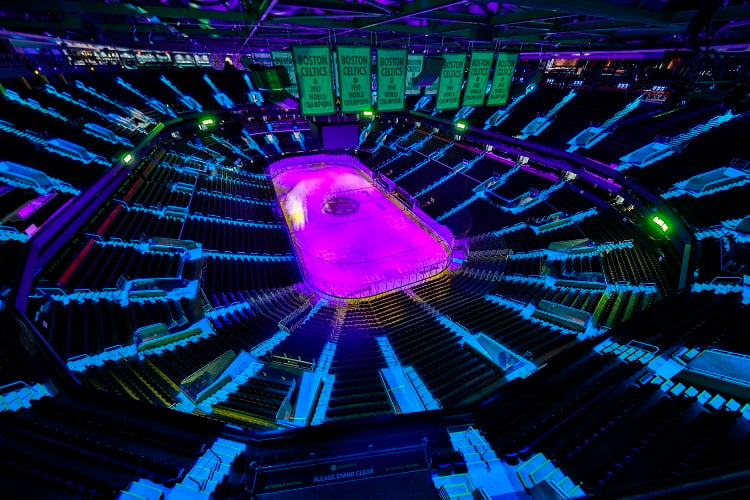 Collaborators
ME Engineers – Lighting Designer and Electrical Engineers
Port Lighting Systems – Aisle Lighting Controls, Installation, & Integration
CES Inc. – Electrical Engineers
A. Murphy Inc. – Electricians
Gilbane – General Contractor
SCI Architects – Architects
Port Lighting Team
Ron Kuszmar – VP, Architectural & Theatrical Lighting
John Beaulieu – Senior Lighting Technician
Sean Harding – Senior Lighting Technician
Photos by Matt Teuten Photography