Attending a live sporting event is about more than just the game. The excitement in the crowd and the grandeur of the space are what get fans to leave the comfort of their homes to experience a match in person. That's why the Minnesota United FC soccer club aimed to create a spectacular atmosphere when building its new home, Allianz Field. With the help of Gopher Stage Lighting and ETC lighting controls, the new stadium was able to execute its lofty vision.
With a total capacity of 19,400 seats, and the possibility to expand to 24,500 in years to come, the construction project was a massive undertaking. Gopher Stage Lighting was pulled in to ensure that the stadium's lighting controls were flexible, smooth, and efficient across the entire space.
One of the stadium's most eye-catching features is a translucent PTFE laminate mesh skin, lit by LED technology. ETC's Mosaic control solution made it possible for the stadium to program the dazzling exterior light show with sophisticated and adaptable software. Here's an example of how they used this technology earlier this year to help promote the diversity of their team.
The exterior lights change color in response to various events and activities. For example, when a goal is scored, the exterior changes to the team color with a fire effect. After a Minnesota win, the LEDs transform into a team crossfade with a white-to-blue circular chase. For the rest of the evening, the stadium displays a blue, purple, and green swirling "Northern Lights" effect. The Mosaic system also offers a color picker, giving stadium staff the option to customize different colored stripes for special events.
To cater to the stadium's desired workflow, Gopher Stage Lighting worked with staff to trigger controls through their Daktronics scoreboard control system. This allows them to trigger the Goal or Win Video for the scoreboard and ribbon boards, and also trigger the sports lighting and façade lighting chases at the same time.
Further enhancing the fan experience, the sport lights and façade are programmed to chase along with the music in team introductory videos. Josh Wood, lighting project manager at Gopher Stage Lighting, says, "The lighting is a key element in generating hype throughout a game. The advanced control we have in place allows us to make the stadium look very impressive, especially at night."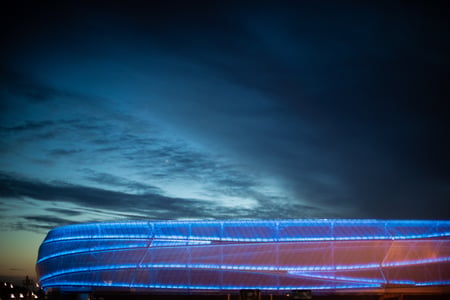 For the interior lighting, a Paradigm processor is driving architectural zones, including premium club spaces, concourses, and bathrooms.
Integrating the look and feel of the exterior with the interior, Gopher Stage Lighting has programmed the Field Club to mirror the light show on the stadium's LED exterior.
"This stadium is now a landmark in Saint Paul," said Wood. "Implementing a quality lighting control system has ensured that the building looks beautiful from the perspective of both a spectator in the audience and a passerby driving past at night."