Following a successful European tour, the science exhibition "experienceCOLOUR" opened in the UK for the first time – running throughout September to mid-October at the Glasshouse Arts Center in Stourbridge.
The exhibition explores the art and science of color in the world around us. American Theatre Lighting Designer, Jane Cox, hosted a presentation on "Light and Color in Storytelling" which ETC attended. She investigated how emotion and perception are influenced by light and color and "how we use light and color to harness our imaginations to the stories we are trying to tell."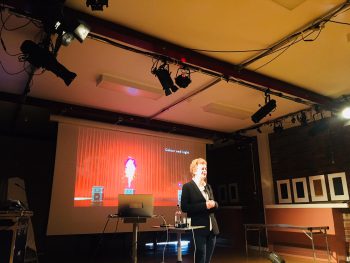 Theatre makers are storytellers, and lighting designers tell the story by using light, shadow, and color in creative expression to influence the audience. These three things – when used in specific ways – can have a significant impact on the way the audience feels towards individual characters. Light has been used throughout the history of theatre to focus the audience's attention on the story being told.
As part of her presentation, Cox discussed how the ways we use light on a character can evoke certain feelings. She demonstrated a variety of experiments that revealed how the angle and intensity of light on a person's face can generate various sentiments. For instance, the use of darkness releases our imagination and creating shadows on a person's face can depict uncertainty over their thoughts and expressions which in turn crafts a sinister feel towards the character. And for all these demonstrations she used a Source Four LED Series 2 with a Lustr array.
"When I was planning my talk about 'Light and color in storytelling' for the exhibit, I knew that I had to use Lustrs for the rig in order to allow the audience to experience all the aspects of color I hoped to show them" Cox says. "From distinguishing subtle differences in shades of light pink to showing off vivid complementary colors in rich blues and yellows, Lustrs are the only LED light that could offer the sophistication of color I needed, in both the pale and saturated ranges. I was thrilled that the audience had the responses that I hoped to colors in light; I couldn't have done it with LEDs without ETC's Source Four LED Series 2."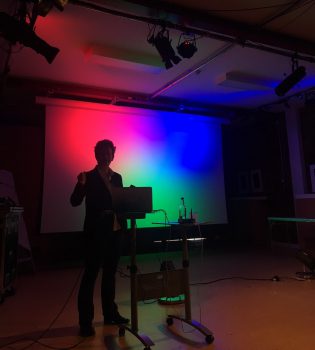 The three primary colors most LED lighting manufacturers use are red, green, and blue (RGB). ETC's x7 system adds four more colors to fill out the spectrum, including cyan, indigo, lime, and amber emitters. These colors can be used in light to change the emotional tone of a scene. Color can be used with light to indicate a level of realism, helping us shift from reality to fantasy. In this way, an audience needs color and light to convey a story on stage effectively.
During the presentation, Cox had audience members take part in an "M&M challenge" where three tables of M&Ms were lit solely with RGB and the task was to separate them into the correct color piles. The task was surprisingly difficult to achieve with the various shades of light distorting the colors of the M&Ms. It demonstrated how colored light has a concrete ability to affect a person's outlook on different tones — and how more shades are required to accurately convey a designer's vision.

Jane Cox makes it clear what we can learn from observing light in our day-to-day lives and how we can apply those observations to making design choices on stage and off.
The world of light and color can be very powerful indeed.