Only in Southern California will a Spanish Mission bell tower share the skyline with an array of Source Four fixtures rigged on telephone poles.
Then again, there is nothing ordinary about the Old Globe. Nestled in San Diego's Balboa Park, the Old Globe complex hosts three theatres: The flagship Donald and Darlene Shiley Stage, plus the Sheryl and Harvey White Theatre in the Conrad Prebys Theatre Center, and their outdoor space, the Lowell Davies Festival Theatre. All those stages allow the Old Globe to produce 14 shows a year. Over the years, more than 20 of its productions have gone on to play Broadway and off-Broadway, garnering 13 Tony awards and numerous nominations.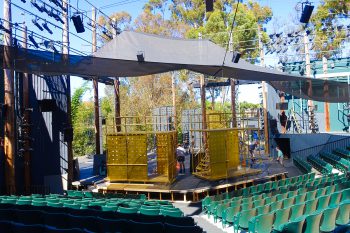 Three spaces make for a busy schedule, and when we caught up with Resident Lighting Director Shawna Cadence this past summer she had a full plate. Guys and Dolls was newly opened on the Donald and Darlene Shiley Stage, Ken Ludwig's world premiere of Robin Hood! was in previews in the arena-style Sheryl and Harvey White Theatre, and a new production of Hamlet was in technical rehearsals on the outdoor Festival Stage.
As we sat in the Festival Theatre, Cadence recalled her first Hamlet ten years ago, when she was hired as an electrician and follow spot operator. She pointed out a tall eucalyptus that towered over the stage. "That tree was barely eight feet above the deck then – look at it now."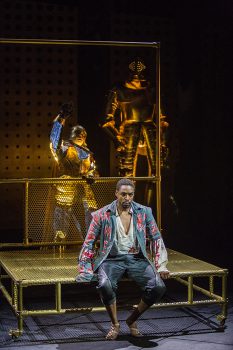 Hired as the youngest and first female Lighting Director, Cadence aims to "reduce the stress points" for the incoming lighting designers, many of whom come from out of town. This year, she is particularly impressed with the minimalist style of Hamlet lighting designer Stephen Strawbridge. "He is using less than 50 per cent of the available rig and is very specific about where light goes and what he wants to do – he really knows his stuff and has a great eye." Now in his fifth production at the Old Globe, Strawbridge is familiar with its challenges. "Without a back wall, getting good back light positions is almost impossible, and there never seems to be enough programming time in the hours of darkness," explains Cadence.
Unusually, the Old Globe does not have a dedicated house rig for their outdoor stage. Each designer starts with a fresh palette and the Festival stage has dimming to support nearly 400 fixtures. The lighting inventory is a virtual catalog of ETC Source Four. Five- and ten-degree fixtures, mounted on the famous telephone poles, cover the high front of house positions, and the downstage positions use a range of 19°, 26°, 36°, and 50° lenses. For Hamlet, Strawbridge called out additional 14° lens tubes to match a specific need.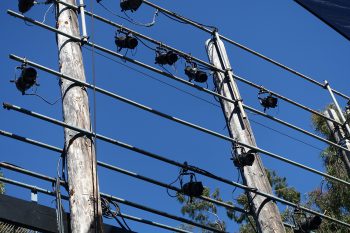 Cadence takes pride in leading a team where they joke that many of the ETC fixtures in the rig are older than the crew that maintains them. Because, make no mistake, while the 200-plus Source Fours in her rig bask in the Southern California sun that does not exempt them from rigorous maintenance. "The dew point is very low here and everything gets wet – the 'outdoor' fixtures get extra care before every show and towards the end of the run," says Cadence.
With a repertoire that inevitably includes a lot of musicals, Cadence is "auditioning" moving lights and LED fixtures for the next round of capital purchases. "I am looking at moving lights with a controllable frost filter, smooth dimming curve and the ability to be outdoors five months out of the year," adds Cadence. The stages use Gio and Ion consoles with a dedicated master electrician who doubles as a board operator.
"My job is to enable everyone on my team to do their best work," says Cadence, who moved from LA to San Diego with hopes of becoming a lighting designer. Now she is happy to take on a supporting role in management. "Every day is different and the challenges are constantly evolving – who could ask for more?"