Fall is in the air in Croton-on-Hudson, NY, and the annual Great Jack O'Lantern Blaze event is underway…with thousands of pumpkins powered by a Gio console.
Lighting designer Jay Woods has been with the project for over a decade, during which time it has grown from a modest display of candle-lit jack o' lanterns around an historic Hudson Valley farming estate to a sprawling, dynamic installation run from 30 separate cue lists. "This is basically like a temporary theme park," says Woods.

Guests wander a meandering path past pumpkin arches, pumpkin spiderwebs, pumpkin beasts and pumpkin ghouls, up to the main sound-and-light show at the historic manor.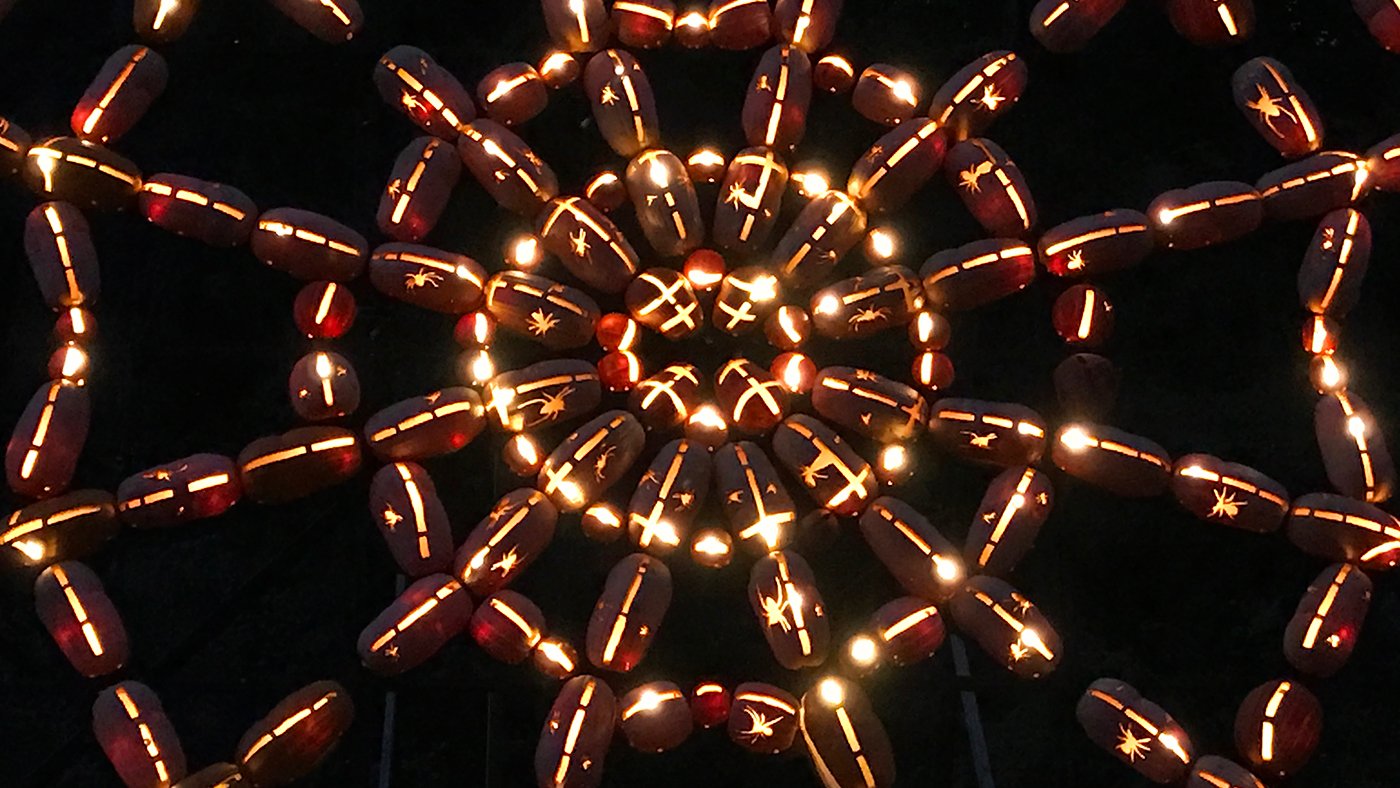 Haunting a historic house
The show takes place on the grounds of the Van Cortlandt Manor House, a landmarked historic estate with roots going back to the 17th century. "We have to get creative and mount things in ways that leave no trace," says Woods. "We do some work in the historic houses, and that's all done with the museum curator, who stands with us and makes sure we don't do anything that would disturb the museum pieces."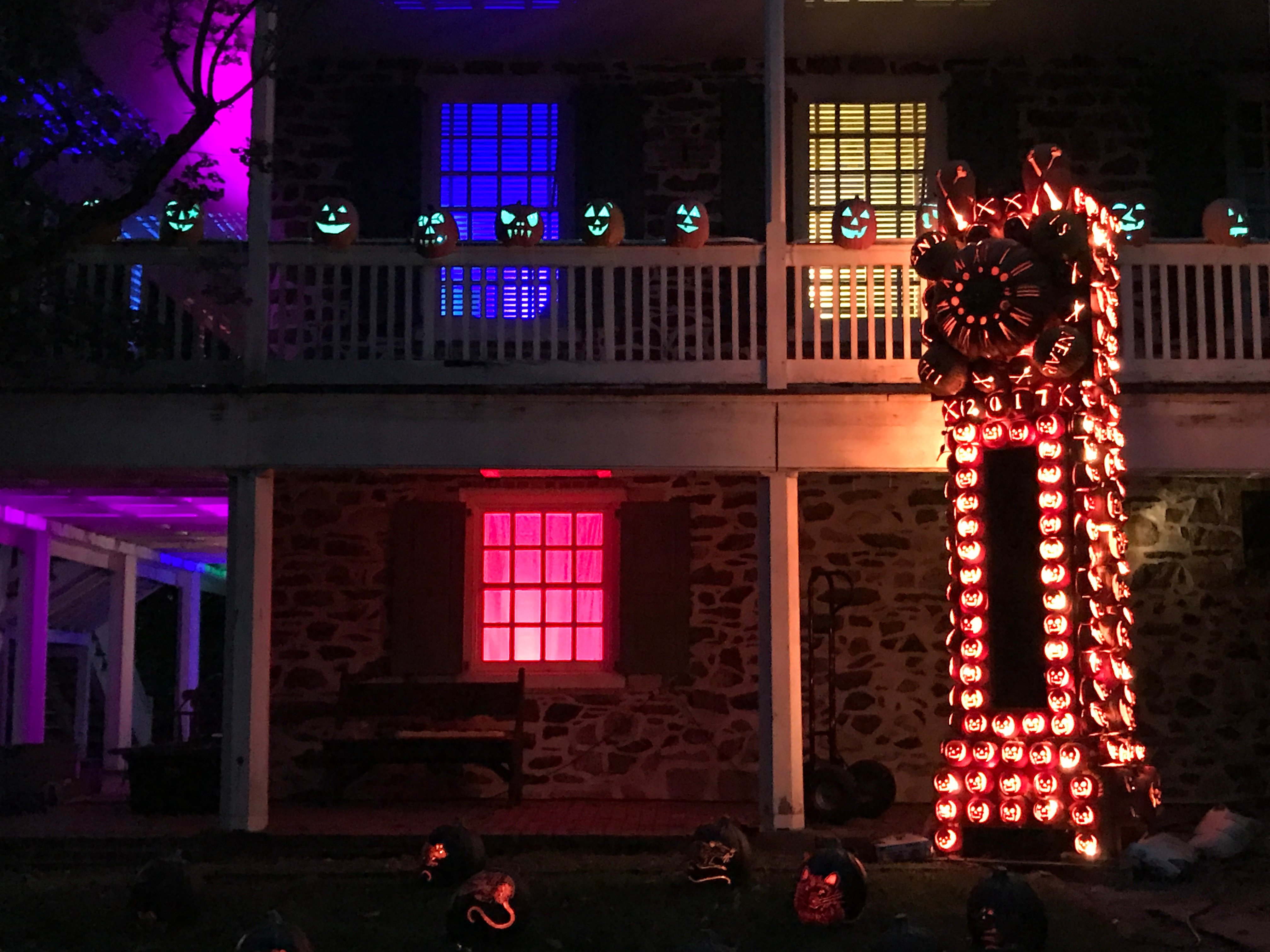 The house itself has always been the focal point of the event. "It used to be the only thing that was animated," says ETC's Pete Wiegand, who has programmed at Blaze for a number of years. "During tech we'll spend a night or two solely working on that, locking down the code."
Lighting in a landscape
When asked what keeps him coming back to the project year after year, Woods explains, "It really combines a lot of things I enjoy – being out in the woods, working in a unique environment. I can suggest design ideas that wouldn't be feasible in a theater."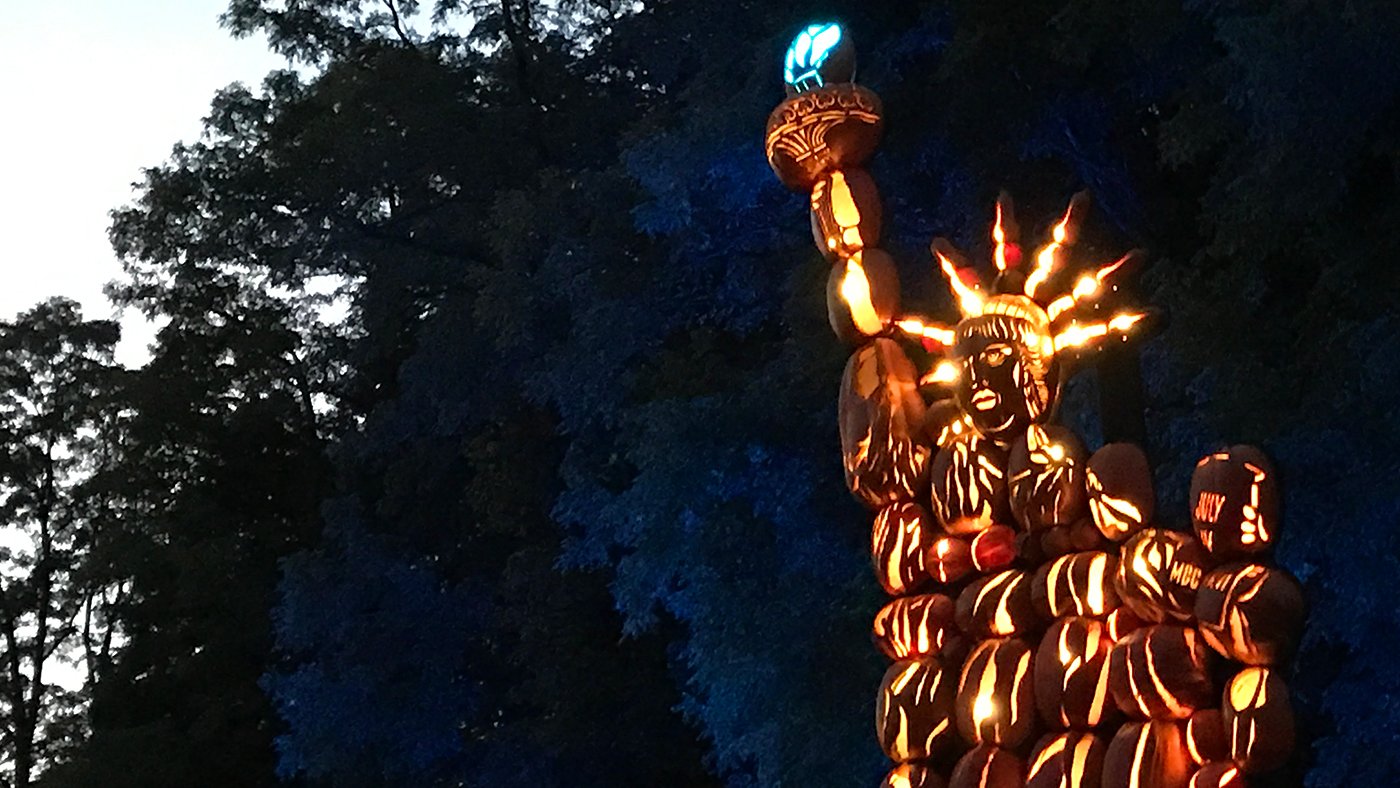 The outdoor setting also presents a host of challenges. "You have to craft an event and a dynamic environment, and you have to make it sustainable from the hot months at the end of the summer to the cold months at the beginning of winter," says Woods.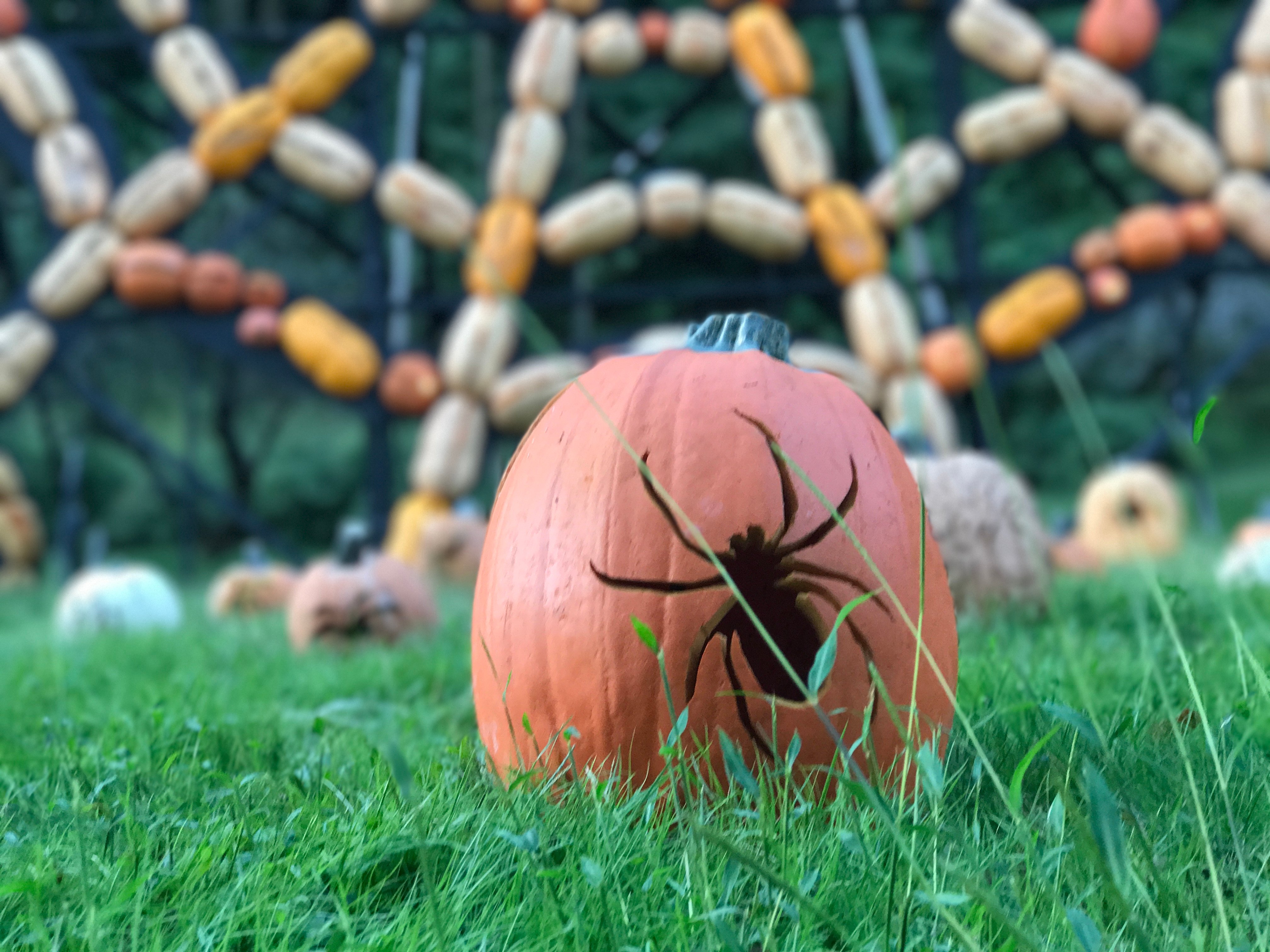 The event uses thousands of real, candle-powered pumpkins that are carved, placed around the grounds, lit each night, and cycled out as needed by an army of volunteers. The technical infrastructure that powers the artificial-pumpkin sculptures, however, must be built to last the duration of the season. This includes an elaborate network of sound, lighting and IT cables run throughout acres of parkland.
"We've gotten pretty good at waterproofing electronics – rubbermaid containers, plastic bags," says Wiegand. But nothing is ever certain until the first fall rainstorm, which – as of opening night, at least – hadn't yet arrived.
The tech process
I caught up with the lighting team in late September during their final days of tech, with only a few long nights left until opening. Woods and his primary programmer, ETC's Pete Wiegand, were in the midst of fine-tuning one of this year's major new exhibits: a haunted carousel made of custom-carved jack o' lanterns. The carousel uses six universes of DMX and requires some complex engineering: "It needs to rotate and get its data and get its power all at the same time," explains Woods "It's all time coded with audio tracks, which allows us to play with the dynamics of the music."
To locally program each exhibit, the team works from their mobile programming station – a Gio console and two monitors set up in the back of a 4×4 utility cart.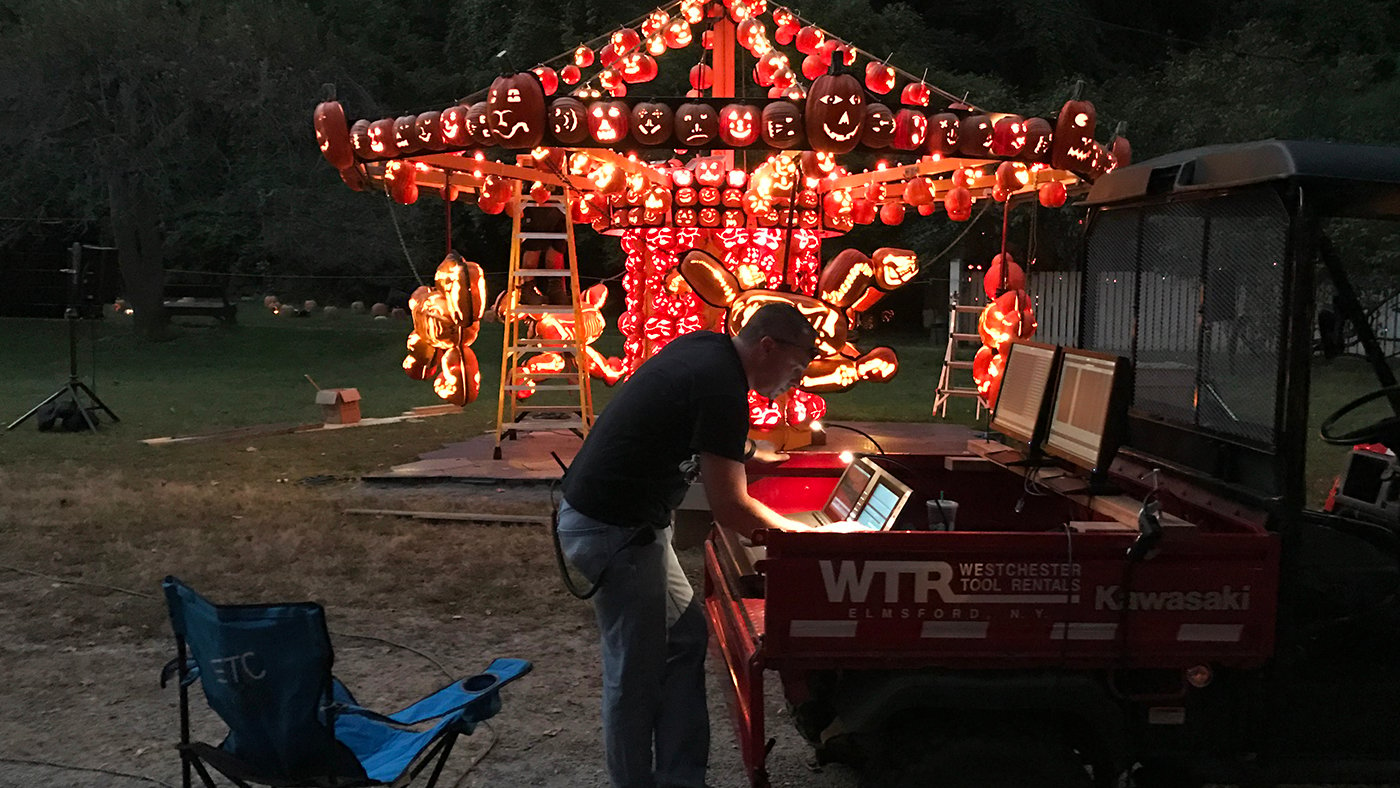 A second Gio console lives in the Control Office, in the basement of a stone outbuilding near the entrance to the grounds. That console serves as the primary controller for the show, with the mobile console acting as a backup during the run. Though build and installation for the event start months in advance, the team has only a week onsite to program the show. Some elements reappear from year to year, but the layout of the exhibits changes every year, and new attractions are added.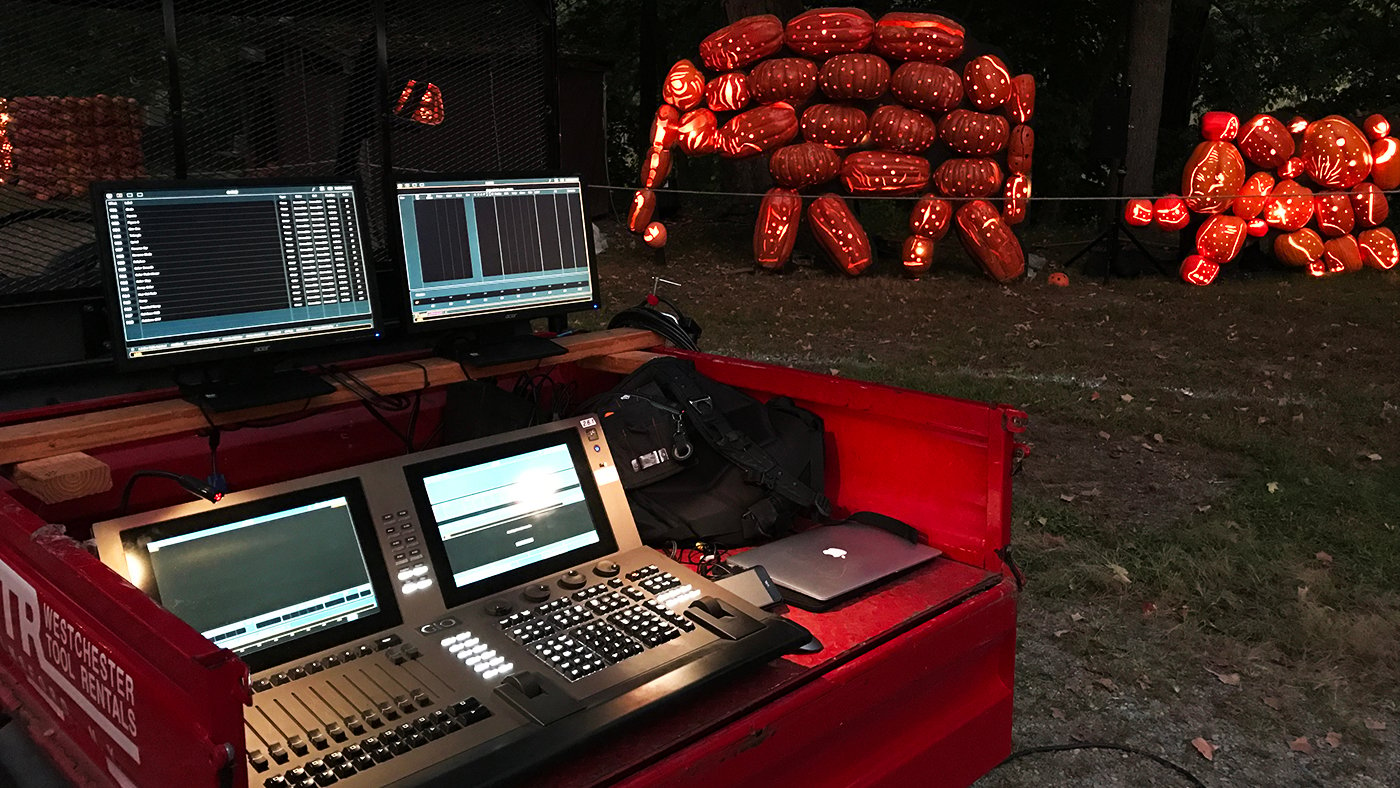 Woods and Wiegand spend most of their tech time at the mobile Gio, concentrating on the overall, park-wide look and the main house. Meanwhile, a second team including Associate Designer Nathan Avakian and assistant programmer Alyssa Eilbott used an ETCnomad controller and an Eos Programming Wing to build looks and effects for individual attractions.
"Alyssa would be working on one side of the park programming, and I'd be on the other side," says Wiegand. "Because it's a multi-programmer environment, there's more communication required than on a regular show."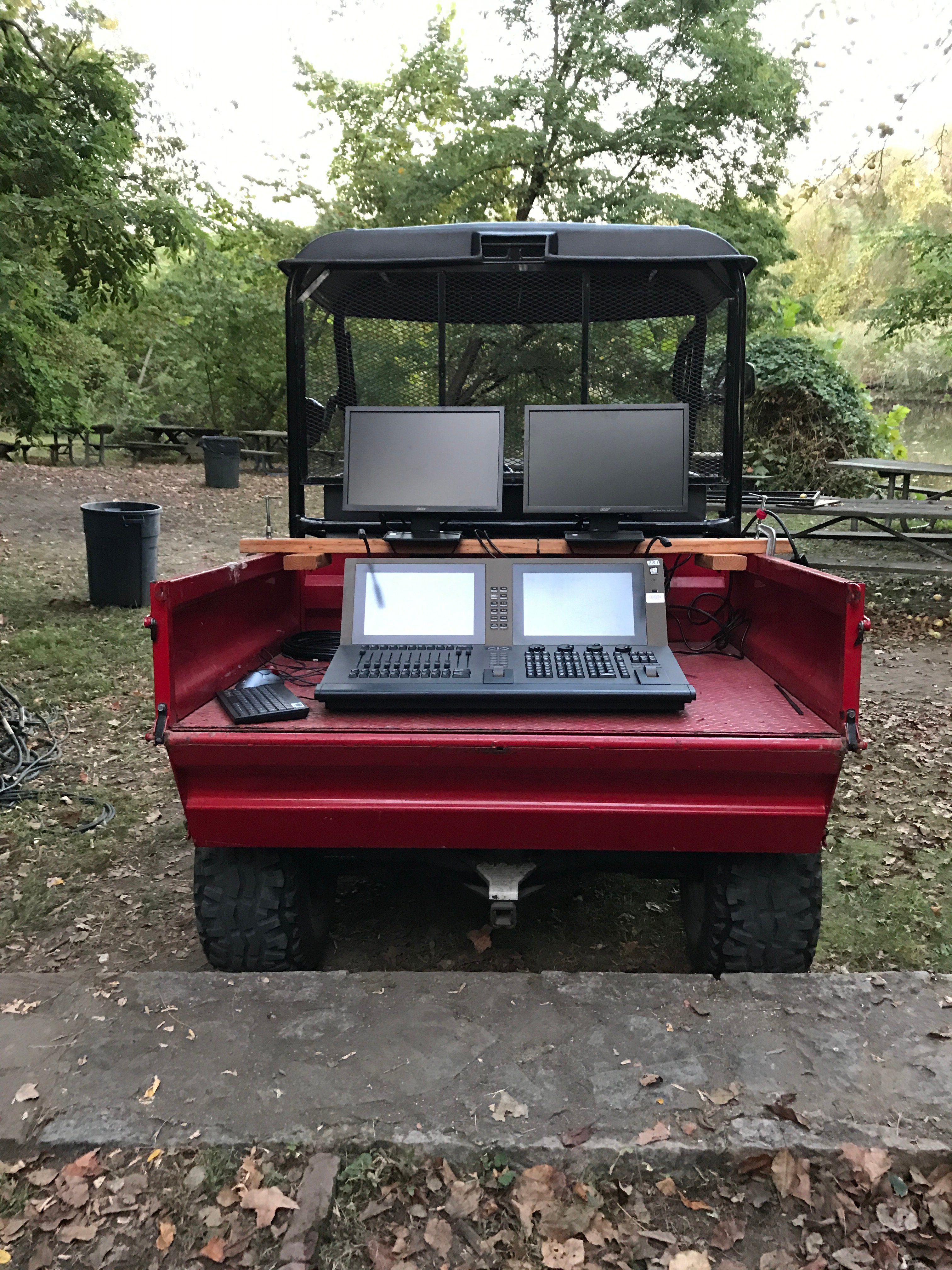 Complex control
Each exhibit has its own, partitioned cue list that runs a miniature "show" – usually lasting about five minutes – as audiences pass through the space. There are three tracks of time code running in the park, and the lights are all synced up to a musical soundscape.
"When I first started here, it was programming three attractions and it was all incandescent, flashing on and off," says Wiegand. "It very quickly went to RGB nodes everywhere, so it went from flashing on and off to changing color."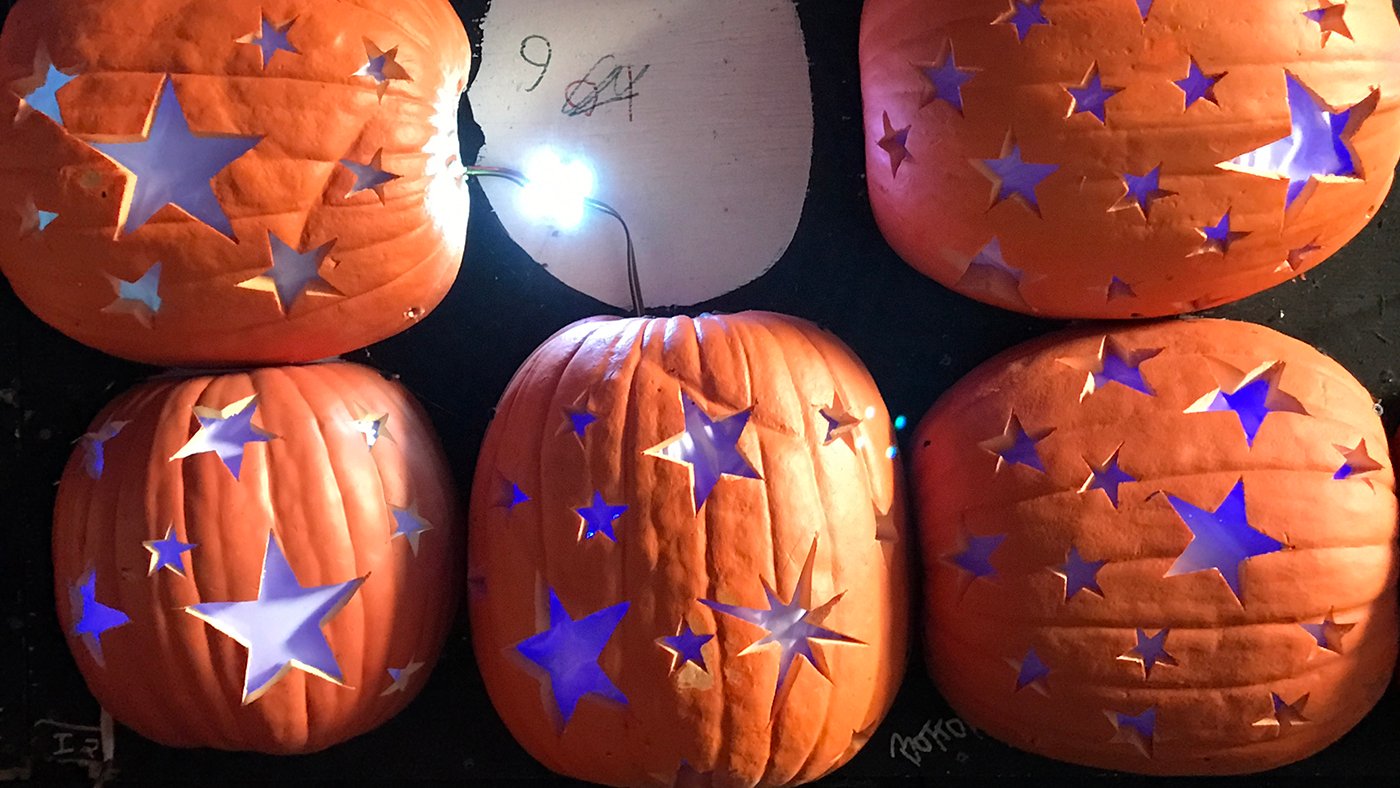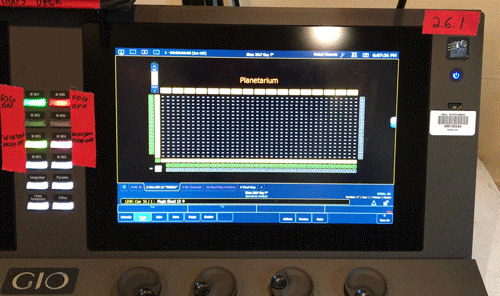 To monitor all the different lighting elements in the park, the team builds Magic Sheets of each installation. If a particular element stops working, they can look at the Magic Sheet to see what the lights are supposed to be doing – and use that as a jumping-off point for troubleshooting.
Always changing…
Each season of Blaze involves new experimentation as the team tackles new challenges. What does Woods want to try next? "Contact closures and motion sensors – making the lighting interactive with the visitors. There's a whole world of possibilities."