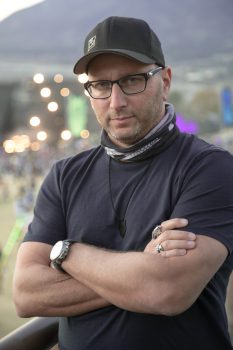 Lighting designer Steve Lieberman has what he modestly calls "a knack for programming and running lights."
Like the knack LeBron has for three -pointers and Yo Yo Ma has for the cello. The undisputed master of the giant lighting rigs that transform EDM (Electronic Dance Music) festivals into stunning visual delights, he defines their scale in programmer's terms. "It's not uncommon for us to use 70,000 parameters (fixture attributes) on a big show – that's 136 universes of DMX." A Broadway show or an arena concert tour might use 6-8 universes or less. A Hyundai Sonata and a Formula One McLaren both need drivers and Lieberman has paid a lot of dues to get the keys to the McLaren. A native New Yorker, his love of dance music drew him to the emerging rave and Club scene in the late '80s and early '90s. "You can't be exceptional at something unless you've done it all from the ground up as I have in the club scene – from driving the van (how he got his first job) to hanging lights from a ladder in my flip flops."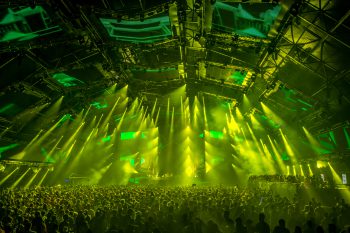 In a career foreshadowed by great concert and stage designers like Patrick Woodroffe, Marc Brickman, and Jules Fisher, Lieberman has worked hard to kick the image of "a kid who turned lights on and off." Huge lighting rigs, like Formula One cars, can be dangerous in the wrong hands. "I see it all the time," he says. "Way too many cues, lots of clichéd criss-crossing, blinding the audience – I aim for a more structured look that directs the audience where the music is already leading them. I have always had a great ear for the rhythms of dance music and great timing – it's my trademark." His designs for the Electric Daisy Carnival in the Las Vegas Motor Speedway are seen by 150,000 people per day and he has worked 100's of other festivals domestically and abroad. From 2016 – 2018 he designed Perry's Stage at Lollapalooza and has designed the Yuma stage at the Coachella Festival since its inception. In any given year, his company SJ Lighting designs and installs around 15 Night Clubs.
His long association with ETC and High End began in New York in 1995 working at the Howard Ungerleider-designed Webster Hall with LMI dimmer racks. When he got a break turning the old El Morocco Club into the Mirage, he specified an ETC Sensor Rack; and to this day favors ETC dimming and architectural controls. "I have bought and installed a lot of Sensor packs in my time – I even have an original Opto-splitter at home, although now we use network- based devices to service our overseas projects," he says. He can still recite in order the names of every High End controller leading up to the Hog 2, a console that was a seminal influence on his programming career.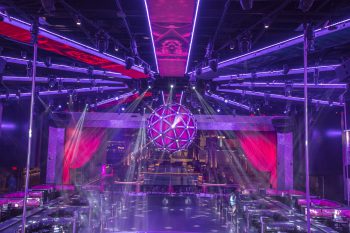 As a designer in the hospitality field, he sees no hard line between architectural and entertainment lighting. "Our job is to provide an amazing visual experience in the venue – we put the excitement into the architect's design," he says of his work in clubs, lounges and restaurants. For his most recent project, the Rumble Boxing studios in Los Angeles and San Francisco, he has "created an experience" that blends exercise in a quasi-club environment. The lighting, ceiling fans, LED tape on the ceiling and floor, and video projection are all controlled by Mosaic and Paradigm. This includes a custom-designed control station for the instructors that does very specific looks based on the workout routines and classes that Rumble offers in the studio. Working with an old partner, he is designing a steakhouse sushi restaurant in San Diego.
The three- man staff in his Westlake Village office each has a specialty, turning out drawings, large-scale renderings and electrical diagrams. Most of his projects, certainly his favorites, are still rooted in music. Describing his design style as "providing a clean balanced look" he adds, "I get my design inspiration from large, monolithic structures."
For more information visit http://sjlighting.net