A panel of top Eos programmers convened at ETC's CUE conference for an evening of live-programming war stories, show file strategies and cat memes.
The after-hours "fireside chat," moderated by ETC's Nick Gonsman, gave attendees a glimpse of each programmer's unique approach to executing music-based performances with Eos. Panel members David Kane, Ziggy Jacobs-Wyburn, Ryan Phillips, Josh Selander, and Louis Malagrino took turns presenting aspects of their programming style, and then the group sat down for an interactive panel discussion and Q&A with the audience.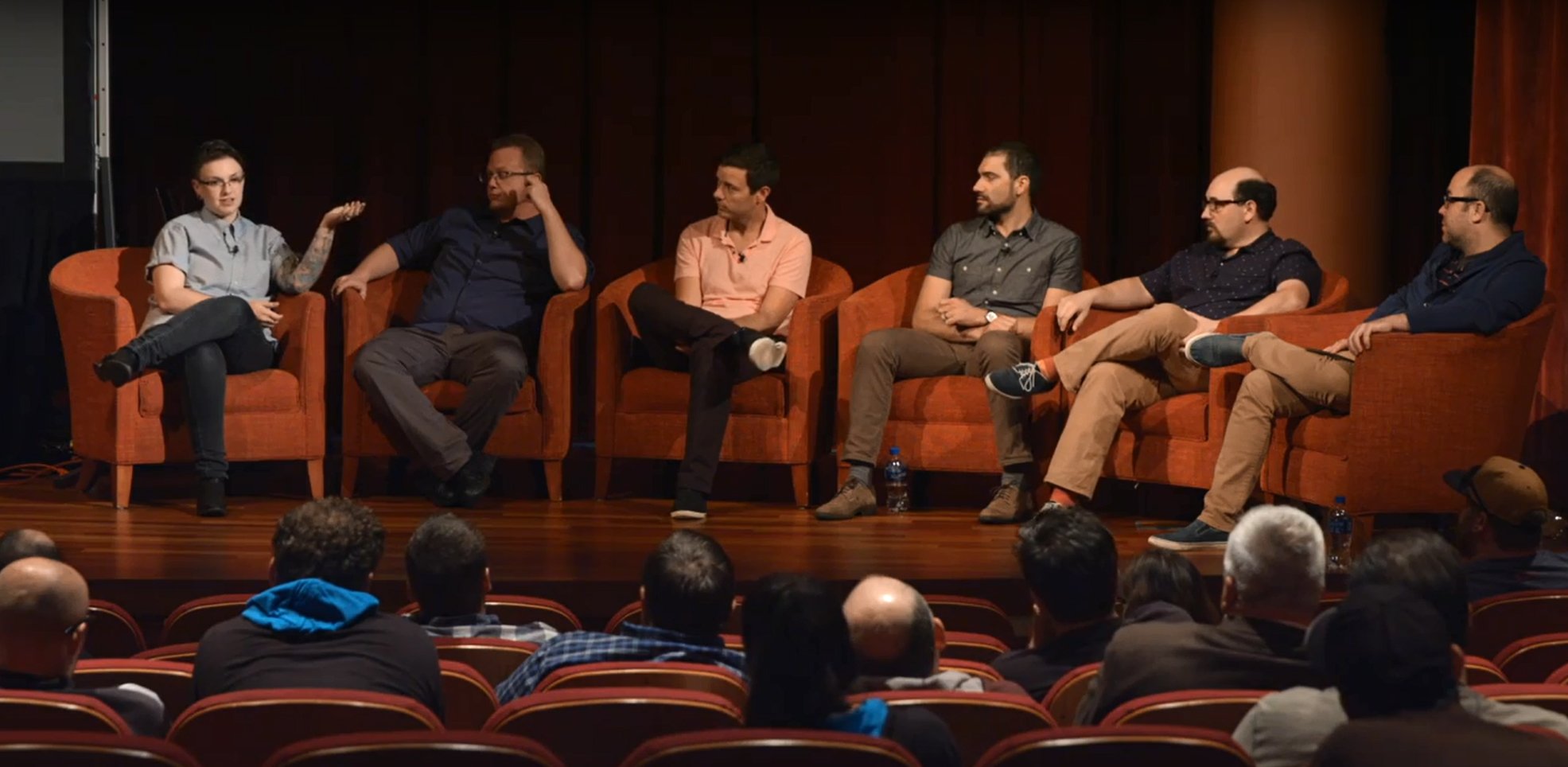 Highlights from the presentations:
LA-based programmer David Kane, who works frequently in fast-paced studio settings with little onsite prep time, talked about strategies for establishing an effective toolbox to help work quickly on the fly.
London-based programmer Ziggy Jacobs-Wyburn discussed her approach to busking for "unusual events" – from improvisational concerts to experimental operas, to multi-room venues running simultaneous performances and effects.
New York-based programmer Ryan Phillips (The Daily Show) provided a glimpse into his show file setup, and then performed a live, festival-style busk onstage.
Josh Selander, who has worked extensively on long-running shows in Las Vegas and on installations like the Rock and Roll Hall of Fame, talked about programming shows with timecode and a set audio track…and how to roll with timing changes during tech.
New York-based programmer Louis Malagrino shared his top tips and tricks for successful programming, from Magic Sheet Cue Lists to remembering to stop and take a deep breath when stress levels rise. (There were also a lot of pictures of cats).
The panelists relished the chance to geek out with their fellow programmers. "Collaborating on this chat, we've all been talking to each other a lot," says Jacobs-Wyburn. "We've picked up, like, 50 Macros each."
Watch the full video below: