ETC debuted a brand new booth at this year's Lightfair International tradeshow – an annual architectural lighting conference that was held last week at the Pennsylvania Convention Center in Philadelphia.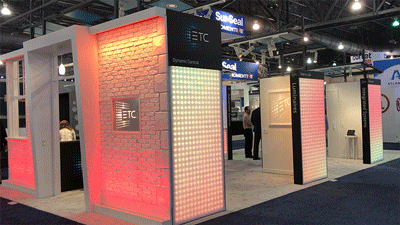 In keeping with the architectural theme of the show, and to highlight all of ETC's many architectural lighting applications, the booth invites visitors to enter the front of a "building" and walk through a series of "rooms" – a hotel lobby, a gallery, a nightclub/bar, a meeting room, and a building manager's office – each containing a whitewashed scenic wall that showcases ETC's control systems and fixtures.
When laying out the lighting system, Architectural Market Manager Bryan Palmer and Networking and Architectural Product Manager Lowell Olcott approached the booth as if it were an actual building. The whole setup is controlled via Paradigm, which integrates the individual control in each "room" with the general booth lighting – as well as with the the Mosaic-controlled pixel wall on the outside of the booth.
The booth was designed and – aside from the wall frames – constructed in house in ETC's Mazomanie, WI, shop – a joint effort between the Marketing tradeshow team, the Facilities team and the Metal Shop.
Watch demos from the show floor
Our staff went live on Facebook to demo some of ETC's architectural control offerings. You can check out the videos below, and scroll down for a gallery of more photos from the booth.
Photo Gallery