Two old-school theater seats sit in the lobby of the JK Design Group in North Hills, California. Marked as rows "J" and "K" they are more than cute props. They serve as a tangible reminder of the strong theatrical roots shared by the company's founders Edward Kaye and Jay Winters. Those roots have fed a fulfilling design practice that has branched out into every conceivable area: theaters, arts districts, casinos, banks and even a car dealership. Every inch of wall space or flat surface houses mementoes collected since their formation in 1989, amply proving their mission to "make the magic come to life."
They met at California State University Northridge and by happy coincidence both worked on Disney's Pleasure Island in Orlando, Kaye as project manager for GTHA (George Thomas Howard Associates) and Winters as lead assistant to lighting designer Brian Gale. Towards the completion of Pleasure Island, Winters remembers a visit by ETC's acting field technician Fred Foster who personally installed updated EPROMS in the first generation Expression consoles.
In 1989, following the opening of Pleasure Island, Winters and Kaye felt that the timing was right to join forces and create JK Design Group. "We could not have had better mentors," says Winters. "We learned the theater planning and architectural lighting design sides of the business and we still operate with those two identities in the same practice."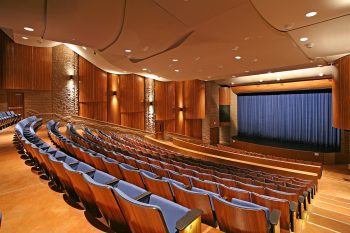 Despite their extensive formal education, Winters at USC/CalArts and Kaye at the Yale Drama School, Kaye jokes, "after your first gig, nobody cares where your degrees are from." Their first projects together included a rigging design for the Aloha Showroom in Honolulu and the beginning of a 28-year run of stage lighting at the Hollywood Bowl in Los Angeles. As part of the wave of "architainment" designers, they learned the secrets of metal halide and compact fluorescents from Eddie Effron at Philips Lighting and how to apply them to an entertainment style of lighting.
"Our background is perfect for themed entertainment projects," explains Kaye. "We had the experience of live events and our time at Disney and Universal taught us how to implement large scale concepts in an architectural setting."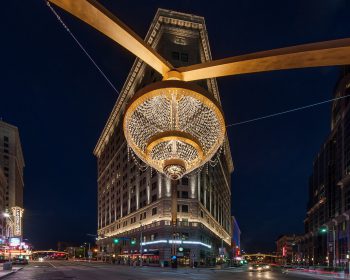 With the LED revolution, their education seems never-ending. "That is why we have samples of LED fixtures from each project," says Kaye. "It's not that we are in love with LED, we are just extremely thorough—some would say obsessed—with getting it right for our clients." Both believe that classic theater lighting design (with its emphasis on angles, intensity, and color) is a good preparation for designing diverse spaces like malls, libraries or bank buildings.
The partners and their support staff are kept busy with Los Angeles Unified School District's continuing need to renovate existing theatrical spaces on their campuses and various architectural lighting projects in Canada and the US. Winters is especially proud of the award-winning exterior chandelier and the all-LED stage and architectural lighting he designed for Cleveland's Playhouse Square theater district. "We are lucky to have a lot of repeat clients—they appreciate that we are able to give them the principal attention that a larger company might not do," notes Kaye.
ETC products have always played a leading role throughout their careers. Kaye remembers one of JK's first jobs. "In 1989 we did the Aloha Showroom with ETC consoles and LMI dimmers—Jeremy Railton and his assistant Bruce Rodgers were the design team," says Kaye, laughing. "Things have changed a lot since then! Our design efforts now focus on helping our clients enhance the guest experience through technology, place making and creating memories."
Now quite removed from the adrenaline of live shows, JK's projects have a life cycle of 18 to 24 months. Kaye observes, "Architectural time frames are like those in geology—slow and sometimes painful." Both long for the day when American sensibilities will, as Kaye puts it, "really care about the beauty and quality of light as Europeans do. Too often it's about the bottom line and cutting corners for cost."
Asked how ETC could help more, they made a heartfelt request to have Doug Tuttrup on every one of their projects!
*****************************************************************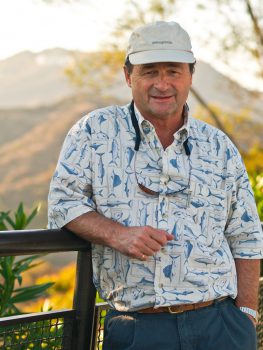 Marshall Bissett grew up in Central Scotland and developed an early interest in theater at Perth Repertory Company. After graduating with an MA in English and French from St. Andrews University in 1970, Marshall studied theater direction at the prestigious Old Vic Theatre School and worked as a production manager for every small regional theater in Britain. At the Young Vic in London, he worked on the original productions of Joseph and the Amazing Technicolor Dreamcoat and Tom Stoppard's Rosencrantz and Guildenstern are Dead. Lured by the promise of foreign travel with per diem, Marshall worked as lighting crew chief for Brian Croft's ESP LIGHTING. He toured with Chicago, The Beach Boys, Neil Diamond (two tours of duty with Patrick Stansfield), the Rolling Stones, Bette Midler (with Chip Monck) and Bob Dylan. In 1978, he was Lighting coordinator for Paul McCartney's Concert for Kampuchea. In 1980, he moved to Los Angeles to run the lighting division of TFA until 1983. There, he organized the concert lighting sequences for This is Spinal Tap. In 1983, he founded TMB, a supplier of lighting equipment and production supplies worldwide. He directed an award-winning production of Oh! What a Lovely War at the Knightsbridge Theatre in Silver Lake. He retired from TMB in 2014 and is currently working as a freelance writer for the concert lighting industry.