When the British band Supertramp stopped touring in 1980, they left a legacy more enduring than sold-out arenas and platinum albums on the office wall.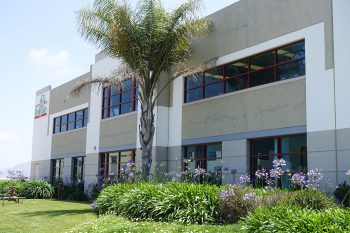 They started a joint venture with their faithful road crew under the name Delicate Productions. Following the model of The Who and The Rolling Stones, the new company rented the band's touring lights, sound and staging equipment to other touring acts. With the addition of video services in 1998, Delicate developed into one of America's most successful production companies, a one stop shop for concert tours, corporate events and festivals.
In a schedule of amazing diversity, they started the year with full production for the bands Tool and PJ Harvey; lights, sound, and video for the four stages of the Bottle Rock Festival; corporate production for Patagonia; LED set pieces for the ESPN drone games in Europe; and video support for the Los Angeles Rams training camp. Clients are drawn to the close family atmosphere, top notch crew, and high quality gear.
CFO Chris "Smoother" Smyth, an affable and witty Englishman whose early RAF training prepared him well as a monitor engineer for '70s tours with The Rolling Stones, Leo Sayer, Olivia Newton John, and finally Supertramp, describes the early days: "We tried to do quality tours with acts that would make our gear sound good – we looked for the right fit. We picked up clients like Heart and The Pretenders but for me the major milestone was Dire Straits' Brothers in Arms Tour in 1985."
The original 14-member partnership has shrunk to three active and two passive partners and the company has warehouses in Camarillo, CA and San Francisco. With son Spencer on lighting tours and daughter Stephanie as Lighting Rental Coordinator and Head of Outside Sales, the family tradition is assured. With a nod to the early days of concert touring, framed napkin sketches of lighting designs grace the walls of the front office.
Catering to the growing corporate market produced some cultural conflicts. "Luckily the services we provided far exceeded the wardrobe of the crew," jokes Smyth. "Lots of our work is under the radar. We get the jobs where the client gives us a budget number and we give him the best possible show – the bigger companies can't work that way." By 1988 the company was taking on more corporate work, movie premieres, and high end parties. Sean Leo, who previously worked with AVHQ and Excel Video, joined the company and was the perfect fit to nurture new clients like Patagonia with whom they share a zip code and a corporate culture. "Every year we raise the production values for their general sales meetings. Now we provide every element they need from hi-res video to staging, lighting and even outdoor toilets."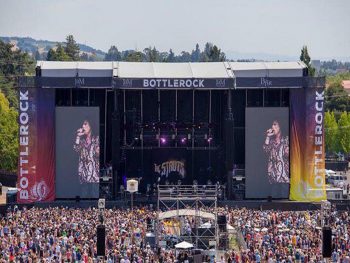 The gourmet food Bottle Rock Festival, supervised by company president Jason Alt, also hits a sweet spot for the company. "These events require an attention to detail and our crew excel in that," says Smyth. This is confirmed by an impressive client roster many of whom date back to the early '80s. With corporate launches and events representing 50 percent of revenue, the lighting inventory has slowly shifted from PAR cans to Source Fours. "The Source Four ellipsoidals and PARs became essential for the small stages and podiums we had to light," says Joe DiCalo who runs the lighting division. "We are seriously looking at the LED Series 2 Lustr series." Smaller jobs are handled by ETC Sensor packs and a 48/96 SmartFade. He welcomes the arrival of High End Systems into the ETC family. "We have Hog Full Boar 4 and HedgeHog consoles and they stay pretty busy, but mostly we are driven by designer requests."
Having more jobs than inventory to service them is a high-quality problem, so Delicate is happy to have perfected the art of sub-rental. "We form strategic partnerships, especially on the video side where a small rig can easily cost as much as four Ferraris," says Leo. "And we never go head to head with the major video companies."
A small fabrication shop rounds out the resources of this very agile company. With fast turnarounds, the ability to punch out a rack panel or weld a custom stand can be a lifesaver.
"When we do full production on the road, our crew acts as a team," says Smyth, "I like to think we supply a product that is greater than the sum of its parts."
*****************************************************************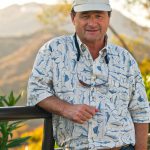 Marshall Bissett grew up in Central Scotland and developed an early interest in theater at Perth Repertory Company. After graduating with an MA in English and French from St. Andrews University in 1970, Marshall studied theater direction at the prestigious Old Vic Theatre School and worked as a production manager for every small regional theater in Britain. At the Young Vic in London, he worked on the original productions of Joseph and the Amazing Technicolor Dreamcoat and Tom Stoppard's Rosencrantz and Guildenstern are Dead. Lured by the promise of foreign travel with per diem, Marshall worked as lighting crew chief for Brian Croft's ESP LIGHTING. He toured with Chicago, The Beach Boys, Neil Diamond (two tours of duty with Patrick Stansfield), the Rolling Stones, Bette Midler (with Chip Monck) and Bob Dylan. In 1978, he was Lighting coordinator for Paul McCartney's Concert for Kampuchea. In 1980, he moved to Los Angeles to run the lighting division of TFA until 1983. There, he organized the concert lighting sequences for This is Spinal Tap. In 1983, he founded TMB, a supplier of lighting equipment and production supplies worldwide. He directed an award-winning production of Oh! What a Lovely War at the Knightsbridge Theatre in Silver Lake. He retired from TMB in 2014 and is currently working as a freelance writer for the concert lighting industry.